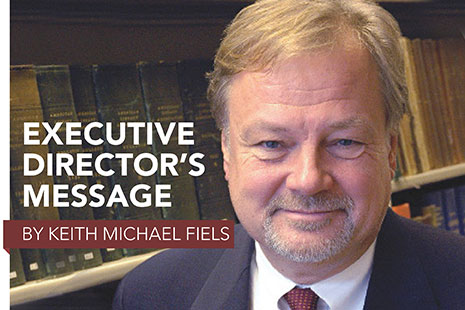 ALA's Executive Board and governing Council spent much of their time during Annual Conference in New Orleans discussing—and acting on—a series of recommendations from five special task forces charged with exploring important issues facing libraries and the Association.
Council's Equitable Access to Digital Content Task Force has been studying the challenges and potential solutions in libraries for improved electronic content access, distribution, preservation, and infrastructure in an increasingly digital environment. They brought back a series of recommendations for action, including:
An environmental scan that brings together up-to-date information on the changing library "digital landscape," where libraries and providers stand, and emerging trends.
An economic analysis of licensing models for e-content to flesh out the advantages and disadvantages of existing and emerging models and to inform library decision-making when acquiring e-content.
A public relations campaign to help the public and the library community fully understand the ramifications of a leased e-book environment.
Building awareness among persons with disabilities that libraries can help meet their information needs, working with library vendors to improve access to e-content, and supporting and encouraging usability testing with people using assistive technology.
Facilitating and encouraging individual libraries experimenting with new ways to acquire and provide e-content to share results and "test bed" findings.
Recognizing that e-books and other digital information issues are the most significant transformational challenge facing libraries today, Council asked the Executive Board, the Budget Analysis and Review Committee, and the executive director to develop plans for moving ahead in this critical area. Work is already underway on several of the recommendations, including a standing group to provide leadership on digital content issues.
The Young Professionals Task Force, originally established by past president Camila Alire, has looked at ways in which the Association could be more responsive to the needs of younger professionals and engage young librarians early in their professional careers. The group presented a number of recommendations to the Executive Board relating to membership, conference experience, divisions, round tables, library and information science schools, and ALA elections. With many of the recommendations already being implemented, the group also called for a young professionals group as a permanent part of the Membership Committee.
The Chapter Relations Task Force has also been looking at ways in which state and student chapters as well as ALA can work together more effectively, and how the Association can help develop and support stronger chapters. A key recommendation of this group was the development of a "State of the Chapters report" that would make information on the chapters, their activities, and their innovative programs more widely available.
In the spirit of reinvention, Council also discussed and adopted a number of recommendations from a Presidential Task Force on Improving the Effectiveness of ALA Council. These include more electronic discussion of issues leading up to Council meetings, a strong focus on the Association's strategic priorities and plan, and more time for the discussion of strategic issues. Also proposed was holding the Member/Council Information Session during Annual Conference prior to the Membership Meeting. The goal is to allow more members to hear from and interact with ALA leadership and provide more time for discussion of member issues and concerns. This change will be implemented in 2012.
The Executive Board and Council also discussed a report from the Future Perfect Presidential Task Force, a group of members with limited ALA experience who were asked to think about a "perfect" ALA and its structure. They brought back a number of suggestions regarding conferences, diversity, committee service, elections, and chapters.
For more Council news, see p 49. For more information on any of these reports, visit www.ala.org/offices and click on "Governance."
KEITH MICHAEL FIELS is executive director of the American Library Association, headquartered in Chicago.