Like a good book, the 11th annual National Book Festival in Washington, D.C., September 24–25, took read­ers to places they had never been before. The new expanded two-day schedule of events, record roster of writers, and new pavil­ions reflected recent literary trends. With the theme "Celebrate the Joys of Reading Aloud," the festival was organized and sponsored by the Library of Congress, with President Barack Obama and First Lady Michelle Obama serving as honorary chairs for the event.
The festival drew a record 200,000 fans to the National Mall for a weekend of discussion, music, laughter, humidity, and talks by 112 authors—also a record.
"For more than a decade, the National Book Festival has given book lovers of all ages the rare opportunity to meet, interact with, and be inspired by their favorite authors," Librarian of Congress James H. Billington said. "Thanks to the generosity of our sponsors and support­ers—and the more than 1,100 volunteers who give their time to make this event possible–we can look forward to this beloved celebration of reading and lit­eracy for years to come."
A pair of literary heavyweights–Toni Morrison and David McCullough—pro­vided the festival with prize-winning bookends.
Morrison, who won a Pulitzer in 1988 for her novel Beloved and a Nobel in 1993, gave the festival a sparkling start on a soggy Saturday morning—and picked up another prize for her mantelpiece, the 2011 National Book Festival Creative Achievement Award.
Nearly 31 hours later, McCullough, who won Pulitzers for biographies of Harry S. Truman and John Adams, closed the event. "We are what we read—to a far greater extent than people realize," McCullough said. "What we read shapes how we think. Know what your children are read­ing and encourage them to read the best works possible."
In between, the festival showcased a first-class mix of literary luminaries and popular figures: Pulitzer-winners Edmund Morris, Siddhartha Mukherjee, Rita Dove, and Jennifer Egan; author and four-time Academy Award nominee Juli­anne Moore; humorist Garrison Keillor; "tiger mother" Amy Chua. A coterie of mascots and musicians were also on hand to entertain the youngest of young readers.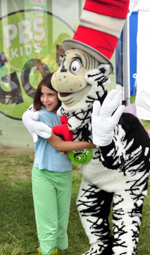 The festival attracted all sorts: groups who traveled hundreds of miles to attend; locals who come every year; diehard fans who patiently waited in book-sign­ing lines that stretched across the Mall; families who queued up for photos with Arthur the Aardvark; and even a man who walked a special guest to readings—a heavyset cat on a leash.
Attendees were treated to two days of author talks, Q&As, book signings, and music that at times got downright bois­terous. Today show co-host Hoda Kotb closed her session with a sing-along of "Play that Funky Music," and Hip Hop Harry–a giant bear sporting a wristwatch and a plate-sized medallion–led a high-volume call-and-response in a pavilion full of shrieking children.
Fairfax County (Va.) High School teacher Karla Eaton arrived with a mission: Get Morrison to autograph her most recent novel, A Mercy. After a two-and-a-half-hour wait in line, Eaton got her wish—then walked away in tears. "I just told her, 'Thank you for every­thing you've written,'" Eaton said. "She's the greatest living author of our time. If F. Scott Fitzgerald were here, I would have waited in line for his autograph for 40 hours. That's how I feel about Toni Morrison. It was worth every minute."
Ron Griswold traveled from his home in Pittsfield, Massachusetts, to attend the festival—his 10th. A big McCullough fan, Griswold was at the front of the line for the author's signing—four-and-half hours later. Griswold said he was first inspired by The Johnstown Flood. "He made it so interesting that I had to go to Johnstown to check it out," Griswold said. "That's the way he writes. He makes it so alive."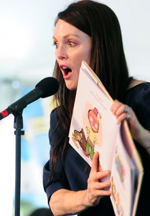 The new Family Storytelling Stage overflowed with parents and children. Actress Moore followed Josh Lewis and his creation, Super Chicken Nugget Boy ("He's big, he's breaded"). "Can I tell you a secret? This is the first time I've read this book to a bunch of kids," Moore said before reading aloud from Freckleface Strawberry: Best Friends Forever. Afterward, she conducted a Q&A with the children and explained what books meant to her life. "The reason I'm an actor is I love to read books . . . When I started doing plays at school, it was just like reading aloud," she said.
The festival featured the debut of three new pavilions: State Poets Laureate, the Cutting Edge, and Graphic Novels.
Comic-book artist Kazu Kibuishi, using a marker and drawing paper, illus­trated his work Amulet for a crowd in Graphic Novels, explaining the wrong turns that ultimately led him to his current work. "I decided to become a filmmaker because I thought that's a more respect­able field and I could make more money at it. I was wrong," Kibuishi said to laugh­ter.
The festival marked the homecoming and final stop of "Gateway to Knowledge," an LOC exhibition housed in a tractor-trailer that spent the past 12 months crisscrossing the country. The exhibit, piloted by the husband-and-wife team of Josh and Abigail Van Gelder, embarked from last year's festival to take a taste of the library's collections to 90 small towns across the Midwest, South, and New England–a trip that covered 19,000 miles and drew 85,000 visitors.
The Van Gelders are now ready for a break. "We really, really need some time off," Abigail said, adding that she  loved the experience. "It was a wonderful project to be part of," she noted. "We're thrilled to have done this. We definitely felt that we were part of the Library of Congress family. What an honor it is to represent an orga­nization like this across the country."
For more information about the National Book Festival, including author webcasts and podcasts, visit loc.gov/bookfest/.
MARK HARTSELL is editor of The Gazette, the Library of Congress staff newsletter. Abby Brack and Donna Urschel of LOC's Office of Communications contributed to this article.