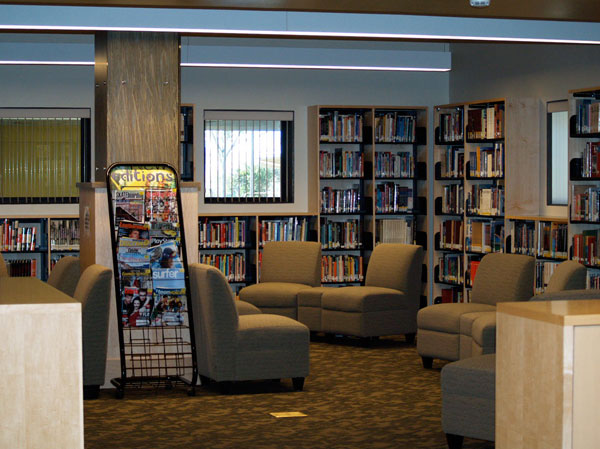 With the success of the recent White House petition on school libraries, the American public has asserted its support for this vital aspect of childhood education. The following schools have demonstrated their understanding of the centrality of their libraries by creating spaces that support 21st-century learning.
Monroe High School Campus Library, New York City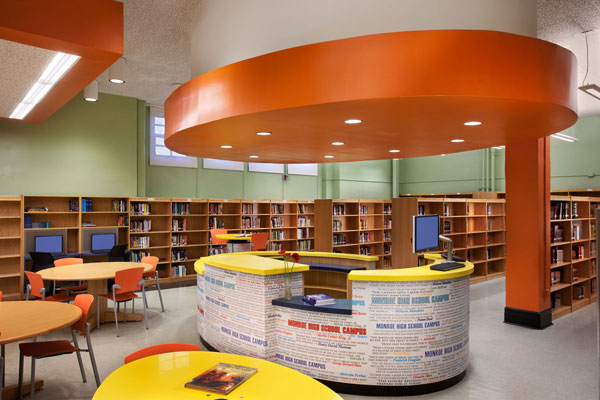 Monroe High School's library renovation incorporated bright, inviting colors and materials to add appeal. Features such as dropped ceilings, soft seating, and freestanding computer pods define different zones within the library, allowing it to serve changing needs.
Renovation
Architect: di Domenico + Partners LLP
Size: 3,000 sq. ft.
Cost: $700,000
Photo: Bartelstone
Bridge City (Tex.) Elementary School Library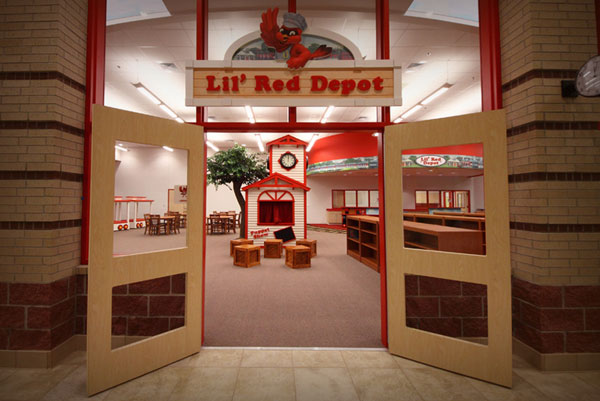 Super Schools: Serving pre-K through 2nd-grade students, the new interior of Bridge City Elementary School Library incorporates the school's cardinal mascot and a transportation theme. Features include a storytime stage, a clock tower that houses a puppet theater, and an exterior transportation-themed mural printed on durable eight-foot panels.
New Construction
Architect: Mark Magnuson & Associates, Inc.
Design: Creative Arts Unlimited
Size: 3,662 sq. ft.
Cost: $225,000 (library elements only)
Photo: Contrax staff photographer
Columbus High School Campus, Bronx, New York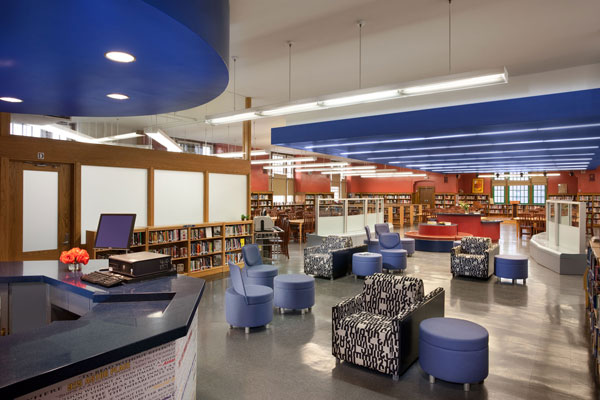 Super Schools: The renovation of the library at the Columbus High School Campus transformed a dated space into one that invites students in through its use of color and materials. The new library encourages group work, includes flexible areas suitable for performances or meetings, and meets modern technological needs.
Renovation
Architect: di Domenico + Partners LLP
Size: 5,200 sq. ft.
Cost: $600,000
Photo: Bartelstone
C. A. McMillen High School, Plano (Tex.) Independent School District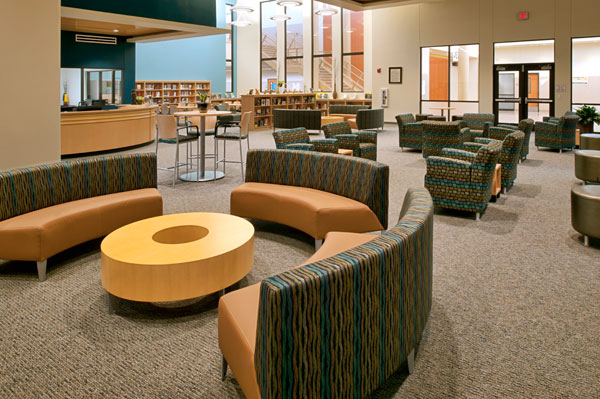 Super Schools: The McMillen Library offers casual reading spaces, areas for individual and collaborative study, and support for technology through charging stations and laptop trays built into soft seating. Panoramic windows connect the library to the hall commons, inviting students into the space that features 22-foot-high ceilings and a fluid design composed of rounded, soft shapes.
New Construction
Architect: SHW Group
Size: 6,400 sq. ft.
Cost: $37 million (entire school)
Photo: bkm Total Office of Texas
Spartanburg (S.C.) High School Library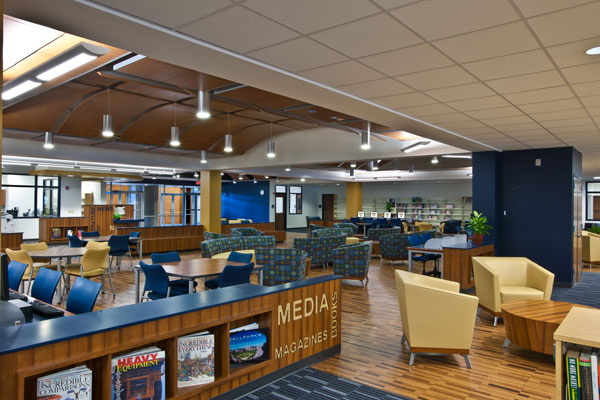 Super Schools: Before renovation, Spartanburg High School's Library was uninviting, with dark shelving, fluorescent lighting, a flat ceiling, and no collaborative spaces. A larger construction project that would incorporate 9th-graders into the school for the first time provided an opportunity for an update. Half of the library's existing space was converted to computer labs, while the new design incorporated an easy-to-monitor collaboration space that could also be used for small gatherings. Cosmetic changes included curved wooden veneer ceilings, a variety of types of accent lighting, and updated countertop and shelving materials.
Renovation
Architect: McMillan Pazdan Smith, LLC
Size: 3,180 sq. ft.
Cost: $4.4 million (library and other renovations)
Photo: Fred Martin Photography, Inc.
Evander Childs High School Campus, New York City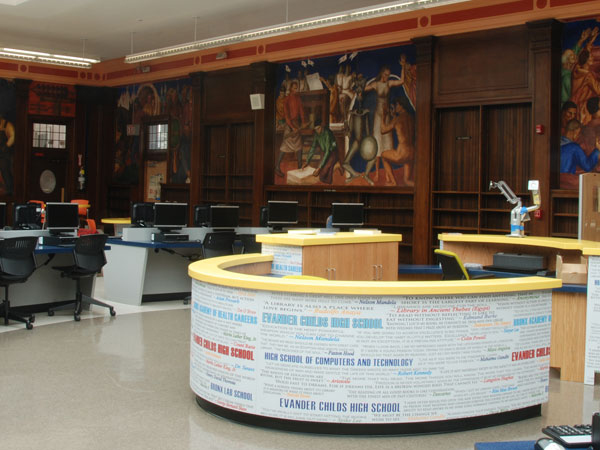 The renovation of the Evander Childs Library Media Center restored a forgotten skylight and preserved historically sensitive murals and original casework, while incorporating technology. The project created an Information Hub and included custom computer pods and stations.
Renovation
Architect: di Domenico + Partners LLP
Size: 6,100 sq. ft.
Cost: $1.2 million
Photo: di Domenico + Partners LLP
PS 126M, New York City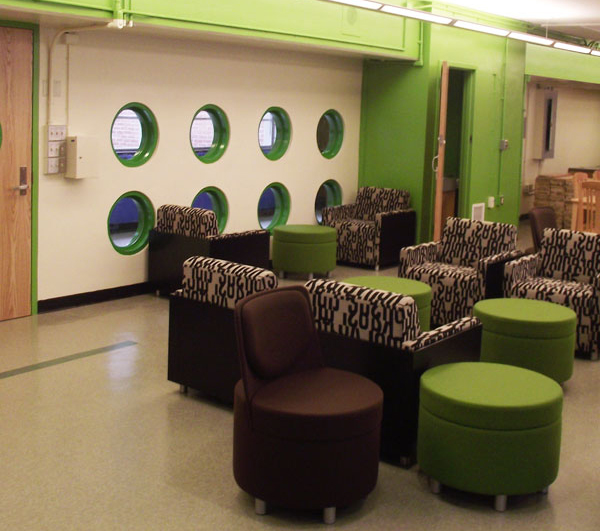 The original PS 126M library was undersized and provided inadequate book storage. A redesign converted an adjacent classroom to increase material capacity, while adding windows to make the space more inviting to students passing by.
Renovation
Architect: di Domenico + Partners LLP
Size: 1,800 sq. ft. total, 720 sq. ft. added to library
Cost: $600,000
Photo: di Domenico + Partners LLP
Santana High School, Grossmont Union High School District, Santee, California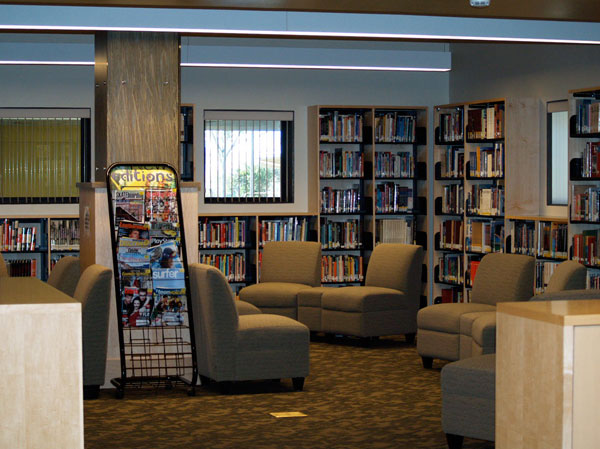 Before renovation, Santana High School's library was too small to effectively serve its students: The 30 computers in the lab couldn't accommodate classes that have 35–40 students, and a lack of windows made the area dark and tomblike. The new space incorporates a number of windows, including a clerestory, and space in the computer lab and classroom area for two full classes plus walk-ins. The new library includes zones for quiet reading and collaborative work.
Renovation and Expansion
Architect: Harley Ellis Devereaux
Size: 7,300 sq. ft. total, 650 sq. ft. expansion
Cost: $1.35 million
Photo: Connie Bobof
---