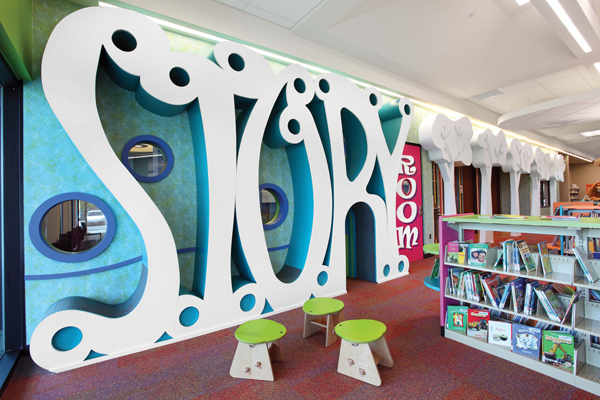 Kids are one of the core audiences for many libraries. Spaces serving them are wildly diverse, both in form and in function—a pre-kindergartner has very different needs from a teenager. Following are several outstanding spaces for young patrons.
Fort Vancouver Regional Library District, Vancouver (Wash.) Community Library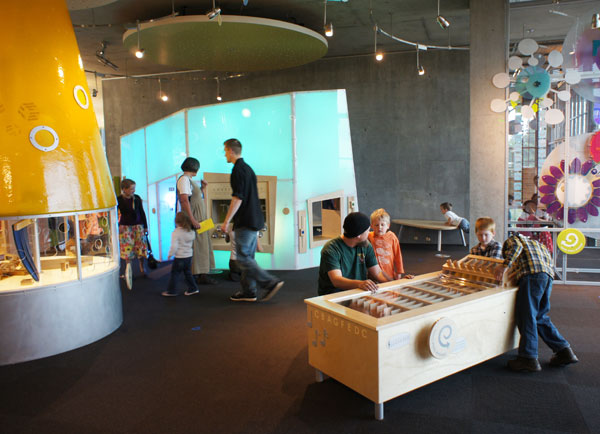 Youth Spaces: The Early Learning Center at the Vancouver Community Library fills more than 4,500 square feet with 20 interactive structures and hundreds of interactive play elements. The space is broken down into five zones: Land of Imagination, River Zone, Light Tower, Resource Center, and Mechanical Artworks. Each zone offers layers of shapes, colors, and interactions, so parents and children can discover new activities on subsequent visits. Activities in the space spotlight every letter, as well as pre-literacy skills.
New Construction
Architect: Miller Hull Partnership, LLP
Children's Area: Burgeon Group
Size: 83,000 sq. ft.
Cost: $40 million
Photo: Burgeon Group LLC.
Central Rappahannock Regional Library, England Run Branch, Fredericksburg, Virginia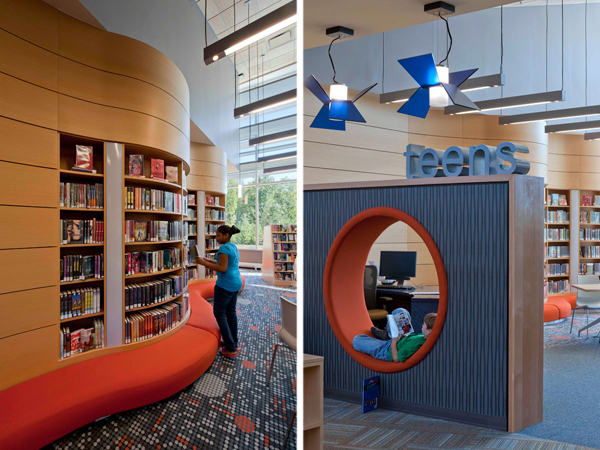 Youth Spaces: Most of the teen book collection occupies the wave wall, which has seating built in to encourage teens to stay and get lost in a book. An adjacent lounge with vending machines allows teens to socialize without bothering other patrons. Younger children have a dedicated room with early-literacy materials, a hobbit-hole entrance they can slide through, and a crawler's corral designed for babies and toddlers.
New Construction
Architect: The Lukmire Partnership
Size: 30,775 sq. ft.
Cost: $10.5 million
Photo: The Lukmire Partnership
Middle Country Public Library, Centereach, New York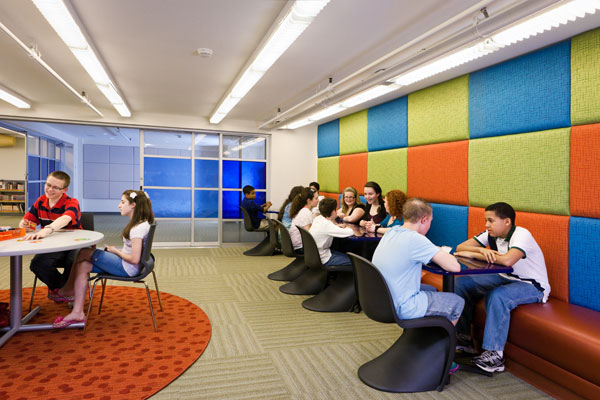 Youth Spaces: Middle Country Public Library's new Underground, named for its physical location within the library, can serve up to 100 teens at a time. The space has a central service desk created from large illuminated blocks of color, a program room with sliding glass walls that can be retracted when the room is not in use, a multi-purpose computer area with PCs and Macs, a media counter with charging stations, and areas for both quiet study and socialization. The Teen Advisory Group worked with the library to provide design input.
Renovation
Architect: Vitetta
Size: 5,000 sq. ft. renovation, 77,000 sq. ft. total
Cost: $417,200
Photo: Dutch Huff Photography
Queens (N.Y.) Central Library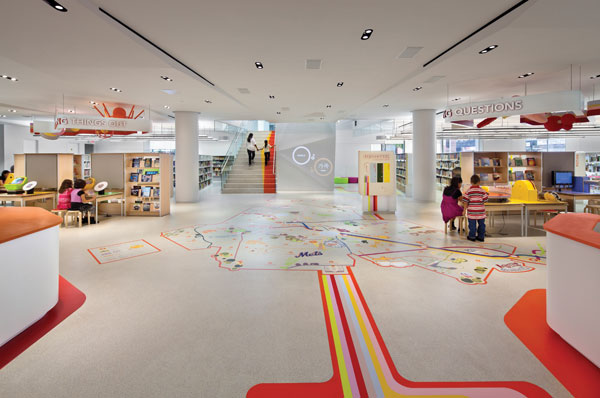 Youth Spaces: The creation of the Children's Library Discovery Center, a hybrid children's library and science museum, is one of the first phases in the master plan to modernize Queens Central Library. Interactive exhibits designed around literacy, science, technology, and math are on display in plazas throughout the space and integrated into the stacks. Inhabitable niches with windows offer views into and out of the children's library and allow natural light into the space.
Expansion
Architect: 1100 Architect
Size: 22,000 sq. ft. expansion, 275,000 sq. ft. total
Cost: $30 million
Photo: Michael Moran/ottoarchive
Kenai (Alaska) Community Library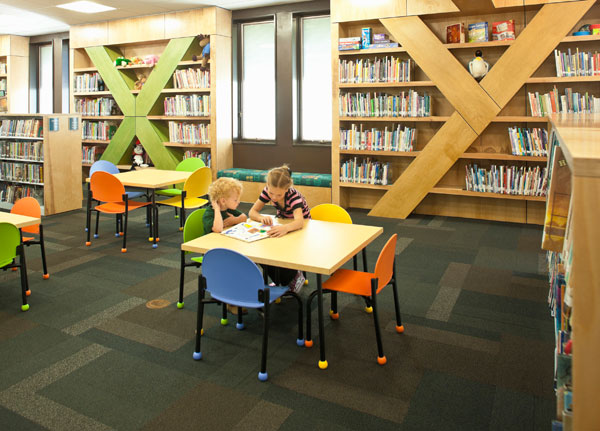 Youth Spaces: Kenai Community Library was designed to be simple and elegant throughout, including the children's space with letters built into bookshelves. Brightly colored materials define different spaces within the library, while windows and above-head lightboxes incorporate daylighting into the interior.
Renovation and Expansion
Architect: ECI/Hyer, Inc.
Size: 20,000 sq. ft. total, 10,000 sq. ft. addition
Cost: $5.2 million
Photo: Chris Arend Photography
Salt Lake County (Utah) Library Services, Magna Library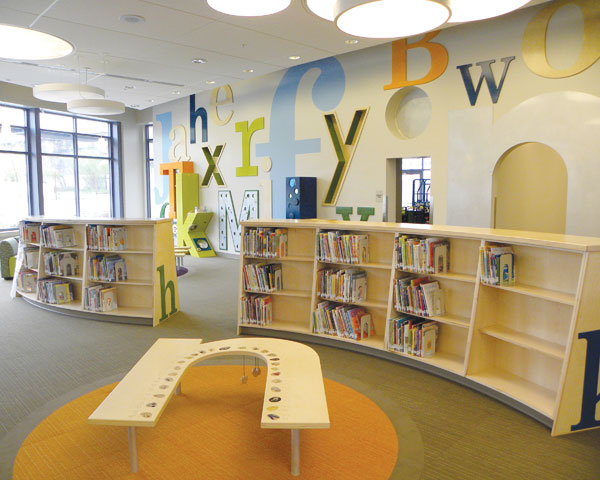 Youth Spaces: With more than 100 interactive elements, the Alphabet Landscape is the cornerstone of the children's area at Magna Library. Every element is designed to be educational, with activities that are often alliterative with the letter they are associated with: The letter T includes a wheel to twist and turn the alphabet, while the S bench includes a sewing activity, and the letter A features animal sounds and a story about acrobats. The building as a whole is double the size of the community's previous facility and is designed to be LEED Gold certified.
New Construction
Architect: CRSA
Children's Area: Burgeon Group, LLC
Size: 20,000 sq. ft.
Cost: $320,000 children's area, $8.1 million total
Photo: Salt Lake County Library Services and Burgeon Group
Fountaindale Public Library, Bolingbrook, Illinois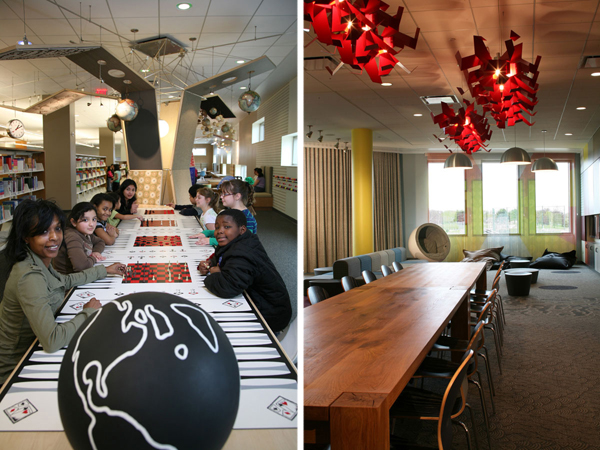 Youth Spaces: The new Fountaindale Public Library created distinct spaces for children and teens. The Vortex, the teen zone, has an anime-influenced wall wrap and hand-carved entry sign in an artist's interpretation of Japanese lettering. The section boasts a performance area, digital media consoles, plenty of computers, formal and informal study spaces, the young adult book collection, and large communal tables that serve as social catalysts. The children's area is themed around the book The Dragon Tree by Jane Langton. Metal dragon tree structures offer distinct interactive activities that each present a node of learning and creativity.
New Construction
Architect: Nagle Hartray Architecture
Children's Library and Vortex: Architecture Is Fun, Inc.
Size: 110,900 sq. ft.
Cost: $39 million
Photos: Doug Snower Photography
Strathcona County Library, Sherwood Park, Alberta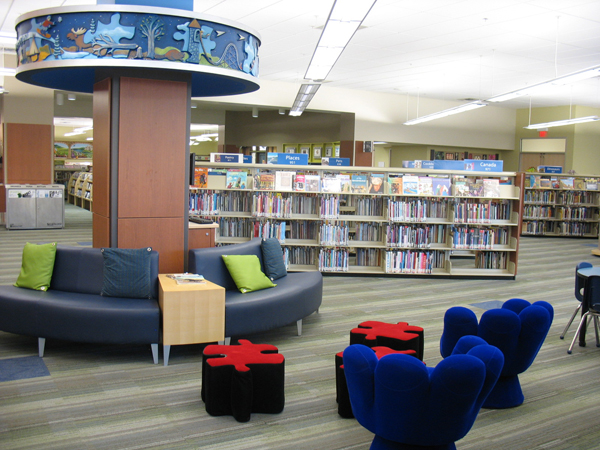 Youth Spaces: The Discovery Zone at Strathcona County Library is designed for school-age children. A puzzle motif runs throughout the section, while story rings circle columns within the space. A separate TeenZone offers funky furniture and a homework help section, and a Reading Tree marks the library's early-literacy area.
New Construction
Architect: HFKS Architects Inc.
Size: 64,000 sq. ft.
Cost: $25 million
Photo: Sally Neal
Terrebonne Parish (La.) North Branch Library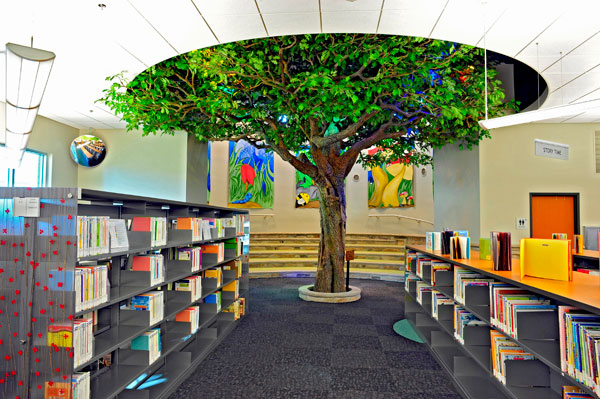 Youth Spaces: The children's area at the North Branch has a garden theme, with flower shelf-panels, specially designed chairs, and a one-of-a-kind tree sculpture in the storytime section. Art surrounding the storytime area was created by students from Terrebonne Parish's four high schools. Teens have a separate section marked by neon with booths, body chairs, and lounge chairs with ottomans.
Renovation and Expansion
Architect: Cheramie + Bruce
Size: 26,000 sq. ft. total, 12,000 sq. ft. expansion
Cost: $5.7 million
Photo: John R. Cornes
Fayetteville (Ark.) Public Library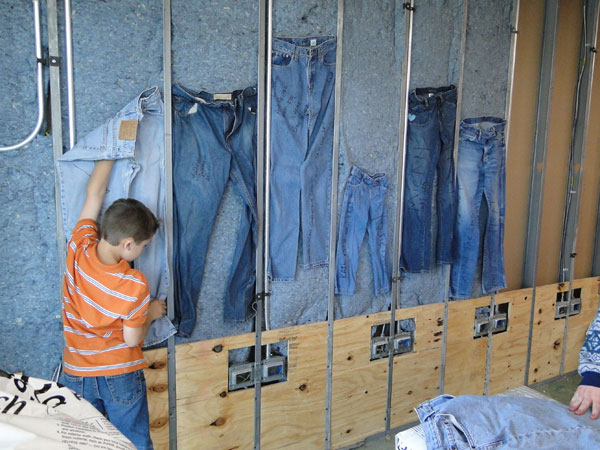 Youth Spaces: Teens contributed to the design of Fayetteville Public Library's new Otwell Teen Library through focus groups, surveys, and a design charrette. Design elements include a new computer lab, gaming area, project room, and communal spaces. The space features extensive use of sustainable materials, including countertops made from shredded milk jugs and laundry bottles, fabrics and carpet with significant recycled content, zero-VOC paints, a recycled-denim wall, and millwork from certified wood providers.
Renovation and Expansion
Architect: Kohler Design Office/Missi Walker Interiors
Size: 88,000 sq. ft. total, 2,350 sq. ft. expansion
Cost: $286,500
Photo: Fayetteville Public Library
Frederick County (Md.) Public Library, Brunswick Public Library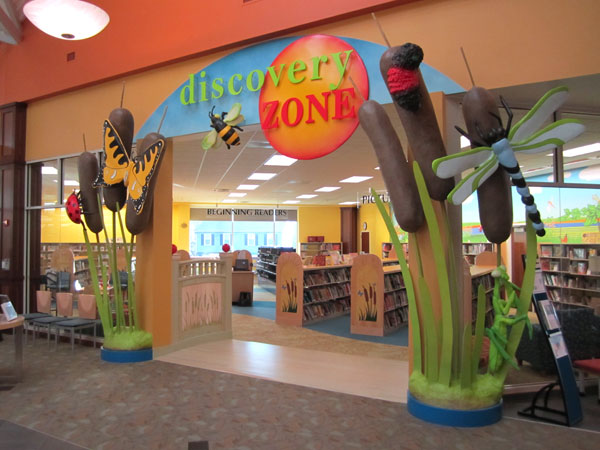 Youth Spaces: The children's Discovery Zone provides a space for kids separate from the rest of the library to read, play games, go online, or put on puppet shows. A glass wall isolates sound and improves security.
New Construction
Architect: Morris & Ritchie Associates, Inc.
Size: 15,000 sq. ft.
Cost: $2.9 million
Photo: Tara Lebherz and Michael Carlson
Hennepin County (Minn.) Library, Northeast Library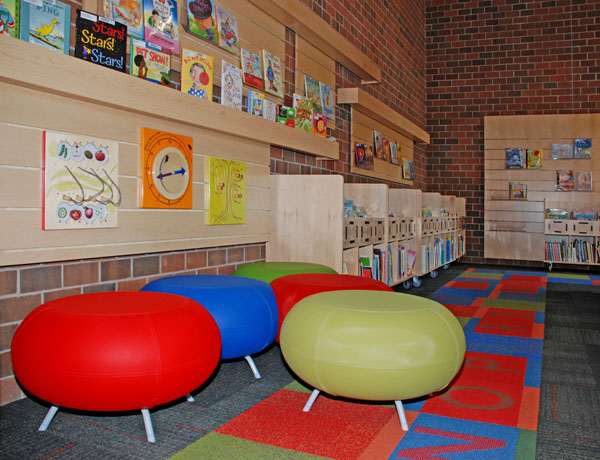 Youth Spaces: The expansion of the Northeast Library created space for bigger children's and teen areas. The children's space boasts a reading nook, interactive early-literacy panels, and bins for displaying easy fiction and nonfiction collections. The project introduced tall windows and clerestories throughout the building to increase natural light levels within the space.
Renovation and Expansion
Architect: Cuningham Group Architecture, PA
Size: 16,900 sq. ft. total, 2,400 sq. ft. expansion
Cost: $4.4 million
Photo: Juli Bratvold, Hennepin County Library
Cliffside Park (N.J.) Free Public Library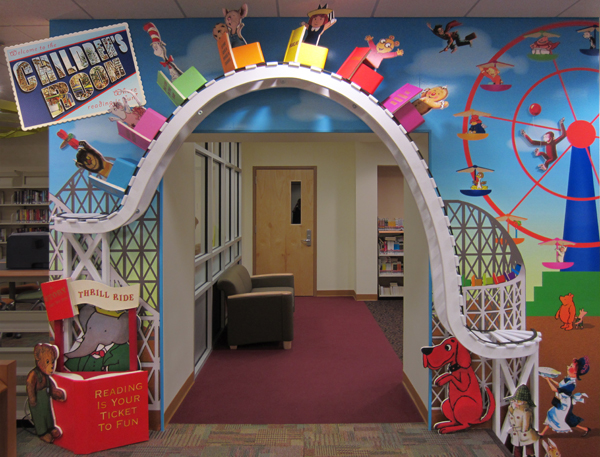 Youth Spaces: The Cliffside Park Free Public Library stands on land that was once part of the Palisades Amusement Park. The renovated entrance nods to history with a roller coaster, Ferris wheel cars, and ticket booths all fashioned to resemble books.
Madison (Wis.) Public Library, Goodman South Madison Branch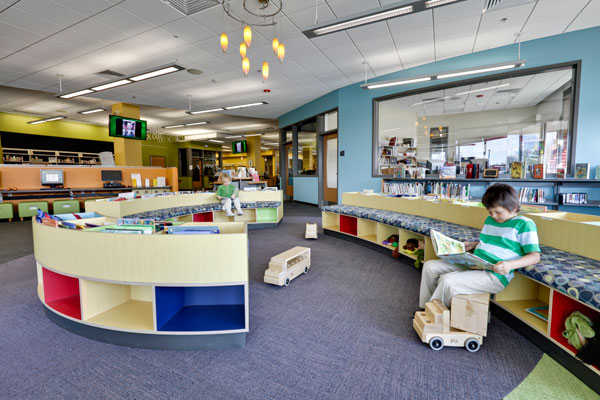 Youth Spaces: A 90-foot curved millwork bench in a nautilus shape defines the Goodman South Madison Branch's children's story and play area while offering storage for toys and picture books. Teens have their own space, with a built-in booth and an area for displaying art made by students.
Grey Box Build-Out
Architect: Engberg Anderson, Inc.
Size: 12,000 sq. ft.
Cost: $1 million
Photo: Alloy Photography
Keller (Tex.) Public Library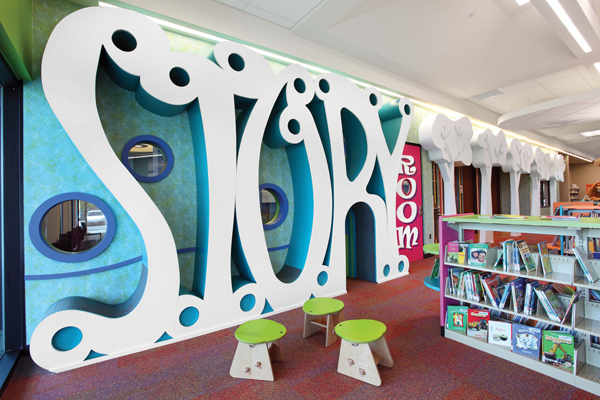 Youth Spaces: Children at Keller Public Library have access to a dedicated storytime and craft room with its own storage room. Other library amenities include study rooms, a technology lab, new staff areas, and space for a future RFID sorting system.
Renovation and Expansion
Architect: Dewberry Architects, Inc.
Size: 22,500 sq. ft. total, 10,000 sq. ft. expansion
Cost: $3.6 million