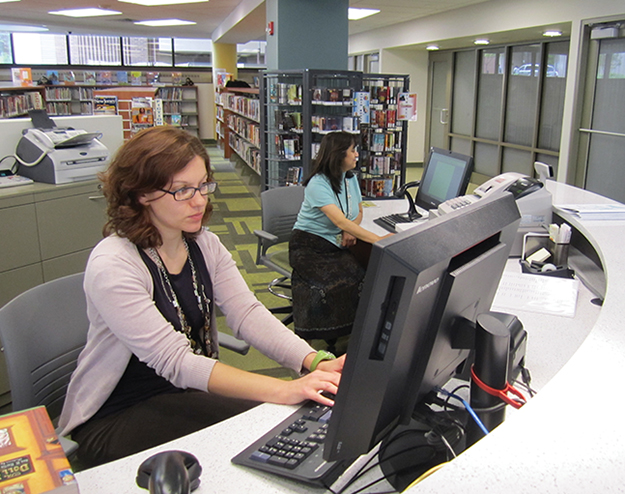 A joint library sprouts in Chicago. When a series of floods forced the 2011 closure of a Chicago Public Library (CPL) branch in the city's Back of the Yards neighborhood, CPL figured it would cost $15 million to acquire land and build a new facility.
Then a phoenix arose.
Across the street from the closed library, a new high school was about to be built, including an 8,000-square-foot library building. Brian Bannon, Chicago's library commissioner, heard that the Chicago Public Schools might be interested in sharing library space and costs. The idea was intriguing, and it seemed cost-effective, too.
"We would get to provide a $15 million library literally for free," Bannon told American Libraries.
Bannon and his team looked at several different models, including "school library by day, public library by night"; a hybrid school-and-public-library where two disparate computer systems managed separate patron databases; and  a full-service library with a special program for teens. They opted for the third and plan to open in September 2013, six days a week, eight hours a day, "same way we'd operate any library," Bannon said.
The Back of the Yards branch library will share a wall with the new school. It will have three zones: an adult zone via a main entrance that opens from the street, a children's zone with a 1,000-square-foot community room for programs, and a third zone adjacent to the school wall for teens, with a special emphasis on teen materials. Staff will include a school librarian, a branch manager, and a teen services librarian; officials also plan to have two part-time librarians, one each for children and adults.
"What we're going to do is a heavy focus on STEM [science, technology, engineering, math]," said Bannon, as well as programming on digital media and learning, like building robots. "I see this as one of the test sites that will be experimenting with teen-focused technology, because we want to extend this throughout the city."
It wasn't all easy to coordinate. "Any time you're engaging in a collaborative partnership, there are challenges," said Bannon. "It's not as cut and dried. Who's going to pay for security, maintenance, and so forth?" Even so, CPL is happy to enhance library service in a neighborhood that wouldn't have a branch otherwise, and to be able to experiment more deeply with teen programming.
The Camden combination
In 2011, only one city library branch remained in Camden, New Jersey—the Ferry Avenue branch. The city system had joined the Camden County Library System in 2010 and had to close two city facilities. Patron levels at the Ferry Avenue branch increased dramatically. Camden city residents wanted another library, but it had to be done in a cost-effective manner.
"We needed to take an innovative approach to accomplish this task," said Linda Devlin, director of the Camden County Library System. "We then found out about an underutilized floor of Robeson Library on the Rutgers University–Camden campus. Could we create a county library branch within this academic library?"
The answer to the question was yes, and an innovative one-floor, 5,000-square-foot county library branch is now located in the campus's Robeson Library. Total project cost was $2.5 million, and the library opened in April of this year. "In the first three months of operation, circulation and cardholders are up nearly 200%, and computer use has increased by 125%," said Devlin. "Use of the library's resources continues to increase as more and more residents discover the new branch."
Hours for the Camden County Library at Rutgers mirror those of other branches in the county library system, while the academic library keeps its own hours. The one-floor library has nine employees, three of whom are credentialed librarians: branch manager, librarian, and a senior librarian who is also youth services librarian.
The new staffers received additional training for their dual role, getting an orientation to the academic library and the Rutgers University–Camden campus. They also had to learn about the campus phone system and university police and security systems.
Devlin said she can't see any downsides to the joint library project. "We are providing so many valued services that it is difficult for us to focus on just one best part. We take great pride in providing all of our users with the latest bestsellers, popular video and music, and digital services." Devlin offered to share her knowledge and experience with other library systems that would like to emulate Camden County Library's approach.