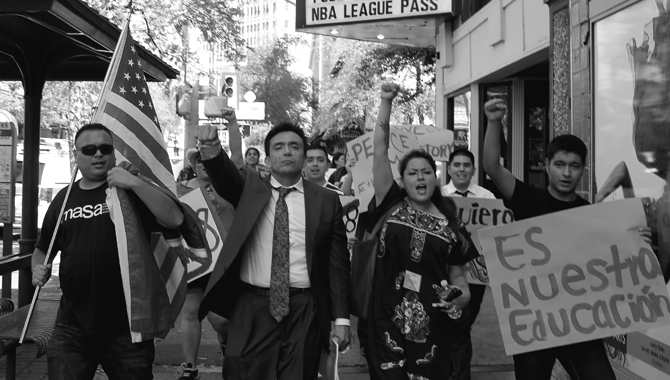 Librotraficante has had a rollercoaster year. Led by Houston-based author and activist Tony Diaz, the organization (whose name means "book smuggler" in Spanish) formed last year in response to Arizona House Bill 2281 (PDF file), which outlaws teaching courses in Arizona public schools that promote the overthrow of the United States government, foster racial and class-based resentment, favor one ethnic group over another, or advocate ethnic solidarity.
The bill, signed into law by Governor Jan Brewer in 2010, forced Tucson United School District (TUSD) to dismantle its successful Mexican-American studies program after receiving complaints that the course instilled views that were anti-American, anti-white, and hostile to the US government. The alleviation of the program led to the removal of hundreds of books from Tucson United school libraries, including works by Isabel Allende, Junot Díaz, Dagoberto Gilb, Howard Zinn, Henry David Thoreau, and William Shakespeare. Former teachers of the program and students filed lawsuits to challenge the bill's constitutionality, and the American Library Association passed a resolution at its 2012 Midwinter Meeting opposing the restrictions.
Librotraficante sprung to life in the wake of these actions. Diaz and supporters organized a caravan that traveled across the Southwest to spread the word about the Arizona bill and gather copies of the banned books to stock underground libraries in Tucson. The group gathered more than 1,000 books by the time it reached Tucson to rally on March 17, 2012. The ensuing year saw further action: social media campaigns, the launch of a magazine, numerous freedom of speech events, and the rise of underground libraries elsewhere.
Librotraficante's efforts could not sway the tide of the legal system, though—not completely, at least. On March 11, a federal court upheld most provisions of HB 2281, stating that the bill didn't violate students' First Amendment rights and that it did not discriminate. The section of the law that prohibits courses serving students of a particular ethnicity was declared unconstitutional, however, opening the possibility that Mexican-American studies courses of some nature could be reinstated to the Arizona curriculum.
These courses may be resurrected thanks to another ruling, as well.
On February 6, a federal court ordered TUSD to end segregation and discrimination. The district was first ordered to do so in 1974, after the court ruled against TUSD in a lawsuit filed by the Mexican American Legal Defense and Education Fund on behalf of minority students. Nearly 40 years later, the courts determined that the school district has yet to comply with the earlier ruling. As a result, TUSD has been ordered to implement a court-approved plan to eliminate segregation and discrimination—including offering culturally relevant courses, which may contain elements of the banned Mexican-American studies curriculum.
In recognition of its advocacy, Librotraficante was honored with the Robert B. Downs Intellectual Freedom Award at the ALA Midwinter Meeting in Seattle in January. The award is given annually to individuals or organizations that have furthered the cause of intellectual freedom, particularly as it affects libraries and information centers and the dissemination of ideas. The honor raises the profile of Librotraficante higher and may aid its efforts as it continues a similar fight in Texas.
Filed by Republican State Senator Dan Patrick in early March, Texas Senate Bill 1128 (along with a House companion bill filed by Texas District 98 Rep. Giovanni Capriglione) seeks to disqualify ethnic studies courses from eligibility as core history requirements for graduation from Texas universities. If the bill is enacted, only US and Texas history courses will be allowed to fulfill such requirements.
"In a global economy, why would anyone want to build a border wall around history courses?" Diaz said in a March 13 statement.