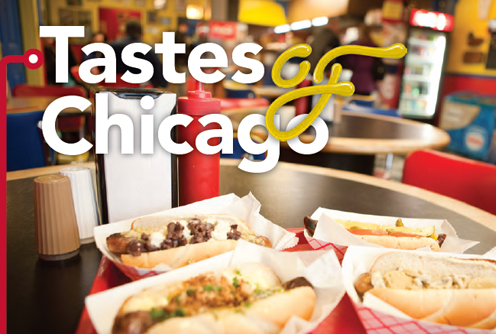 We Chicagoans love our food. In a town best known for its deep-dish pizza, hot dogs, and Italian beef sandwiches, we also take pride in our city's more recent culinary accomplishments, which have helped transform Chicago into a dining destination for foodies worldwide. And while there's no dearth of restaurant guides to help you maneuver your way around the city's best eats, staff members at American Libraries magazine have compiled a sampling of some of our favorite spots. We hope you have a chance to try a few of them (as well as other equally fine establishments that we weren't able to list here). At the end of the section is a public transportation guide to help you find—and sate—all your food cravings. Enjoy!
Price Guide
Average price for an entrée without tax or tip:
$: under $10
$$: $10–$20
$$$: $21–$30
$$$$: $31 and up
Within 5 miles of the Convention Center
Al's Beef
312-226-4017   alsbeef.com

1079 W. Taylor St. (Little Italy/University Village, and other locations)
Chicago has three specialties: hot dogs, pizza, and Italian beef. You can get a tasty Chicago-style hot dog here, with mustard, relish, onions, tomato, pickle, celery salt, and sport peppers. But save room for the house specialty, a slightly spicy Italian beef sandwich, served au jus with sweet peppers or homemade giardiniera in an Italian roll. Fresh-cut fries (with the skins) are extra—and worth it. There are other locations in the Loop and River North, but we like the original spot in Little Italy, across from Mario's Italian Lemonade stand. Magnifico! —LB
L, D (M–Sat)$
avec
312-377-2002   avecrestaurant.com
615 W. Randolph St. (West Loop)
Much more casual than its upscale sibling next door, Blackbird, but equally good, with small-plate dishes and an outstanding wine selection. The chorizo-stuffed, bacon-wrapped medjool dates in piquillo pepper sauce are a favorite. Friendly staffers will bring drinks while you wait for a table. —MP
D daily $$$
The Bongo Room
312-291-0100   thebongoroom.com
1152 S. Wabash Ave. (South Loop, and other locations)
Stop by the Bongo Room for breakfast, brunch, or lunch. Established in 1993 in the Wicker Park neighborhood, this popular spot still offers some original fan favorites, including its breakfast burrito and croissant sandwich. Ingredients are fresh and seasonal. —KB
B, L (M–F), Brunch (Sat, Sun) $$
Buddy Guy's Legends
312-427-1190   buddyguy.com
700 S. Wabash Ave. (South Loop)
If Buddy's in town, he shows up at the club around 9 p.m. You will need to be there by 7:30 p.m. to get a seat for that show. But there are lots of memorabilia in the upstairs dining area. If you just want to hear some blues, visit any lunch hour, when there's always a live performance and no cover charge. Southern specialties include a tasty catfish po' boy sandwich. —LB
L (W–Sun), D daily $$
Chicago's Home of Chicken and Waffles
773-536-3300   chicagoschickenandwaffles.com
3947 S. King Dr. (Bronzeville)
This South Side favorite has the long lines to prove that the food is worth the wait. With so many places where one can sample Soul food in Chicago, this spot stands above the competition. Part local favorite and part cult classic, this is definitely the place to get chicken and waffles in the city. Try the Darnell: two fried catfish fillets and your choice of waffle, potato salad, or fries for $11. —MP
L, D daily $$
Falafill
312-360-9400   eatfalafill.com
72 E. Adams St. (Loop, and other locations)
Chef-owner Maher Chebaro makes falafel more accessible with cafeteria-style service that delivers falafel wraps (chickpea for traditionalists, and choices such as curry or spicy sujuk sausage for more adventurous diners) and side dishes ranging from fries to traditional Lebanese rice and lentil soup. The mezza bar (appetizers) features crowd-pleasing Mediterranean fare like hummus, tabbouleh, baba ghanouj, and minted cabbage. —BG
L, D (M–F) $$
Frontera Grill
312-661-1434   rickbayless.com/restaurants/grill.html
445 N. Clark St. (River North)
With its bold color palette and design—and bold food to go with it—this casual frontier grill brings fun and vibrancy to any meal. Try the Oaxacan-style carne asada, with guacamole, black beans, and sweet plantains, and wash it down with one of the signature margaritas. For a kitchen table experience, check out Frontera's Library Room—perfect for intimate gatherings of up to 10 guests. —MP
Brunch (Sat), L (Tue–F), D (Tue–Sat) $$$
Girl & the Goat
312-492-6262   girlandthegoat.com
809 W. Randolph St. (West Loop)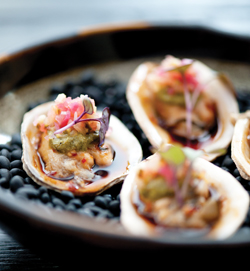 One of the hottest spots in town, this restaurant shows no signs of slowing down. Fans of Bravo's Top Chef may already know chef-owner Stephanie Izard's name, but few who dine here will forget the creative menu: confit goat belly, sticky date cake, etc. The menu changes frequently, and the restaurant works with a number of area farms to support the local movement. The catch: Getting reservations may be impossible unless booked months in advance. But don't despair; the restaurant offers a waitlist for walk-ins beginning at 4:30 p.m. every day. Or visit the sister restaurant, Little Goat Diner (820 W. Randolph), for all-day breakfast, burgers, and more. —KB
D daily $$$$
Greek Islands
312-782-9855   greekislands.net
200 S. Halsted St. (West Loop)
There are a string of Greek restaurants on Halsted, but this is one of my favorites. Very fresh and tasty gyros, Greek salad made with the restaurant's own feta cheese, lots of seafood selections. Offers free valet parking, as do most Greektown restaurants, a real perk so close to the Loop. —LB
L, D daily $$
Hackney's
312-461-1116   hackneysprintersrow.net
733 S. Dearborn St. (Printer's Row)
Pub grub nestled in the heart of Printer's Row in the South Loop. Stop in for a Famous Hackneyburger, a Hackney's tradition since 1939, Hackney's original french fried onions (a pyramid of intertwining fried onions), and a Guinness before or after perusing the new, used, and rare-book stores in the neighborhood. —PM
L, D daily $$
Harold's Chicken Shack
312-362-0442   haroldschicken55.com
636 S. Wabash Ave. (South Loop, and other locations)
Chicken (and even fish) any way you want it. Harold's doesn't try to be something it's not. What you'll get here is delicious fried chicken and sauce, with sides like coleslaw, fries, and hush puppies. Try one of the half-chicken dinners, which comes with three sides, all for around $8. It may not be the most heart-healthy option in town, but the staff is friendly and the food hits the spot. —MP
L, D daily $
The Hop Häus
312-280-8832   thehophaus.com
646 N. Franklin St. (River North)
Gourmet filet mignon sliders with blue cheese and shoestring onions on a pretzel bun pair well with local brewskis from West Coast, Domaine DuPage, and Goose Island. Want something more exotic? Try the ostrich, wild boar, or bison sliders, all served with confetti slaw, julienne pickles, and fries or mac 'n' cheese. Salads, fish, pizza, and wraps round out the menu. Several drafts and craft beers are available, as well as imports and a range of local bottled beers. —LB
L, D daily $$
Jim's Original
312-733-7820   jimsoriginal.com
1250 S. Union Ave. (University Village)
You'll see the Jim's Original sign glowing 24 hours a day from the Dan Ryan Expressway. Relocated to Union Avenue after the nearby long-running Maxwell Street market closed due to gentrification, Jim's has been serving up Polish sausages and hot dogs since 1939. The famous beef/pork Polish and all-beef hot dogs come with yellow mustard, grilled onions, and sport peppers, plus a bag of fries for less than $5. Well-lit, easy to find. —LB
24 hours daily $
Joy Yee's Noodles
312-328-0001   joyyee.com
2139 S. China Pl. (Chinatown, and other locations)
It may not be the finest restaurant in Chinatown, but it is popular, inexpensive, and a good value for your money. The baked rice in bamboo pot dishes and giant noodle soups are your best bet. Just a short cab ride from McCormick Place. —LB
L, D daily $
Karyn's on Green
312-226-6155   karynsongreen.com
130 S. Green St. (West Loop)
Karyn's on Green serves contemporary American cuisine with a vegan twist in the heart of the West Loop. The faux chicken legs, chorizo and crab sliders, and shepherd's pie dishes can fool the most die-hard carnivores into thinking they're eating the real thing. Karyn's shines in the mixology department as well, using organic and artisanal liquors to concoct its own handcrafted cocktails and variations on favorites (five different manhattans are offered). —PM
Brunch (Sat, Sun), L, D (Tue–Sun) $$
Les Nomades
312-649-9010   lesnomades.net
222 E. Ontario St. (Streeterville)
A garden gate and discreet doorway welcome visitors to a slice of Europe. Inside a classic Chicago brownstone that's tucked between larger buildings, diners may sit upstairs or down. But the first stop is the petit zinc bar. A glass of bubbly introduces the quiet, almost neighborly atmosphere. The cuisine, though undeniably French, sounds familiar American notes: Alaskan halibut, roasted venison, pecan crème caramel. Expert waitstaff nimbly guide you through the deep, international, and occasionally expensive wine list. You'll choose from a four- or five-course prix fixe menu. —LB
D (Tue–Sat) $$$$
Lou Malnati's Pizzeria
312-828-9800   loumalnatis.com
439 N. Wells St. (Streeterville/River North, and other locations)
This is genuine Chicago deep-dish pizza. Yes, you can get salads and appetizers and pasta dishes, and they are all good, but you have to try the pizza. The firm high-sided crust of the deep dish creates a fortress for a bounty of pizza sauce and cheese, glorious cheese. I like the "Lou," with spinach, mushrooms, Roma tomatoes, and three cheeses. —LB
L, D daily $$
Lou Mitchell's
312-939-3111   loumitchellsrestaurant.com
565 W. Jackson Blvd. (West Loop)
Lou has passed on, but his legendary breakfasts are still being served here. Generous portions, friendly waitstaff, and "the world's best coffee" draw lines for breakfast. But no worries: Lou's offers samples of doughnut holes and, for the ladies, boxes of Milk Duds while you wait in line. Spinach Special omelet with feta cheese and potatoes in a skillet, with thick Greek toast on the side, is my favorite, but any egg dish is divine. Walking distance to the Willis Tower (formerly the Sears Tower). —LB
B, L daily $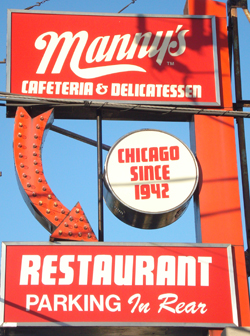 Manny's Cafeteria and Delicatessen
312-939-2855   mannysdeli.com
1141 S. Jefferson St. (Little Italy/University Village)
If you want to rub elbows with Chicago pols, this is your place. President Obama comes here when he's in town. Got a hankering for brisket or latkes? They got 'em. Corned beef sandwiches are enormous, meriting their $12 price tag. You cannot eat it in one sitting, so take a friend and share. Delicious pies and other desserts, too. Just one block from where the Great Chicago Fire started in 1871, now the location of the Robert J. Quinn Fire Academy and museum at 558 W. De Koven Street. Free parking. —LB
B, L, D (M–Sat) $$
Oasis Café
312-433-9534   oasiscafeone.com
21 N. Wabash Ave. (Loop)
You may never get another chance to eat at a Middle Eastern café in a jeweler's mall, so check out the diamonds or get your watch battery replaced on your way to the café in back. There are daily specials, and the food is authentic and inexpensive. Best bet: falafel sandwich and savory lentil soup. —LB
L, D till 6:30 (M–Sat) $
Phoenix
312-328-0848   chinatownphoenix.com
2131 S. Archer Ave. (Chinatown)
Come early to this popular dim sum destination, as wait times can be lengthy especially on weekends. The steamed barbecue pork buns are a crowd-pleaser, and the signature two-course Peking Duck is carved and wrapped tableside. Try to score seating in the main dining room on the second floor, which overlooks the city's skyline. Because the closest Red Line El stop to this Chinatown institution will be closed this summer, consider taking a cab or hopping on a water taxi. —SS
B, L, D daily $$
Pizzeria Uno / Pizzeria Due
312-321-1000/312-943-2400   unos.com
29 E. Ohio St. (River North)
619 N. Wabash Ave. (River North)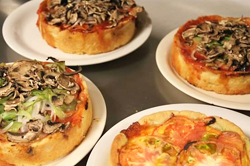 Now an international franchise, Uno is where Chicago-style deep-dish pizza began making history. In 1943, Ike Sewell created the original recipe for extra-cheesy pizza with a crust as thick as a fruit pie. It caused such a sensation that Sewell opened Due kitty-corner from Uno to handle the dine-in demand. (There's often still a wait for a table.) Choose Uno if you've got a taste for craft beer, which was recently added to the menu. If you have room after indulging, try the deep-dish sundae: vanilla ice cream, chocolate sauce, and whipped cream heaped atop a giant chocolate chip cookie freshly baked in a deep-dish pan. —BG
L, D daily $$
Pompei on Taylor
312-421-5179   pompeiusa.com/taylor
1531 W. Taylor St. (Little Italy/University Village)
Pompei prides itself on serving three generations of family recipes that include hand-rolled pizzas and hand-cut pastas. This local gem has been on Taylor Street since 1909. Order the signature pizza strudels—like the Poor Boy (ham, salami, capicola) or the Pompei Italiano (mini-meatballs)—by the slice or to share with a group. —MP
L, D daily $
Protein Bar
312-346-7300   theproteinbar.com
235 S. Franklin St. (Loop, and other locations)
This is the spot for those who love healthy, filling, and lower-calorie food that's tasty too. Protein gets packed into every dish, from drinks to "bar-ritos" with yummy quinoa instead of rice and whole wheat tortillas. The breakfast bar-ritos are ginormous and under 450 calories. —LB
B, L, D (M–Th), closes at 5 p.m. (F) $
RAW
312-831-2729   chicagorawfood.com
131 N. Clinton St., in the Ogilvy Transportation Center French Market (West Loop)
If you ever wanted to try raw vegan dishes, this is your place. The spaghetti made from sliced zucchini "noodles" is savory and filling. Smoothies, salads, sandwiches, and even desserts are on offer. —LB
L, D (M–Sat) $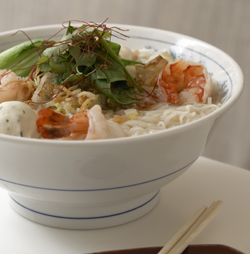 Slurping Turtle
312-464-0466   slurpingturtle.com
116 W. Hubbard St. (River North)
People come for the ramen—and we don't mean the kind college kids nuke in dorm rooms. Try the tan tan men ramen off the dinner menu (herbed pork meatballs) or the duck-fat fried chicken for a hot tapas item. —MP
L, D daily $$
Topolobampo
312-661-1434   rickbayless.com/restaurants/topolobampo.html
445 N. Clark St. (River North)
Reportedly one of President Obama's local favorites (story goes that he loves the sopa azteca), Topolobampo is "viewed as the quiet, sleek, classy sister to celebrity chef Rick Bayless's other Chicago restaurants. Topolo—as locals call it—has a menu that changes monthly. Try the ceviche trio for a mix of traditional and innovative interpretations on a classic dish. —MP
L (Tue–Fri), D (Tue–Sat) $$$$
Xoco
312-334-3688   rickbayless.com/restaurants/xoco.html
449 N. Clark St. (River North)
Xoco (pronounced SHOW-coh) is Bayless's take on Mexican street food. Try one of the tortas, like the cubana or the cochinita pibil. (Note: The habanero salsa is not for the faint of heart.) Or for something more substantial, order the wood-roasted chicken pozole. Need a sweet fix to tamp down the heat? Try the dipping chocolate and churros. Located around the corner from its more well-known sibling restaurants (see reviews of Topolobampo and Frontera Grill), Xoco is best experienced at lunchtime. —SS
B, L, D (Tue­–Sat) $$
5–10 miles from the Convention Center
Alinea
312-867-0110   alinearestaurant.com
1723 N. Halsted St. (Lincoln Park)
Alinea is Chicago's only three-starred Michelin restaurant. Described by Frommer's as "a place no serious foodie should miss," this beyond-fine-dining experience is the brainchild of celebrity chef Grant Achatz and his business partner, Nick Kokonas. Dishes are deconstructed and recombined in innovative ways, creating a 20-plus-course menu that requires four and a half hours to complete. Instead of making reservations, interested diners must buy tickets, which can range from $210 to $265. No walk-ins are accepted—though, for the procrastinators and spontaneous among us, the restaurant does sometimes post last-minute seating availability on its Facebook page and Twitter feed. —SS
D (W–Sun) $$$$
Big Star
773-235-4039   bigstarchicago.com
1531 N. Damen Ave. (Wicker Park)
The (big) stars have aligned at this fun summertime Wicker Park hangout. With a prime location and hip, casual atmosphere, Big Star centers around its large, square bar and sizable patio. The food is fresh (try the taco de panza, made with braised pork belly) and the drinks are quenching (try a cocktail, beer, or their Michelada—a can of Tecate beer mixed with lime and house-made salsa, served in a chilled, salt-rimmed glass). The downside: The packed crowds. The solution: Consider opting for the carryout window and eating at the nearby park. Cash only. —SS
L, D daily $
Branch 27
312-850-2700   branch27.com
1371 W. Chicago Ave. (West Town/Noble Square)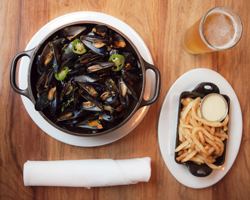 Located in the early-1900s building that once housed Chicago Public Library's 27th Ward branch—hence the name—this urban-rustic bistro has an extensive selection of craft beers and wine. Try the turkey and poblano burger or one of the daily specials with a drink. Sit at the bar or in the beautiful glass atrium and admire the indoor garden and the books that decorate the exposed-brick walls. Branch 27 will be offering a 20% discount on food for librarians (with a current badge or ID card) plus one guest during the conference. —MP
Brunch (Sat, Sun), D daily $$
The Chicago Diner
773-935-6696   veggiediner.com
3411 N. Halsted Ave. (Lakeview, and other locations)
Traditional American diner fare gets a vegan makeover at this Lakeview (and now Logan Square) hot spot. Their Radical Reuben is a favorite. Corned beef is swapped out for marinated seitan to mimic the taste and texture of the sandwich's signature ingredient. You won't miss the meat. —PM
L, D daily$$
Duke of Perth
773-477-1741   dukeofperth.com
2913 N. Clark St. (Lincoln Park)
Duke of Perth looks like a typical faux British pub with its menu of fish and chips, shepherd's pie, and bangers and mash; large dark wood bar; modest fireplace; large deer head, antique photos, and ephemera hanging on the walls. A glance at the drink menu reveals that this is no ordinary public house. Duke of Perth is known for its large selection of Scotch whiskey. There are more than 75 malts to sample, from the Suntory Yamazaki from Japan ($7 a glass) to a 25-year-aged Caol Ila ($35 a glass). —PM
L, D daily $ (food) $–$$$ (drinks)
Franks 'n' Dawgs
312-281-5187   franksndawgs.com
1863 N. Clybourn Ave. (Lincoln Park)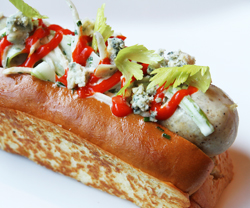 Chicago is a hot dog city, but those found at this eatery are a far cry from the traditional Chicago dog. Frank 'n' Dawgs takes hot dog cuisine to new levels with its hand-crafted artisan sausages topped with atypical extras. The Krazy Kimchi, a spicy beef sausage topped with a braised short rib, turnips, kimchi, wild rice, and basil, and the Tur-Doggin, a turkey-and-date sausage topped with crispy duck confit, herb garlic aioli, pickled onion relish, and pickled carrots, are sublime. Don't forget the Lyonnaise fries, hand-cut french fries dolled up with braised pig cheek, arugula, a poached egg, and a Dijon mustard vinaigrette. —PM
L, D (Tue–Sun) $
Goose Island Brewing Company
312-915-0071   gooseisland.com
1800 N. Clybourn Ave. (Lincoln Park)
You'll find this local brew in most bars and taverns around the city. But the original brewing company is an experience in itself and serves as the perfect spot to sample award-winning beers. Try a 60-to-90-minute brewery tour and tasting on the weekend; it includes six current beers and a souvenir pint glass. Tours fill up fast, so RSVP at least one week in advance. The brewpub also offers a seasonal food menu, which includes a decadent Stilton burger. —MP
L, D daily $$
Green Zebra
312-243-7100   greenzebrachicago.com
1460 W. Chicago Ave. (Ukrainian Village)
Green Zebra presents upscale vegetarian dining with a focus on locally grown fruits and vegetables. The dishes are clean, simple, and delicious. The menu changes seasonally; entrées have ranged from foraged maitake mushrooms with homemade kimchi and rutabaga dumplings to a country flatbread topped with medjool dates and squash purée, and sweet potato crepes. Reservations recommended. —PM
D daily $$
Handlebar
773-384-9546   handlebarchicago.com
2311 W. North Ave. (Wicker Park)
Healthy fare and fine beers are the specialty of this hip hangout for bicycle enthusiasts. The vegetarian-friendly menu is packed with interesting flavors. The vegan breakfast burrito with seitan chorizo, the Green Meanie, an avocado, herbed goat cheese, spinach, tomato, sprouts and honey-mustard sandwich served on multi-grain bread and the BBQ seitan sandwich are perfect for brunch and lunch. Handlebar's large back patio is perfect for summer days. —PM
B, L, D daily $$
Hot Doug's
773-279-9550   hotdougs.com
3324 N. California Ave. (Avondale)
In a city known for encased meats, Hot Doug's variety of pop-culture-inspired versions—like The Elvis (Polish sausage)—do not disappoint. This cash-only emporium is heavy on personality (customers with Hot Doug's tattoos eat free for life) and holds cult status among hot dog aficionados far and wide. So be prepared for long lines and wait times, though most people get seated with little difficulty. —MP
L (M–Sat) $
Kuma's Too
773-472-2666   kumastoo.com
666 W. Diversey Pkwy. (Lakeview)
If you want gourmet hamburgers served by a tattooed waitstaff while heavy metal music blares at intense decibels, Kuma's Too is your place. An offshoot of Kuma's Corner, an acclaimed burger bar on the city's Northwest Side, Kuma's Too shares the original location's menu and ambiance. It's also consistently packed. The wait time for a table can reach three hours, but the Lair of the Minotaur burger—10 ounces of meat topped with caramelized onions, pancetta, brie, and bourbon-soaked pears—and the excellent selection of craft beers on tap are worth the wait. —PM
L, D daily $$
La Pasadita
773-384-6537 and 773-278-2130   pasadita.com
1132 and 1140 N. Ashland Ave. (Ukrainian Village)
La Pasadita is a Ukrainian Village staple for the late-night set. Two locations are situated on the busy Milwaukee/Ashland/Division intersection, and both are packed with people waiting for after-hours Mexican fare every weekend. The food is basic: no-frills steak, chicken, chorizo, barbacoa, chile relleno, and tongue tacos; and burritos served with onions and cilantro. Though simple in preparation, the grilled meats explode with juice and flavor. The larger of the two locations, at 1132, offers an expanded of Mexican favorites. —PM
L, D daily $
Los Corrales Taqueria and Restaurant
773-847-6998   no website
2881 W. Cermak Rd. (Little Village)
Inexpensive, authentic Mexican food, from huaraches and tacos to enchiladas and soups (caldas). Hot, spicy salsa, your choice of red or green, accompany your meal. Try the steak quesadillas and delicious guacamole, or get adventurous and order a generous platter of three enchiladas with rice, beans, and salad for under $10. —LB
B, L, D (closed W) $
Medici
773-667-7394   medici57.com
1327 E. 57th St. (Hyde Park)
A relaxed coffeehouse atmosphere that boasts comfort food with pizazz: great Angus burgers, thin or pan pizza (goat cheese optional), freshly baked delights (croissants, cinnamon rolls, breads), salads, and monsterpiece deli sandwiches made to order. Try the Moroccan ragout or the beef or grilled veggie chili. Wash it all down with fair-trade coffee, loose-leaf tea, a soul-pleasing milkshake, or BYOB. Servers sport "Obama eats here" T-shirts, and their artwork hangs on display throughout. Eclectic statuary evokes the University of Chicago campus several blocks away, as does the "I was here" initials adorning tables and walls. Go ahead: Add "ala2013" to the décor. —BG
B (M–F), Brunch (Sat, Sun), L, D daily $$
Pequod's Pizza
773-327-1512   pequodspizza.com
2207 N. Clybourn Ave. (Lincoln Park)
A unique take on Chicago-style deep-dish pizza, with a ring of caramelized cheese around the crust. Pequod's offers a little bit of everything Italian, from pasta to sandwiches to dessert. And despite its location in the trendy Lincoln Park neighborhood, this establishment won't hurt your wallet. Great for groups. —MP
L, D daily $$
Piece Brewery and Pizzeria
773-772-4422   piecechicago.com
1927 W. North Ave. (Wicker Park)

Pizza and beer are timeless, and this popular spot does both really well. Located inside a remodeled garage, Piece serves up hand-tossed New Haven–style thin-crust pizza and a rotating selection of Piece-brewed beers. Co-owners Bill Jacobs and Rick Nielsen (of Cheap Trick fame) have created a mecca for those in search of a great pie, excellent brew, and a lively atmosphere. (The noise-averse should look elsewhere.) Choose from white, red, or "plain" (tomato sauce, no mozzarella) pizza. Toppings range from the standard (pepperoni, mushrooms, etc.) to the more unique (white clams and mashed potatoes). —SS
L, D daily $$
Revolution Brewing
773-227-2739   revbrew.com
2323 N. Milwaukee Ave. (Logan Square)
Even though this establishment is a considerable hike away from McCormick Place (approximately eight miles), Revolution Brewing can satisfy your craving for a tasty craft beer and has good food to go along with it. In 2012, The Reader, one of Chicago's alternative weeklies, voted Revolution Brewing as the city's best pub grub and best brewpub. Try the must-have bacon-fat popcorn for only $5. —KB
B, L, D daily $$
Urban Vegan
773-472-8208   urbanveganchicago.com
1550 W. Fullerton Ave. (Lincoln Park, and other locations)
Traditional Thai cuisine prepared with vegans and vegetarians in mind. Pad thai, radd narh, pad see-ew, orange chicken, seafood tom yum, all varieties of curry, and more are available with marinated soy, tofu and seitan substitutes in the place of chicken, beef, pork, and fish. Lunch and dinner combos that include brown rice, spring rolls, and salad are a best bet. —PM
L, D (Tue–Sun)  $
Compiled by Katie Bane, Laurie D. Borman, Beverly Goldberg, Phil Morehart, Mariam Pera, and Sanhita SinhaRoy.
---
Off the beaten path | Things to do
National Museum of Mexican Art
312-738-1503   nationalmuseumofmexicanart.org
1852 W. 19th St. (Pilsen)
In the heart of Chicago's Mexican community and founded in 1982, this museum is the largest in the US and features a permanent collection of 7,000 objects of folk art, sculptures, textiles, prints, drawings, and ephemera, and also has temporary exhibitions. —LB
10 a.m.–5 p.m. (Tue–Sun)
Garfield Park Conservatory
312-746-5100   garfield-conservatory.org
300 N. Central Park Ave. (Garfield Park)
Right off the CTA's Green Line, this is one of the largest conservatories in the US, with a magnificent fern house that was designed by landscape architect Jens Jensen. IMLS awarded the conservatory a 2012 national medal for museum and library service. —LB
Daily 9 a.m.–5 p.m., Wednesdays until 8 p.m.
---
Getting Around | Travel Tips
The Basics
The Chicago Transit Authority (CTA) now charges $5 for pay-per-ride customers traveling between O'Hare International Airport and downtown. Exempt are those who purchase a 1-day, 3-day, 7-day, or 30-day pass. A cab ride from O'Hare to downtown, by comparison, can cost more than $50.
For unlimited rides on all CTA buses and trains, consider purchasing a 1-day ($10), 3-day ($20) or 7-day ($28) pass.
Water Taxi to Chinatown
Take a water taxi (chicagowatertaxi.com) from Michigan Ave. and the Chicago River to Chinatown for just $5. Cheaper than a cab and a great architectural view the whole route! Ends at Ping Tom Memorial Park.
Transit Apps
To make getting around the city a bit easier, the CTA's App Center provides a list of many transit applications available for computers, smartphones, and other devices. Here are a few free ones we've used and find reliable.
Bus Tracking via Text
If you don't own a smartphone, you can still track bus arrival times using text messaging. Simply text "ctabus [stopID]" to 41411. Find the stop ID number at the bottom of the bus stop sign or on the CTA website, and you will receive a text with estimated times of arrival. Unfortunately, there's nothing similar for trains.
---
Dine Around Chicago
Whether you're a first-timer or a seasoned conference-goer, navigating around an unfamiliar city in search of great grub can be a hassle. That's why ALA created Dine Around Chicago, an opportunity for you to enjoy a meal at one of Chicago's top restaurants with colleagues from across the nation. We secure the seats (up to 10 slots per restaurant for Friday, June 28); all you have to do is sign up—for a single seat or as a group—before these slots are gone.
Dining options include:
Berghoff Restaurant (theberghoff.com) has been a Chicago mainstay, serving German-American cuisine since 1898. One of the nation's oldest family-run institutions, Berghoff Catering & Restaurant Group is known not only for its famous Berghoff beer and root beer but also for its catering and desserts. Try the beer and Wiener schnitzel.
Brasserie by LM (brasseriebylm.com) offers casual, sophisticated cuisine by combining time-honored techniques with a modern flair to create a dining experience that will leave a lasting impression. Try the signature beef bourguignon and a glass of Côtes du Rhone.
Scoozi (leye.com/restaurants/directory/scoozi) provides comfortable Italian ambiance with made-from-scratch cuisine. All pasta dishes are either imported from Italy or made in house. Enjoy the award-winning wine list along with mouth-watering bruschetta and brick-oven pizzas.
As an added treat, all participating restaurants will offer a special perk to those signed up through Dine Around. Find more information, check for new restaurants added to the list, and sign up at bit.ly/dinearoundchicago—before all seats are filled.