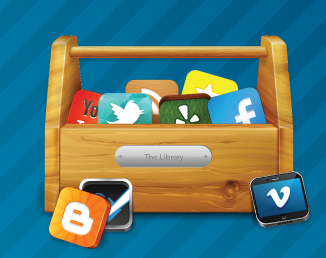 Novelist and director Stephen Chbosky was hanging out at New York Public Library, fielding questions about his just-released film The Perks of Being a Wallflower, offering tips to aspiring writers and sharing morsels of inspiration with starry-eyed fans. But he wasn't in New York.
"You don't even have to bring the author to your town anymore," says Johannes Neuer, associate director of marketing for NYPL. "Google Hangouts are the perfect places to create brand engagement."
When Neuer talks about social media tools, libraries should listen. Hangouts is just one of many public-facing platforms NYPL has taken into the fold of a marketing arsenal that produces results. To wit, with a following of more than 250,000 at its main Twitter handle, NYPL was able to leverage a 30-day campaign featuring celebrity quotes that offered effusive praise for libraries into a 35% increase in average monthly library card sign-ups last September. With more than 80 Facebook pages and 60 Twitter accounts representing the 90 branches serving Manhattan, Staten Island, and the Bronx, it's fair to say that NYPL has been a frequent adopter, if not high-profile leader, in the social media space.
"We pick platforms based on whether it works with the type of content we want to put out and whether it meets our goals—brand awareness, increased traffic, and creating community," Neuer says. Facebook, Twitter, Google+, YouTube, Pinterest, Tumblr, and e-newsletters are a few staple mechanisms. Yet most staggering is not the quantity of accounts, or what NYPL shares and curates on social media platforms, but the content the library creates itself through a vast infantry of librarian bloggers.
"We give [bloggers] as much latitude as they want to write about what interests them," says Lauren Lampasone, digital producer for NYPL's Reference and Research Services. "There are some people who have embraced this and are very prolific." Last year 150 bloggers published 810 blog posts encompassing 180 different subject areas, with visits to these blog channels increasing 56% between 2011 and 2012. The blogs are an invaluable part of NYPL's social content marketing, with librarians acting as internal advocates and most of the traffic coming from Google searches.
"The content is a discovery mechanism for the collections that we have," Neuer says. This point resonates in light of a recent Pew Internet & American Life Project study, "Library Services in the Digital Age," which found that 73% of patrons visit libraries to browse, and personalized recommendations are still an important service to the library-goer. In this way, blogs serve as a point of entry for customer service. "I like to see whether blogs lead to click-throughs to our digital gallery or our online catalog," says Lampasone.
While Neuer acknowledges that not all library systems are as large or replete with employees-turned-ambassadors as NYPL, he believes that using social media is a low-budget practice any-sized library can take on. "You can do it all in-house, especially if you have creative people," Neuer says. Though taking staff resources into consideration, Neuer acknowledges, "It's not free."
"If all libraries were doing what we're doing, it would be amazing," says Lampasone. "It would really put libraries in the position of 'we have access to all of this.' "
Going viral for survival
Facing a slashed book budget, reduced employee hours, and Sunday closings back in 2010, the Central Rappahannock Regional Library, headquartered in Fredericksburg, Virginia, sought to make a morale-boosting music video for a staff appreciation function. "We had been struggling with budget cuts—we wanted to give [our staff] a semi-humorous affirmation that they've been asked to do more but they're still doing a fabulous job," says Sean Bonney, the graphics coordinator at CRRL, who organized the filming.
What resulted was "Libraries Will Survive," an aptly retitled parody of the disco hit "I Will Survive," starring CRRL's own staffers. While originally intended for an internal audience, Bonney says, "It was always my intention, in the back of my head, to share this publicly."
Propelled by "strong content with an entertainment hook," Bonney says, "Libraries Will Survive" amassed 13,000 views in its first week on the library's YouTube channel. Today, the short and long versions of the video have more than 180,000 combined views.
"I knew what 'viral video' meant, but I had never experienced anything like that," says Caroline Parr, deputy director at CRRL. "In that moment it's everywhere you look."
The video spread primarily through Facebook and gained the positive attention of bloggers, news outlets, and national and international fans. "People would say, 'I saw you on YouTube, I saw you on TV.' They would see the brand and come in and talk to us," Bonney says. This type of "ineffable, good-feeling" engagement, says Parr, "is worth a lot, but it's hard to quantify."
"We didn't ask for money. The real result was that people appreciated we had a good sense of humor about this," says Parr. Still, the video was not without detractors—Parr says some believed the levity took gravitas away from the message of crisis.
And while Bonney suggests that the goofiness of librarians playing against type, whatever the public perceives type to be, may account for the social media traction, he also thinks the video conveyed what he considers the double-edged sword facing all libraries—"when the economy is tough, people need their libraries more."
Following their "non-campaign," as Parr refers to it, CRRL is forging ahead with collaborative social ideas, such as a partnership with the county for developing a history-themed branded channel on a location-based mobile alert app called Tagwhat. "We were already believers in social media before the video," Parr says. Now what is important is "what we in the library can bring to local government that they haven't heard about," says Parr.
Charlotte Mecklenburg (N.C.) Library experienced a similar economic trough in March 2010, facing a proposed fiscal cycle that would have cut the number of branches in the system from 24 to 12. Far from accidental, a social media–assisted campaign to cover a $2 million deficit in two weeks' time emerged organically, and almost instantaneously, as marketing and communications specialist Jenifer Daniels was live-tweeting a board meeting. "One of the meeting attendees said, 'Two million dollars, is that all?'" Blurting this sentiment on Twitter, it turns out, was effective in kickstarting a campaign.
"It was the catalyst to start the conversation," Daniels says. "It jumped from the social space to children having lemonade stands on their front lawns."
CML's long-standing social media goals—"to be in control of the message without media filter and be as transparent as possible," according to Daniels—were put to the test during the day-and-night frenzy of status updates and tweets during the budget crisis. "It wasn't about asking for money; it was about asking for support. A lot of time was spent just answering folks' questions on what this meant to them," says Daniels.
Still, the community raised more than $400,000 of the $2 million deficit, which Daniels attributes to Facebook, Twitter, and word of mouth, as well as traditional methods such as collection boxes and donation signs. Layoffs occurred, but only four of 12 proposed branches were shuttered. Daniels says that the 800% increase in fans and followers across Facebook and Twitter during those two weeks have been actively sustained, "because we were so transparent at our lowest point."
Essential to this transparency was CML's decision, preceding the crisis, to consolidate its number of social presences from roughly 200 accounts down to 20 accounts, according to Cordelia Anderson, director of marketing and communications. "We had a bunch of accounts—disparate content—and people were tuning them out," says Daniels. "Twenty presences, closely monitored and managed," Anderson adds, "were much more effective than 200 sites with potentially out-of-date or conflicting information would have been."
These days, Daniels describes CML's social media networks as a sandbox. "We're having a good time, getting folks engaged, and cultivating new readers and learners in the community." The sandbox is not without consideration to more traditional marketing; collateral, dashboard-measured metrics; or the public's level of engagement and tone.
"We really know that this is conversation and this is social. We're just selling you change and your life being different. We want to know how you feel about us, because we'll know we're on the right path," Daniels says.
"Social media is not our strategy; it's a tool. It affects our decisions and how we draft our key messages," Daniels adds. "What we have is buy-in; that's why this works."
Place-based community
Jeremy Graybill, marketing and communications director for Multnomah County (Oreg.) Library, admits to being simultaneously frustrated and "mindblown" when a place-based social advocacy campaign, Show Your Library Some Love, swept through the Portland area.
He was frustrated because public libraries can't campaign for ballot measures—which meant MCL watched from the sidelines as volunteers from Libraries Yes and political campaign firm Winning Mark drove patrons to the libraries' steps, posing for photographs holding oversized prop hearts, in the hopes of creating visual support for a levy dictating library funding in the May 2012 election. MCL couldn't so much as click "share" or "retweet."
He was consequently stunned by "super-impressive" efforts to turn library lovers from "awareness to engagement to advocacy," Graybill says. By identifying between 300 and 400 geosocial supporters via check-ins on networks such as Foursquare, Yelp, Google Places, and Facebook Places, campaign runners were able to cultivate more than 100 conversations and three dozen cause organizers.
"It was fun to watch," Graybill says, "but it was kind of like being a kid in a candy store." The levy passed with more than 80% of the vote, and Graybill's team could finally share. The Facebook post thanking the library's fans (today approaching 19,000 on Facebook) for passing the levy is still the library's most popular social update—it was seen by tens of thousands and shared by hundreds. "We were trending on Twitter that night," Graybill says.
This isn't the first time library patrons have appeared front-and-center in marketing campaigns promoting MCL. My Life, My Library, a (non-election affiliated) campaign designed to be a "colorful, representative, and inclusive" profile of the community, seeks to show "how the library benefits people beyond the four walls of the library," Graybill says. The campaign focuses on an individual—new parent, senior citizen, someone seeking citizenship—and uses social media marketing, such as YouTube broadcasts, in tandem with traditional marketing and advertising, to tell life-changing stories.
Given that the library sees its user base as a defining asset, it may come as no surprise that this year MCL switched to a new online catalog that seeks to build a more interactive community. "We had feedback from a lot of patrons to be more social. This is a big step forward in being able to present the library's collection in new and different ways," says Graybill.
The revamped MyMCL, which runs on the BiblioCommons interface (also used by NYPL and CRRL) and can roll back to the old catalog at any time, ideally simplifies searches, and employs social networking capabilities that allow library patrons to rate, review, and find recommendations on materials. "Peer review creates a community of book lovers," Graybill says. "The goal was to build a site for 443,000 cardholders at all levels of technological literacy—more options, not less."
More, not less, carries through to MCL's style of social media management. While somewhere between 10 and 15 people contribute to the surprisingly cohesive voice behind the library's Facebook and Twitter presences, nobody on staff manages social media accounts full time. "We all collectively add to our plates," Graybill says. "The idea is to steer the enthusiasm to strategic outcome."
In doing so, Graybill and his team have given themselves a framework to play—akin to Daniels's sandbox—with careful attention to how the online and social experience builds on the expertise of their well-regarded librarians and delivers services to customers. "Library locations aren't going anywhere—so how do we expand?" Graybill asks. "Isn't an online community just as viable as a library branch?"
Social media's return on investment is, however, something Graybill considers unquestionable. "It's a no-brainer. There are 1.1 billion people on Facebook," he says. "We talk to 5,000 people per week."
"It creates a new space for libraries to have value," Graybill says. Beyond their four walls.
TERRA DANKOWSKI is a freelance journalist living in Chicago.