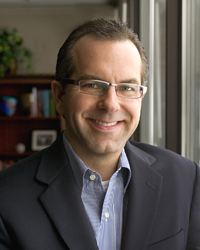 David "Skip" Prichard became president and CEO of OCLC on July 1, succeeding Jay Jordan, who retired after 15 years at the helm of the nonprofit library consortium. He had most recently served as president and CEO of Ingram Content Group in Nashville, and before that was president and CEO of ProQuest Information and Learning.
SKIP PRICHARD: What are your first impressions of OCLC?
My first few weeks have been meeting the OCLC staff, attending the Americas Regional Council meeting, ALA Annual, and preparing for the World Library and Information Congress of the International Federation of Library Associations and Institutions (IFLA). I've also been reviewing our research and speaking with librarians around the world. Listening to our members is my highest priority right now as I learn what they need to succeed and how we can help.
There is a tremendous amount of positive energy and enthusiasm among OCLC staff and members. It's clear that the board, staff, and members are dedicated and passionate about libraries, technology, and the principles of cooperation that continue to guide the organization.
What's the biggest challenge facing OCLC this year?
The challenges facing OCLC are many of the same challenges facing libraries.
Information technology continues to move at an extraordinarily rapid pace, and we have to make sure we are providing the services to help libraries make the most of those technologies and, at the same time, reduce costs. As library users' expectations continue to grow, we have to make sure we meet and exceed those expectations, whether the user is in the library, at home or in the office, or tapping into library resources using a mobile device.
There are lots of leadership styles. What's yours and how will it help OCLC?
I am passionate about my work, and inclusive in my approach to guiding an organization. Leadership is about leveraging strengths and creating new opportunities. I enjoy and look forward to doing both.
How's the transition to WorldShare Interlibrary Loan going?
WorldShare Interlibrary Loan is designed to simplify workflows and extend options for libraries to fulfill patron requests beyond traditional interlibrary loan.
The migration is taking place over nine months so libraries have a good deal of flexibility in when and how they start to use WorldShare Interlibrary Loan. More than 20% of our active application users have already made the move and are using the new application. We're planning for a spike in activity toward the end of the year.
WorldCat now has two billion holdings. What's next?
Three billion! I don't mean to be flip, but adding these library location listings is essential to helping users find what they need in libraries around the world. It took member libraries 34 years—from 1971 to 2005—to add the first billion. OCLC members have added another billion in less than eight years. We will continue to provide the infrastructure needed to add these holdings to WorldCat, which increases the reach and visibility of library holdings worldwide.
What's the coolest thing OCLC is doing?
We believe that anything we can do to help libraries collaborate and innovate is pretty cool. OCLC has been developing WorldShare library services over the past several years to offer libraries a cooperative strategy and technology platform that enable shared efficiencies and innovation. The cooperative approach is consistent with OCLC's founding principles of cooperation and collaboration—with the best technologies available today.
These cloud-based services are helping libraries to concentrate computer resources, applications, and data to deliver benefits to large numbers of users through the web.
How do you plan to meet everyone's expectations and appeal to the wide range within your audience?
As a membership cooperative, OCLC has to address the needs of our member libraries. We develop the products and services that best meet the needs and expectations of our users. In addition to our services designed to take full advantage of the latest technological advances, OCLC provides infrastructure and services for professionals to share information and best practices for libraries of all types and sizes. WebJunction, for example, provides online courses, workshops, and other learning opportunities for library professionals to share experiences and best practices in service to their users.
OCLC also serves the greater library and information science communities through research and other advocacy programs and activities.
Can you name some groups you'd like to partner with?
On any given day, OCLC is in discussions with a variety of potential partners who we believe will add value to the OCLC cooperative. Already in my few weeks here, I've had the opportunity to participate in or start some of these discussions. We are engaged in very successful partnerships with publishers, e-content providers, websites, information providers, industry vendors, and others who provide the kinds of services our member libraries need. Our goal is to collaborate when it serves our public purpose and our members.
Tell us everything that's on top of your desk right now.
On my desk at work are two files labeled "strategy" and "IFLA." I'm new to OCLC, so it's important for me to review the strategy of the organization and continually focus on that and how we can deliver for members. IFLA is also top of mind as I prepare to visit Singapore.
At home, my desk is not visible. It is literally buried under moving boxes. My wife is a mastermind at moves, and she won't let me keep it this way for long.
What are you reading now?
Three books on my current reading list are The Wilderness Warrior: Theodore Roosevelt and the Crusade for America, by Douglas Brinkley; Caravaggio, by Andrew Graham-Dixon; and Under the Dome, by Stephen King. I enjoy reading all types of books, fiction and nonfiction, and like to exchange ideas about them through social media.
You have a pretty busy schedule. What do you do to relax?
Reading, writing, and blogging. My family enjoys music of all types, so we are always attending concerts or finding live music venues. That was easy in Nashville and we are on the hunt here in Columbus, Ohio.