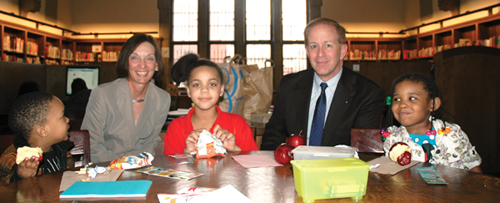 When Patrice Merritt was asked the number one challenge Detroit Public Library (DPL) faced with its summer reading program, she didn't hesitate with her answer: hunger.
"Our kids come to our library branches starving," says Merritt, executive director of the Friends of the Detroit Public Library Foundation. "They can't concentrate."
Luckily, the person who asked the question was also someone who was poised to help—Brian Glowiak, vice president of the Chrysler Foundation, the charitable arm of the Detroit-based car company. The foundation already worked to fight hunger in the city through Forgotten Harvest, a large nonprofit that takes imperfect produce or not-quite-expired food and gives it to social service agencies. To Glowiak, it just made sense that the library could be a recipient too.
"If they could have nutritious snacks, like fruit or a non-sugary drink, it would go a long way to help the kids out," Glowiak tells American Libraries.
So he and Merritt put their heads together with John Owens, head of Forgotten Harvest, to come up with a solution. The Chrysler Foundation gave a $26,000 trial grant to pay for lunches that were a part of the library's 2012 summer reading program. In 2013, it funded a $74,000 grant that paid for 11,000 lunches this past summer and for 6,300 after-school snacks every month at all of DPL's 22 branches.
"Literacy is an issue. Nutrition is an issue," says Glowiak. "An opportunity like this, where you do have children who are coming to the library—a safe haven that provides a constructive environment to expand their reading skills—it's a perfect storm in a positive way."
Detroit's Wayne County has one of the highest rates of child food insecurity in the nation, with nearly one in four children not sure where the family's next meal will come from.
Merritt says the program—which will continue in 2014—has been a huge success, boosting the numbers of kids who come to the library for help with homework or just because it's a nice or safe place to be.
"There's something to eat; there are people there to help," she says. "For some of the kids, this may be the last meal they're going to get that day."
While the number of kids coming to the summer reading program had been stagnant in recent years, it was up 23% in 2013, and the after-school program is serving 20% more kids too, giving them fruit, a drink, and a nutritious item such as yogurt every day.
The snacks hooked them in, says Merritt, but it's the library environment that has kept them coming back—particularly teens. "It's a community spot for that age group that has a hard time finding community spots," she tells AL. "We're making the library a cool place to come."
While snacks may be outside of the services librarians typically think to offer, Merritt says it's just an extension of the ideals that libraries embody.
"We are the most democratic of institutions that still exist in this world. Our doors are open to anyone and everyone, and we don't ask questions," she says.
That means many librarians are getting to know which kids aren't going to eat that night and encouraging them to pack an extra granola bar in their school bag. Or telling parents and caregivers about the more traditional services they offer when they come to pick up their little one.
"We are in 22 of some of the most dire neighborhoods in this country," Merritt says. "There is no other place for some of these kids to go. There are a lot of people who have up and left and [many] schools that have closed, but we are still here."