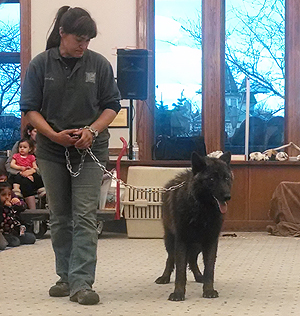 What began in 1925 as Children's Day following the World Conference on the Well-Being of Children (Día de los Niños in Mexico) has evolved into Día de los Niños/Día de los Libros (Children's Day/Book Day), observed every April 30 in the US.
The holiday, now commonly known as Día, celebrates multicultural children's books, reading, and education, with libraries holding reading events and play activities for young patrons.
What may have been one of the wildest celebrations in the country took place at Joliet (Ill.) Public Library. Wildlife education center Big Run Wolf Ranch brought to the library mammals that are native to the northern US. The visitors included a skunk, a porcupine, and, of course, a wolf.
Dozens of children followed the animal presentation with a game of Juguemos en el Bosque (We Play in the Forest)—a game of tag in which one child plays el lobo (the wolf) and other children ask, ​"¿Lobo esta?" ("Is the wolf there?"). The wolf then replies, "Estoy poniendo mis pantalones/chaleco/zapatos/sombrerito" ("I am putting on my pants/vest/shoes/hat"), after which the wolf chases the other children.