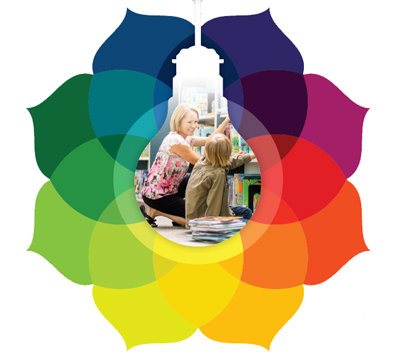 As a publisher of educational materials for students in K–12 schools for more than 34 years, I've collaborated closely with school librarians who deliver content and programming to the populations that we both serve.
With the advent of the digital revolution and the opportunities and challenges that this disruption provides, the school librarian is one of the most prepared professionals to make momentous choices on behalf of students. These choices comprise a broad range of options that include hardware, software, age appropriateness, access, pricing models, collaboration with classroom teachers and administrators, evidence of efficacy, and—perhaps most importantly—strategies for student engagement. The passion and enthusiasm with which my colleagues in the school library setting have embraced change and introduced new pathways of learning have inspired our publishing team.
Indeed, most of my colleagues work closely with the school librarians, who are the greatest enthusiasts of their publishing programs. Librarians are often enlisted to help craft the design, navigation, customization, and interactivity of a publisher's digital learning solutions. This protocol is now a well-established norm in my company, Rosen Publishing Group. Our latest subscription resource, Digital Literacy, had considerable editorial guidance from Michelle Luhtala, library department chair at New Canaan (Conn.) High School. She is a national authority on building youth digital citizenship skills, and her development of our lesson plans for teachers and librarians was deeply informed by her own innovative curriculum development. Practitioners know what works.
Close collaboration with librarians informs everything we do, and it is not limited to content creation but also includes impassioned advocacy on behalf of the profession to raise awareness about the vital role that school librarians play in the lives of their students. In this past year alone, my company has convened round tables in six different cities, bringing together key stakeholders within the community to concentrate on literacy, libraries, and funding issues.
Publishers are also citizens, and I find myself very much in sync philosophically with the concerns regarding social justice and equity of access that our librarians grapple with every day.
In an era when more than 16 million children in the United States—22% of all children—live in families with incomes below the federal poverty level, the school library, when properly resourced and wired, is the nexus of many pathways toward the realization of dreams. The school library is a safe and dynamic place that can provide professionally curated content to every student—content that, once mastered, prepares kids for college and their careers.
In the 21st century, digital literacy competencies are vital to securing a meaningful future in this e-information and socially networked age. Access to a connected computer is not enough. The role of the professional school librarian in matching students' needs and interests with the appropriate resource and the right engagement strategies is an essential part of the relationship.
This innovation of engagement is demonstrated by Limitless Libraries, a partnership between the Nashville (Tenn.) Public Library and Metro Nashville Public Schools that fosters resource sharing and ultimately improves student access to learning materials. Hope Hall, librarian at Hillsboro High School in Nashville, articulates how they have embedded access to the right resource with a mode of use that ensures student engagement. "I show Rosen Digital's Teen Health and Wellness resource at every freshman library orientation," she says. "I stress the confidentiality of using Teen Health and Wellness and its accurate information. I tell them to share with friends and family, and I show them the free hotlines and local resources. I ask students to download the free mobile app. Then I show them how to utilize it, and I see them go right away to using it."
Students have many learning styles, and exploring which resources will light their fire—whether interactive ebooks with content creation tools or electronic databases that include student writing—is founded on the school librarian's professionalism in knowing the resources available and the individual interests and aptitudes of any given student. I personally have interacted with many visionary school librarians who have pioneered such innovative programs as gaming and learning, creating school makerspaces, and guiding citizen journalism projects for publication. Often, the enhancement of a teen's innate digital savvy is advanced by programming from the school librarian who has leveraged this prior knowledge. It is precisely this responsiveness that has altered the landscape of the kinds of services and resources made available within the school library and stewarded by the school librarian, as so deftly articulated in a recent report published by ALA's Young Adult Library Services Association titled The Future of Library Services for and with Teens: A Call to Action. The librarian's role embraces "this expanded definition of literacy [and] impacts the types of services, programs, and collections that libraries provide, as well as the nature of the work that library staff perform."
To those who say that in a world of mobile devices the physical library and the librarian are no longer relevant, I must object vehemently. Nothing can be further from the truth.
For those who do not have access to the benefits that the digital revolution can provide, the library is the go-to destination for digital empowerment, training, and discovery. In a world in which so many of our professionals have lamentably shown deep moral failings, the librarians of our society have maintained a level of unrivaled integrity and are the curators whom I trust the most to separate the music from the noise.