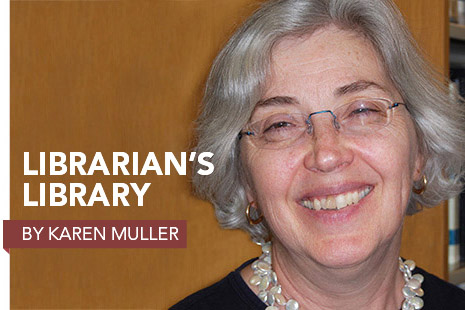 Building the collection is a core activity in any library. A school library collection is built to support the curriculum and provide for voluntary reading; an academic library collection is developed for current and future student and faculty research, in lines of inquiry that might be hard to imagine today; and a public library collection provides for all of these things, but above all for active, community use. Selecting the right titles for the right audience is an art, but over the years, a certain amount of science has been added through collection evaluation tools.
Through her long career, Peggy Johnson, author of Fundamentals of Collection Development and Management, now in its third edition, has been one of many librarians who has taken the profession from book selection and purchasing to collection management by addressing such issues as cooperative collection development, collection analysis, and scholarly communications. Her book's introduction explains the shift: After the enormous growth of libraries, particularly academic libraries, in the 1960s and early 1970s, the focus evolved from amassing sizable collections to developing collections that met user needs and made effective use of tightening resources. With continued straitened resources, inflationary pressures, and new technology, it became necessary to learn to work with new models. Johnson presents the issues for all types of libraries and also covers the additional areas of weeding, policy development, and marketing and liaison activities. Each of the nine chapters has been expanded from the prior edition, with content on new tools and digital collections, and each includes an extensive bibliography. There is also a glossary.
Indexed. ALA Editions, 2014. 568 p. $75. 978-0-8389-1191-4.
Kay Bishop's The Collection Program in Schools: Concepts and Practices, in its fifth edition, presents a similar range of issues, but specifically for the school library. She devotes chapters to the role of the school library collection, the importance of a selection policy statement, and a few of the metric-based evaluation processes frequently used in school libraries. There is a substantial section with pointers on how to include a range of media in the collection, along with a discussion about supporting the school curriculum with electronic resources. Supplementing the discussion are both websites and traditional bibliographies for further reading.
Indexed. Libraries Unlimited, 2012. 263 p. $55. 978-1-61069-022-5.
Rethinking Collection Development and Management, edited by Becky Albitz, Christine Avery, and Diane Zabel, gathers essays covering the full range of collection development, from selection to acquisition to shared access to preservation. It complements Johnson's book by exploring in depth such issues as acquiring self-published materials, using demand-driven acquisitions, and working with floating collections.
Indexed. Libraries Unlimited, 2014. 402 p. $60. 978-1-61069-305-9.
A thread running through these books is the importance of collection evaluation. Does this item really belong here and why? Although techniques specific to library collections are detailed by both Johnson and Bishop, Getting Started with Evaluation, by Peter Hernon, Robert E. Dugan, and Joseph R. Matthews, presents an overview of more general evaluation techniques and metrics. Using a toolkit format, this volume looks at the importance of evidence for decision making and measuring effectiveness and value of the library to its community.
Indexed. ALA Editions, 2014. 256 p. $65. 978-0-8389-1195-2.
The challenge of collection development in today's libraries is that it isn't just about books, but also about digital and other media. It also isn't just about research and reading, but rather building a learning community. To this end, consider Leading the Learning Revolution: The Expert's Guide to Capitalizing on the Exploding Lifelong Education Market, by Jeff Cobb. Following an overview of the development of a learning economy and the growing demand for learning opportunities, only some of which will be delivered in traditional ways, Cobb addresses audience, business models, delivering value, learning design, delivery, and (of course) evaluation.
Indexed. AMACOM, 2013. 240 p. $29.95. 978-0-8144-3225-9. (Also available as an ebook.)
Holly Hibner and Mary Kelly, in Making a Collection Count: A Holistic Approach to Library Collection Management, go beyond collection development basics to discussions on presenting a collection to its users. What is the vision for the collection? What kind of signage makes for useful wayfinding? When is an inventory necessary? Unlike the Johnson and Bishop books, this is not a definitive guide but rather an inspirational discussion of how to look at a collection in a new way. In its second edition.
Indexed. Chandos Publishing, 2013. 216 p. $80. 978-1-84334-760-6. (Also available as an ebook.)
KAREN MULLER is librarian and knowledge management specialist for the ALA Library.