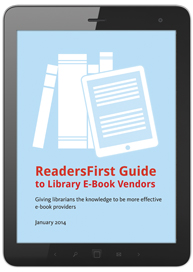 After more than a year of development and research, the ReadersFirst Guide to Library Ebook Vendors (PDF file), which compiles information on ebook vendors and their products and then rates them on ease of use and efficiency, is available to the public. And it's working.
The guide is the brainchild of the Readersfirst Working Group, which organized in 2012 at BookExpo America in New York City to address public librarians' concerns about ebook systems. They represent 292 library systems and almost 200 million readers. After months of research and discussion, the group discovered that ebook and e-content delivery is fragmented: Features and administration functions vary from product to product; compatibility and integration problems are common; systems that may work for patrons may not be the best fit for staff.
"We very much wanted to improve the experience," says Michael Santangelo, electronic resources coordinator for BookOps Library Services Center, the shared technical services of the Brooklyn and New York Public Libraries, and ReadersFirst member. To do that, the group determined how it wanted ebook platforms to work. "We started looking at basic requirements. We wanted something with fewer steps to check out, that would work on mobile devices. We took these things that we heard from librarians and patrons and brought it to vendors," he says.
That meeting occurred at the 2013 ALA Midwinter Meeting in Seattle, where the group presented its findings and called upon vendors to enhance the ebook reading experience. The group proposed that readers have the ability to search one comprehensive catalog to access all of a library's holdings; place holds, check out and renew items, view availability, manage fines, and receive communications within a single source (website, catalog, or other means) as determined by the library; access a variety of e-content; and download books compatible with all reading devices. To help meet these requirements and make the ebook experience seamless for readers and librarians alike, a comprehensive guide detailing vendors and their products was necessary.
Vendors present at the meeting were open to working with the group. This led to the creation of forms that evaluated the vendors on 37 categories related to general terms and conditions of products, item metadata, circulation transactions, patron account information, patron notifications, e-content formats, and administrative reporting and support. Group members worked with the vendors for more than a year as they evaluated their own systems. The findings make up the bulk of the ReadersFirst Guide and provide a wide view of systems' pros and cons.
Santangelo says that the group has received positive feedback from librarians looking to purchase or upgrade systems, as well as from vendors who are using what they've learned from the collaboration to upgrade their products. Santangelo is quick to note that the ReadersFirst Guide isn't a buyer's guide. "We don't talk about pricing," he says. "We're not telling anyone what they should or shouldn't buy—we're just sharing common concerns, wants, and needs based on librarian requests. And we're sharing our ideas about options for systems."
The guide isn't definitive either, Santangelo says. Vendor evaluations are ongoing, evolving as the market, systems, and user needs change. This is of prime importance to the group, he says. "What's great is that there has been dialogue. We came together as librarians and presented a vision of our own, and it worked. It's made us proud."