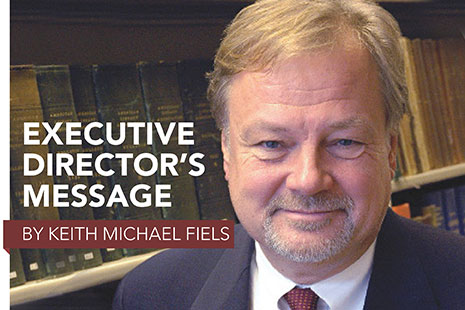 In May, then-President Barbara Stripling brought together a hundred individuals—and about half from outside the library community—at the Library of Congress to discuss the future of libraries. In the process, these individuals also helped launch a new ALA Center for the Future of Libraries.
Later that month, Miguel Figueroa was named director of the center (many of you will remember Figueroa as the Knowledge River graduate who served as director of ALA's Office for Diversity and Office for Literary and Outreach Services). Since then, he has been reaching out to groups within and beyond the Association and the library community to begin creating a master resource for library planners and policymakers who are thinking about the future of libraries.
A focus on trends has been at the core of the Center for the Future of Libraries from the start. Libraries and librarians have told us they need ready access to useful and usable information on long-term, large-scale demographic, technological, and societal trends. With knowledge of these trends, we can actively plan with our communities, innovate and experiment with and within these "currents" shaping society, and ultimately make our institutions and profession integral to the future that these trends will shape.
Over the next several months, we will continue to expand the center's web presence with a "trend library" that presents succinct information on trends, including how they are developing; why they matter for libraries; and where to find reports, articles, and other resources that further explain their significance. The early work on this trend library has been heavily informed by several recent reports from the International Federation of Library Associations and Institutions, Arts Council England, New Media Consortium, Australian Library and Information Association, Pew Research Center, American Alliance of Museums' Center for the Future of Museums, and our own Office for Information Technology Policy. The trend library will continue to build on the work of these reports and examine new and emerging trends that will shape libraries. Members of the library community can contribute to this effort by sharing their thoughts on the identified trends, suggesting additional topics to be covered, and offering examples of how they are being responsive to change by providing innovative, cutting-edge programs and services.
In ALA's social media channels, you may have noticed several posts carrying our #libraryofthefuture hashtag. These posts, which often share news from outside of our profession but relevant to our work, have been well received by followers. We hope that you will join the conversation by sharing articles, stories, resources, or your own thoughts with the #libraryofthefuture tag. As always, ALA's greatest strength lies in the collective knowledge of its diverse membership.
Our communication will continue with an ALA Connect community focused on the future of libraries, a blog from the center, and an e-newsletter with curated articles that can help us all stay informed of developments that will affect our futures.
As we begin to put the pieces together, one of the most important lessons we have learned is something that many of us already knew: that there will not be one future for libraries and librarians, but there are many different possible futures.
This means we are not just passive victims of trends. We can—and must—actively work to shape our communities and our society.
As summit participants concluded: The best way to predict the future is to create it.