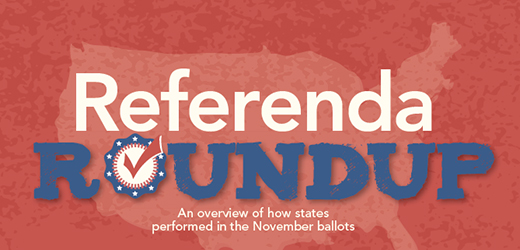 During the 2014 election year, the ALA Office for Research and Statistics tracked 153 library referenda across 22 states. Of the 126 measures, Ohio and Michigan led the way in sheer numbers. Ohio was a big winner in 2014, with 31 of the 34 measures passed. Michigan voters approved 54 of 68 measures. The outcome of local referenda votes is crucial, given that nearly 85% of library funding comes from local sources.
The vote on library referenda determines whether or not libraries can support their operating budgets, make improvements, and stay current with technology resources. Passage of referenda also helps build new libraries that support the growing US population. The Institute of Museum and Library Services reports that 299.9 million people, or 95.3% of the US population, live within the legal service area of a library. The people who reside in these areas pay taxes that help fund the library; in return they get free library cards and access. But how do people who live outside the area make use of the library? One way to bring services to a wider population is through a geographic referendum.
Geographic referendum in Illinois
In Illinois around 1 million people are not served by libraries. Illinois has city, township, and district libraries, but not county libraries. Citizens who live outside the legal service areas must purchase a library card in order to check out books. The Gail Borden Public Library District in Elgin decided to do something about its unserved population with a geographic referendum. The library currently serves 144,597 residents in Elgin and South Elgin, as well as portions of Bartlett, Campton Hills, Hoffman Estates, and Streamwood. The purpose of the geographic referendum was to provide library service to 870 residences located in unserved pockets of the library district.
Gail Borden's Executive Director Carole Medal told American Libraries that the "referendum was mounted to right a wrong. When we learned that more than 53% of the children in our geographic area did not belong to a public library, we felt it was important to take action. The focus of our campaign was on academic success and the critical role a public library plays in that success. It took place in an extremely challenging tax atmosphere."
Though the overall results show a win with yes votes counted at 70%, the referendum did not pass. For it to pass, a majority of voters in each of the five precincts to be annexed would have had to vote yes. But the majority vote in all five was no. In order to receive free library services, the 870 homeowners in the areas to be annexed would have had to pay a library district tax. The existing tax is about $240 per year on homes assessed at $150,000. The library district would have received about $350,000 additional income per year.
Medal added, "We evaluate this process as a positive experience, because we had a chance to talk face to face with so many residents and learn that many of them value library services highly. We even heard a few of them say that they would never have purchased their house if they had known at the time that it did not have library service."
Success in New Mexico
New Mexico decided to take a comprehensive approach to providing library service to its residents by asking voters to pass Bond Question B, New Mexico Capital Expenditures for Libraries. The approved measure authorized the issuance and sale of $11 million in general obligation bonds to make capital expenditures for academic, public school, tribal, and public libraries. The state Senate and House voted in February to approve the measure for the November 4 ballot, and Gov. Susana Martinez consented. The ballot results were 279,858 (63%) yes votes to 164,706 (37%) no votes.
Voters approved library bonds providing $1.8 million to the Albuquerque Bernalillo County Library System. The count included 114,683 (74%) yes votes and 40,313 (26%) no votes. Sandoval County voters approved library bonds that provide $3.25 million to 15 public and tribal libraries. The measure carried with 20,910 (59.5%) yes votes to 14,245 (40.5%) no votes.
---
"Politicians can promise the world all day, but libraries actually deliver it."
—Brian Hicks, columnist, Charleston (S.C.) Post and Courier, October 22, 2014
---
County libraries
A total of 41 states have county library systems that help broaden the public library service area. For example, Harris County (Tex.) Public Library (HCPL) has 26 branch libraries serving a population of more than 1.3 million users in unincorporated areas across the county. HCPL also operates branches in several cities that do not have library systems of their own. The chart below lists eight counties across seven states with the most successful referenda, encompassing a total of $268.3 million in library support.

State listings
Arkansas
An issue allowing Central Arkansas Library System in Little Rock to buy land and build a new library was approved by voters. The 1.3-mill increase will cost about $200 per year for the owner of a $150,000 home. The project will cost about $6 million. The election results included 5,795 (55%) yes votes and 3,265 (45%) no votes.
California
Residents of Hayward in Alameda County voted to build a new library and park at the cost of $59.9 million. With a 2014 population of 149,392, Hayward is the sixth-largest city in the Bay Area. The half-cent sales tax will raise about $10 million per year. The three-story library will replace the old Hayward Main Library, built in 1951. Going green, the new building will feature a zero-net-energy design, running on solar power and no fossil fuels. The new facility, to be completed by February 2017, will have a digital makerspace, garden, three meeting rooms, and twice as many books.
Other wins in California include approved parcel taxes for the Woodland Public Library in Yolo County, Georgetown and South Lake Tahoe libraries in El Dorado County, the City of San José Library in Santa Clara County, the Marin County Free Library and the Town of San Anselmo Library (both in Marin County), the City of Sacramento Library in Sacramento County, and the Altadena Library in Los Angeles County.
Connecticut
Voters in Stonington approved a referendum that provides budget increases to various city services and schools and will also increase library operating budgets. The Stonington Free Library budget was increased by $10,000 for a new total of $125,000.
The budget for Westerly Public Library, which serves both Stonington, Connecticut, and Westerly, Rhode Island, increased by $5,000, for a new total of $91,810.
The Mystic and Noank Library's budget also increased by $5,000, for a new total of $75,000.
The citizens of Portland approved a half-mill increase, making this year's mill rate 31.78. Under the new rate, a house assessed at $200,000 will be taxed $6,356, up from the current year's $6,256. Only 7.8% of the town's 5,791 voters cast a ballot, with 295 votes for and 157 votes against. The increase sets the Portland library operating budget at $678,700.
Florida
Charlotte County voters approved an extension of the 1% local option sales tax for six years. Tax funds in the amount of $6.9 million will be used to build a new 24,000-square-foot library and archive. The facility will include youth and program space, a computer lab, and 1,000 square feet for archival functions.
Georgia
Columbia County voters approved a one-cent sales-tax project list for 2017–2022. Projects to be funded by the tax include a new Harlem library and upgrades for the Evans library. More than half (53.3%) of the registered 40,598 voters cast a ballot.
Illinois
Voters approved a referendum that will allow the Lemont Public Library to purchase bonds to pay for a $2.8 million renovation project. Payments for the bonds will appear on property tax bills starting in 2016. Renovations include a  new meeting room, equipment updates, and reorganizing space to accommodate a teen area and quiet reading areas. The count of yes votes was 4,059 (55.4%). The count of no votes was 3,264 (44.6%).
Voters in the Rockford area approved a referendum to continue funding the North Suburban Library District. Funds will be used to repair and maintain the Roscoe and Love's Park library locations. Total votes included 9,892 (52%) yes and 8,977 (47%) no. The district serves more than 70,389 residents in Boone and northeast Winnebago counties.
A turnout of 59% of voters in Park Ridge said yes to a referendum that will cost an additional $87.58 for the owner of a $421,000 home. The Park Ridge Public Library will use the $680,000 in funds for extensive renovations, restoring the materials budget, and reinstating operating hours. Results included 8,422 (57.3%) yes votes and 6,285 (42.7%) no votes.
Indiana
The Indianapolis City-County Council voted to approve the Indianapolis Public Library modernization plan. The $58.5 million cost will be collected in bond issues over the next six years. In addition to a new library, five branches will be relocated and five branches will be renovated.
Maine
Cape Elizabeth voters have approved a $4 million bond for renovations and new construction to Thomas Memorial Library. Results show 3,587 (66.6%) voting for the bond and 1,798 (33.4%) against it. The approval also authorizes a $200,000 contingency and an additional $150,000 for providing temporary library facilities during the renovation. In 2012, voters turned down a more expensive library proposal.
In the Falmouth Municipal Election, voters authorized $2.2 million in town bonds to finance half of the costs required to renovate and expand the Falmouth Memorial Library. The majority yes vote included 4,005 (61%) ballots and 2,559 (39%) no ballots.
Residents in Augusta approved a proposal to borrow $8 million to expand and renovate Lithgow Library. The bond passed by 82%, including 2,153 votes in favor of the bond and 461 against. Private funds will be raised to support the renovation.
Michigan
In Michigan, 68 libraries requested new, renewed, or increased millage rates. Voters passed 55 of the measures and rejected 13. Redford Township District Library voters approved a library millage proposal with 9,636 (66%) yes votes and 4,939 (34%) no votes. The library will use the funds to reopen Thursday evenings and Sunday afternoons, build collections, and restore services.
Missouri
The St. James Library Tax (Proposition A) was approved. There was a 21.6% voter turnout, with 287 (53%) voting yes and 255 (47%) voting no. The library will receive more than $100,000 in revenue from the 30-cent tax. This year the funds will be used to purchase books.
New Jersey
Northvale residents voted to approve a referendum to support the library with $300,000 annually. The library can now rejoin the Bergen County Cooperative Library System. The library was closed in 2011 because of a lack of funds. Residents voted 618 (52%) to 538 (47%) to approve the measure.
New York
Voters approved a budget and tax increase of $3.3 million for the Crandall Public Library, an increase of $51,137, or 1.6%. Queensbury taxpayers will pay 59 cents per $1,000 of assessed valuation, Glens Falls taxpayers will pay $1.09, and taxpayers in Moreau will pay 50 cents. Moreau voters approved the increase 1,855 to 1,483. In Queensbury, the increase was approved 4,436 to 2,681. Glens Falls voters approved it 2,018 to 1,039. The overall budget increase of $17,753 will be used to meet increases in insurance and retirement.
Ohio
Voters in Ohio approved 31 of the public library issues on local ballots. The Ohio Library Council has a complete list of public library ballot results.
A $1.6 million bond issue for the Huron County Community Library was successful.
In Cleveland, voters approved a $2.2 million tax increase to provide funding for the Cleveland Heights–University Heights Public Library.
Voters in Euclid approved the renewal and an increase of an existing Euclid Library levy that will provide $3.2 million in revenue over the next five years.
Oregon
Residents of Oregon City approved a $6 million bond measure that will fund an expansion of the Oregon City Library. About 70% of voters approved Measure 3-435; taxes will not be increased. The bonds will be repaid with the library's annual budget and with some funding from the countywide library district. The 15,000-square-foot addition is targeted for completion in the summer of 2016.
Pennsylvania
The Springdale Free Public Library had mixed results with two of four municipalities voting yes to a property tax. A majority of voters in Cheswick and Springdale voted to pass the 0.25 mill tax. A majority of voters in Marmar and Springdale voted against a tax.
Rhode Island
Voters approved a bond that will provide the Cranston Public Library system with $1.2 million over the next five years. The funds are authorized according to an act that was passed at the 2014 session of the General Assembly. The funds will be used for repairs and updates to the library.
South Carolina
Nearly 74% of voters approved a $108.5 million plan by the Charleston County Public Library to build five new facilities, renovate 13 others, and complete a systemwide technology upgrade. Voters said yes to 19 library projects and upgrades.
Texas
In Arlington, voters approved the issuance of $6.1 million in general obligation bonds. Some $5.7 million will be used for the design and construction of a new East Arlington branch, while another $395,000 will be used for the renovation of the Woodland West branch. There were 41,455 (66%) yes votes and 21,759 (34%) no votes.
Washington
Stanwood voters approved annexing the city library into the Sno-Isle Libraries district. The annexation, approved by 79%, will take effect on January 1, 2016. The city will no longer pay a contract fee for Stanwood Library service. The estimated cost to home owners will be about $125 per year for property assessed at $250,000. The estimate is based upon a rate of 50 cents per $1,000 assessed property value.
Camano Island voters approved a $2.3 million library capital bond that will fund a new library. Homeowners will pay about 9 cents per $1,000 of assessed property value, or about $22.50 per year for a house assessed at $250,000. The new 4,900-square-foot library will provide space for more books and computers, more space for children's activities, and quiet space.
West Virginia
The Kanawha County Public Library system in Charleston won the passage of a levy that will provide about $3 million a year for the next five years. More than 32,000 voters checked yes for the Kanawha County Public Library levy, a passage rate of about 66%. The average taxpayer will pay about $1.36 a month, or about $16.32 per year. The revenue will be used as operating funds. The library lost 40% of its revenue when the West Virginia Supreme Court ruled in February 2014 that Kanawha County Schools no longer had to support the public library.