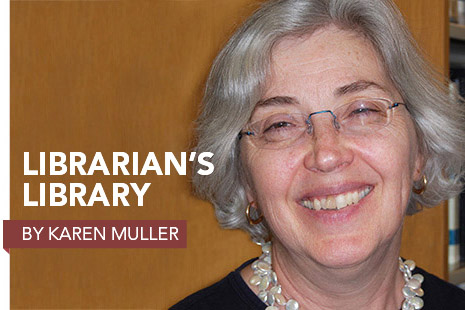 How many times have you thought, "They didn't cover this in library school"? Sometimes it's because there simply wasn't enough time in the quarter or semester to cover the topic, but often it's because it's a new practice, a new understanding of roles, or a response to a new external development. The further you get from your school days, the more you need continuing education opportunities, such as those found at the 2015 Annual Conference and Exhibition in San Francisco or in books covering new practices.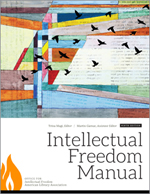 The 9th edition of the Intellectual Freedom Manual, edited by Trina Magi with Martin Garnar for the American Library Association's Office for Intellectual Freedom, has been completely recast from earlier editions. The policies and guidelines; essays on issues, principles, and law; and practical help all remain. Added are information on copyright, tips for responding to requests from law enforcement, and a step-by-step checklist for responding to challenges to library resources. Essays and other content supplement the coverage on labeling, internet filtering, and intellectual freedom and young people. The restructuring into sections on policy, practical applications, and advocacy make this edition useful both as a desk reference and as a workshop or course textbook. It will be supplemented with a companion volume on the history of ALA's intellectual freedom policies.
Indexed. ALA Editions, 2015. 296 pages. $70. 978-0-8389-1292-8
Preservation as a core function of libraries is nothing new; it's what we do. What's changed is the need to protect technology resources as well as the tangible ones. Technology Disaster Response and Recovery Planning, edited by Mary Mallery, covers the development of a technology disaster response and recovery plan, identifying the unique aspects of its planning process. The exploration of future trends includes coverage of cloud computing and the strategic role such services can have in ensuring continuity of service. Two case studies reinforce the need for preparedness and offer practical advice for being a good steward of a library's digital resources.
Indexed. ALA TechSource, 2015. 120 pages. $59. 978-0-8389-1315-4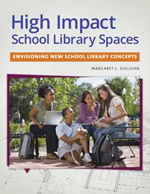 Building or renovating a library is something most of us do once, maybe twice, in our career. While there are several solid guides to planning traditional workspaces and shelving areas, we also need new ways to think about space as libraries of all types become community centers or learning spaces. High Impact School Library Spaces: Envisioning New School Library Concepts, by Margaret L. Sullivan, includes tips on planning for current—and future—technology, developing learning hubs and areas for interactive and collaborative learning, and considering the effects of light, color, and noise on the design. Although intended for school librarians, Sullivan's discussion of design elements and their interactions with overall promotion of the school library as a partner in learning can inform space redesign for other types of libraries as well.
Indexed. Libraries Unlimited, 2014. 125 pages. $50. 978-1-61069-815-3 (Also available as an ebook.)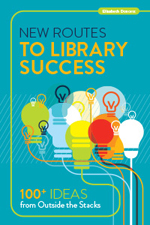 In New Routes to Library Success: 100+ Ideas from Outside the Stacks, Elisabeth Doucett looks outside librarianship to learn new strategies for addressing problems that bedevil modern public libraries, such as customer service, trend tracking, community understanding, and workplace development. Doucett presents findings from 10 interviews with entrepreneurs, along with their implications for libraries and ideas for incorporating the learning into daily operations. For example, from the L. L. Bean interview, she notes that people have little free time—the implication being that if you want your community to spend time in the library, it must be a welcoming place. Her suggestion for applying this insight is to have staff use the same doors and interfaces as the public does, in order to see services through patrons' eyes.
Indexed. ALA Editions, 2015. 256 pages. $55. 978-0-8389-1313-0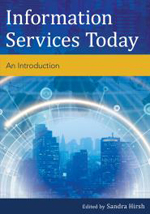 Finally, sometimes a soup-to-nuts textbook is needed to gather current thinking on an issue of professional practice and to get pointers on where to go for deeper knowledge. Edited by Sandra Hirsh, Information Services Today: An Introduction serves this purpose well, with 39 essays by library leaders grouped into broad areas. The essays range from practical ("Managing Budgets" and "Organizing Information: Technical Services") to trendy ("Creation Culture and Maker­spaces") to conceptual ("Information Policy"). A glossary and extensive bibliography contribute to this volume's overall usefulness.
Indexed. Rowman and Littlefield, 2015. 514 pages. $105. Hardback. 978-1-4422-3957-9 (Also available in paperback and as an ebook.)