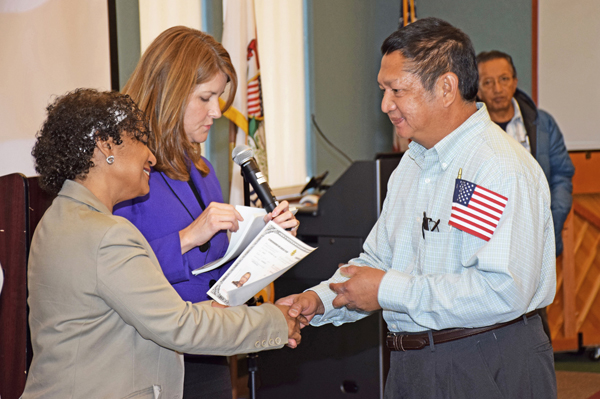 The Schaumburg Township (Ill.) District Library in Chicago's northwest suburbs promotes citizenship training as well as English as a second language (ESL) courses. Schaumburg, home to several global corporations, attracts workers from around the world. As a result, the library found that citizenship training was very much in demand.
Pat Barch, literacy coordinator for the library, says, "Our American Dream project is really very important to us, because the library has been providing citizenship classes for about five years now."
In recognition of the library's five-year-long commitment to citizenship education, the US Citizenship and Immigration Services invited the library to host its third naturalization ceremony on September 20, 2013.
Barch says the library partners with two local high school districts, one of which provides teachers for citizenship classes in two of the library's branches.
"It's really a great opportunity for people in those areas of our township, because we don't have public transportation," Barch says. "They're not able to get to the library unless we go to them."
For one of the teachers, the students' experiences are familiar.
Diane Bucko, the library's ESL instructor and the daughter of Polish immigrants, says, "This has been a wonderful opportunity for me to learn about American history. I kind of knew it, but I found out how much I didn't know when I started teaching and researching for other students."
She grounds her students in the political process, as well as current events, and puts it in the context of what they would experience as citizens.
One of her students, Isolde Naleck, an immigrant from Germany and a new US citizen, says, "Coming to this class at first I had the attitude of, 'I know everything. I don't really need this. I don't have time.' Much to my surprise, after the first session, I was like, 'I am glad I came.' There is so much I don't know. So much I need to learn."
Naleck says she is grateful for the guidance the classes provide.
"I think it is awesome that the library offers this," she says.