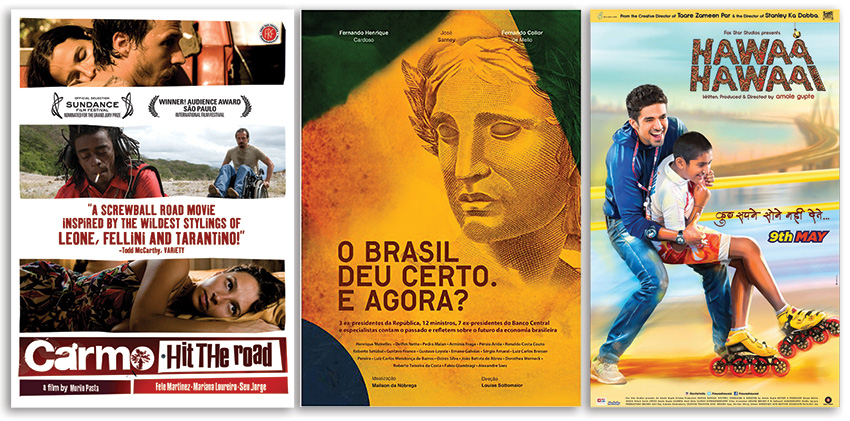 Digitalia Film Library
The Digitalia Film Library, a division of Spanish-language e-content provider Digitalia Publishing, allows libraries to bring the world of cinema to their patrons.
Digitalia offers contemporary and classic fiction and nonfiction films, documentary programming, animation, and television shows from Argentina, Brazil, Cuba, France, Mexico, Spain, and the US that can be accessed via a three-tier subscription-based streaming service. Libraries can subscribe to the complete Digitalia collection of more than 700 films; a specific curated collection, such as nature and wildlife, travel documentary, history, or a collection organized by the films' country of origin; or an individual title.
All subscriptions include public performance rights, allowing libraries to legally screen films in their facilities.
For more information or to subscribe, visit digitaliafilmlibrary.com.
India for Everyone
The Cupertino, California–based nonprofit organization India for Everyone was founded in 2005 with a mission to make it easy for libraries to build collections of materials from India.
Servicing more than 100 libraries, India for Everyone offers fiction and nonfiction books in ­Gujarati, Hindi, Marathi, Punjabi, Tamil, and Urdu, as well as graphic novels, but the nonprofit's specialty is Bollywood cinema.
India for Everyone has a large collection of contemporary Bollywood films available on DVD for purchase. The films are easily searchable on indiaforeveryone.org, where they are grouped by year of release and include OCLC codes and links to the film in WorldCat. India for Everyone's website also includes a list of recommended films to add to collections.
India for Everyone is an OCLC WorldCat partner. Every purchase includes OCLC MARC records, and India for Everyone can create and edit OCLC MARC records to meet a library's needs. India for Everyone also offers theft detection devices, spine labels, label protectors, barcode labels, and property stamps that can be customized to a library's specifications.
For more information and to browse the films, visit indiaforeveryone.org.
The Criterion Collection
The Criterion Collection, an imprint of Janus Films, is one of the world's most respected distributors of films spanning the history of cinema. The Criterion Collection from Alexander Street Press is an online collection that delivers 315 of Criterion's films on one optimized online learning platform.
Alexander Street also provides features that encourage engagement with the films, including synchronized scrolling transcripts for each title and a searchable interface that presents related multimedia content—film scripts, silent films, and more—from Alexander Street's ­other cinema studies collections.
The Criterion Collection from Alexander Street is available to academic libraries in North America via one- or three-year subscription plans. Visit alexanderstreet.com/products/criterion-collection for more information
CASE STUDY: MPLC
Product: Motion Picture Licensing Corporation (MPLC), library.mplc.org
Details: MPLC provides umbrella copyright licenses that allow libraries to legally screen films in their facilities for patrons.
User: Kati Irons, audiovisual collection development librarian for the Pierce County (Wash.) Library System in Tacoma and author of Film Programming for Public Libraries (ALA Editions, 2014).
How do you use MPLC's services? We use MPLC as a supplemental license. We also have a Movie Licensing USA (MLUSA) license.
How do they serve your library's needs? MPLC allows us to show a broader range of films than using MLUSA alone, particularly from smaller niche studios. MPLC also gives us access to all the Fox-affiliated studios as well, which means that with MPLC and MLUSA we can show pretty much any major motion picture without worry.
What are the main benefits? I like the depth of studio offerings from MPLC. I like the confidence knowing that I will almost never have a branch ask if it can show a film that is not covered.
What would you have like to see improved or added to their service? It has been making strides, but I would like to see a lot more improvement to MPLC's website. It needs to be easier to determine if a film is covered by its licenses. Unlike the MLUSA site, I can't give the web address to a staff member and expect that they will be able to figure out if the film they want to show is covered. MPLC needs to think about improvements in terms of how customers need to use the website. Most of the time, it's library staff members wanting to know if they can show a particular movie, and right now that's still very confusing.