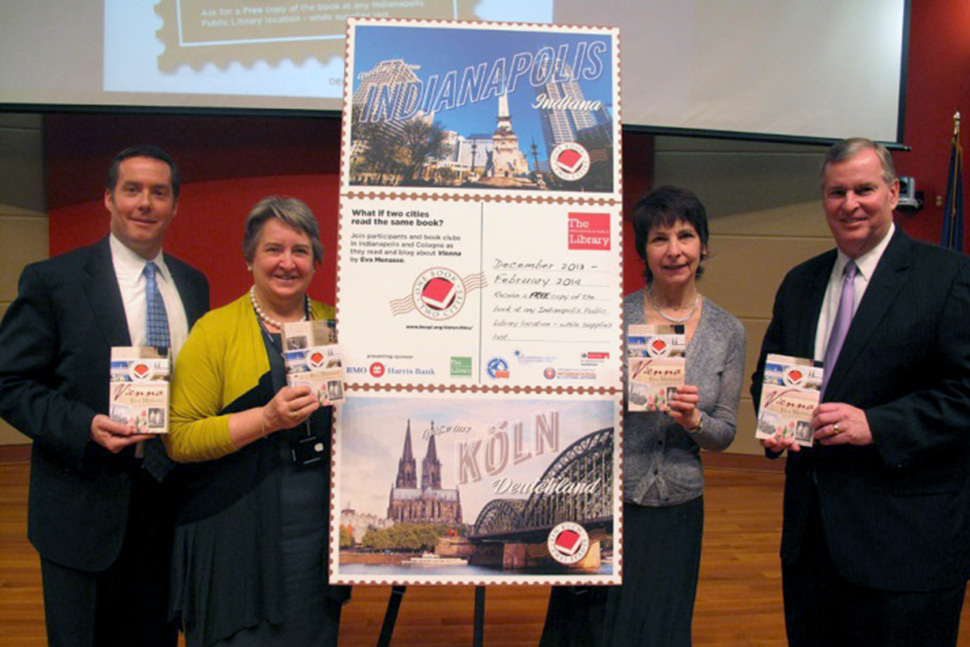 Characterized by Midwestern roots and viewpoints, Indianapolis, like many American cities, nonetheless welcomes a broader worldview. Learning from others, exploring our differences, and recognizing our common threads can create genuine understanding and friendship.
With advanced technology and the ability to connect globally, the Indianapolis Public Library (IPL) formed partnerships with the eight international cities that are part of Indianapolis's Sister City Program. IPL has made connections so far with Campinas, Brazil; Hangzhou, China; Cologne, Germany; and Piran, Slovenia. The first meetings involved a collection exchange between each city. Books and music, with a focus on local fare, were exchanged between the partner libraries and added to our respective collections. Despite language and cultural barriers, we solidified the relationship between each global city and, through Skype and email communication, we worked toward a common goal: to seek ways to share our cultures.
Months were spent collaboratively planning to ensure the goals for all stakeholders were met. Exhibits were staged in Indianapolis and in the public libraries of the global partners. The events explored the diversity, languages, and people of our respective cultures in authentic ways and displayed materials from the participating countries. The Brazilian and Chinese dance performances at the Central Library were part of month-long festivals showcasing art, costumes, cultural artifacts, food, and books. The Hangzhou Public Library featured a 2,000-foot display about American and Hoosier culture and received a national award in China for the effort.
IPL librarians visited Cologne and Hangzhou; subsequent visits by Cologne and Hangzhou staff members to Indianapolis enlightened and generated goodwill among new friends. The Chinese were especially interested in our digital expertise. Indianapolis subsequently welcomed Chu Shuqing, director of the Hangzhou Public Library.
The Cologne staff exchange resulted in the development of a shared reading program known as One Book, Two Cities. Together, Cologne and IPL selected Austrian author Eva Menasse's book, Vienna, because she was recently honored by Cologne and the book has a universal theme of discovering family heritage. Locating 2,000 English copies of the book was difficult, so we requested a special printing through a publishing house in England. Both cities circulated the book, distributed free copies, and offered discussion groups and special events, creating a healthy dialogue around literature. Among the richest experiences was the blog maintained between the two cities.
Participating in global efforts strategically places IPL as a leader in the globalization of our city. Indianapolis is becoming not just the crossroads of America but the crossroads of the world. This year, because of the extreme popularity in Cologne of Indianapolis-born author John Green, IPL organized a program featuring Green that will be Skyped to viewers at the Cologne Public Library. In October, IPL CEO Jackie Nytes will travel to Hangzhou to deliver an address at a conference for Chinese librarians.
The Sister City initiative is a critical aspect of Indianapolis Mayor Greg Ballard's efforts to help IPL welcome global visitors and new residents and to celebrate the richness of their culture. For the library it has been a way to make new friends and share information that bridges differences, creating citizen diplomacy and new partnerships.