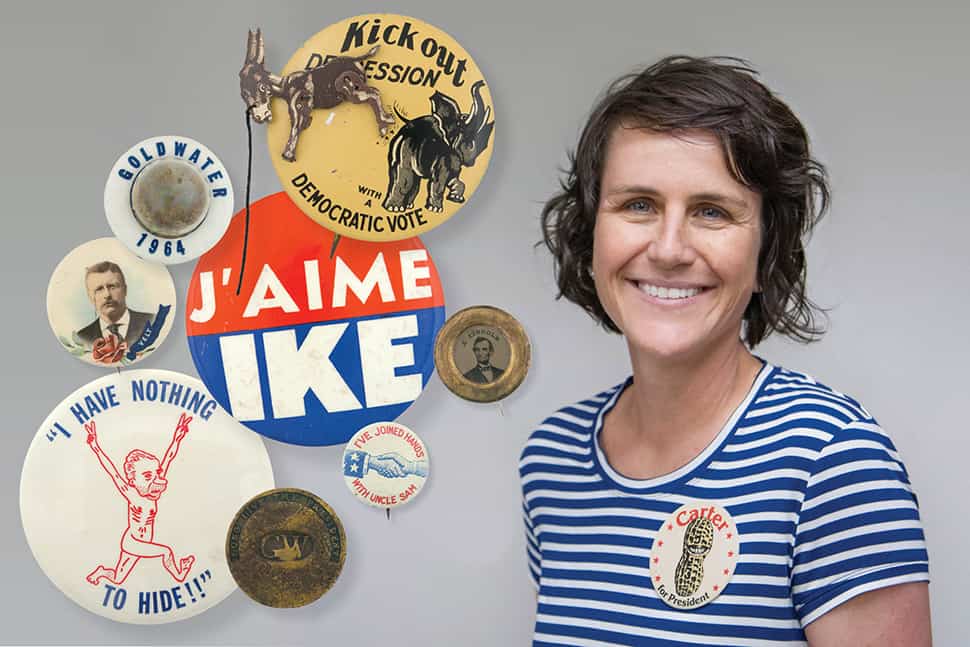 Busy Beaver Button Company started in a Chicago apartment in 1995, making one-inch buttons for local bands. As the company grew, so did its collection of rare, antique, and just plain odd buttons from around the country. Donated buttons also poured in, and the owners looked for a librarian intern to catalog and manage the thousands of artifacts.
Enter Christy Karpinski, who has since turned that internship into a permanent position as digital librarian and museum manager at Busy Beaver's Button Museum, which now displays 9,000 pinback pieces of cultural history and ephemera.
Karpinski's background is in photography, but she has also made websites and organized digital collections of photos, which spurred an interest in metadata. Metadata classes then led her to library school at the University of Illinois at Urbana-Champaign. "I was interested in organizing and structuring large amounts of information. But in the process of thinking about it all, I realized that I have always been interested in making information available to people," she says. At Busy Beaver, she photographs individual buttons and posts them for her own MLIS interns to research and catalog.
With the 2016 primary season under way, the Button Museum is highlighting its trove of political buttons, commemorating everything from Washington's 1789 inauguration through Obama's 2008 election night rally. The shop has received orders from 2016 candidates as well (though those clients are still confidential).