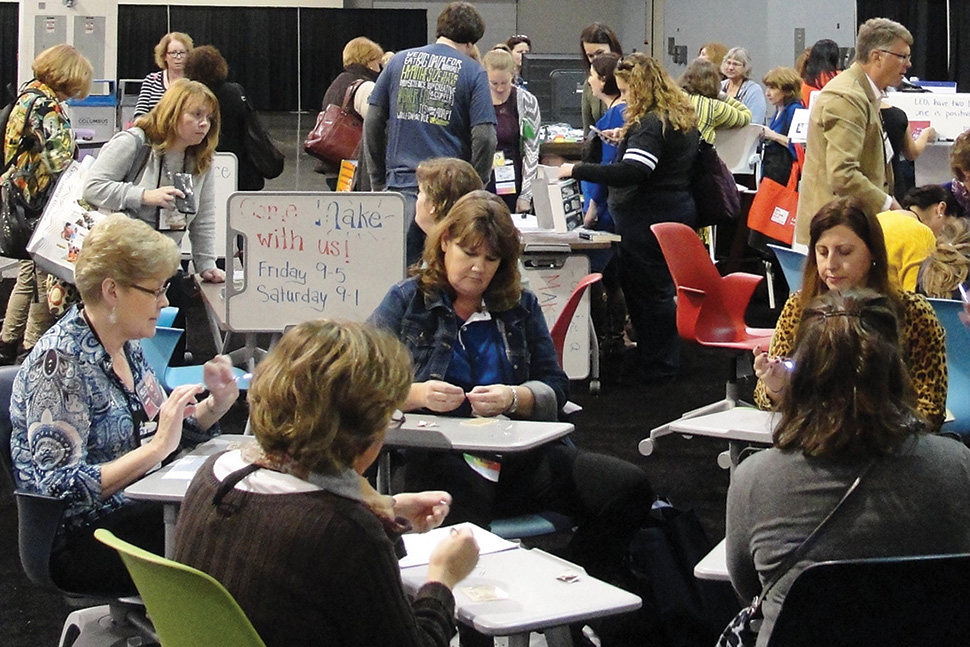 More than 2,600 people attended the 17th American Association of School Librarians (AASL) National Conference and Exhibition held November 5–8 in Columbus, Ohio. They brought stories of collaboration, digital literacy efforts, and ideas for building momentum for effective school ­libraries.
Before the opening general session began, hundreds of school librarians met at IdeaLab, a digitally enhanced poster session with 20 video displays on topics that included STEM and STEAM, national standards, and Common Core, among others.
Later, keynote speaker Heidi Hayes Jacobs challenged librarians to throw away old roles, quit making decisions based on habit, and continue emphasizing risk-taking, courage, grit, persistence, honesty, humor, and compassion to be leaders and learners.
At Project Connect, a panel of superintendents, district-level librarians, and AASL leaders focused on advocating together for effective school libraries and helping develop future-ready librarians.
Steve Joel, superintendent of Lincoln (Nebr.) Public Schools, encouraged the audience to meet with their superintendents to be a part of the school system's vision. He was applauded after saying that a school system's most critical hire is the media specialist. His system has full-time teacher-librarians in all 35 schools.
"Lead first, then teach, then support. In that order," said teacher-librarian Mark Rey, one of the panelists. "It's not enough to be a great librarian in your library. Think about ways you can lead beyond the library."
At a session on makerspaces, Diana Rendina, media specialist and teacher-librarian at Stewart Middle Magnet School in Tampa, Florida, talked about her experience creating a makerspace.
"We were a STEM magnet school but didn't have anything in the library to demonstrate that, other than a jet engine." So Rendina created a library makerspace out of an old storage room and a corner of the library. Now there's an after-school makers club, projects connected with World Space Week, and a STEAM club.
At his talk, Brian Selznick, a 2008 Caldecott Medal winner for his book The Invention of Hugo Cabret, said librarians have provided encouragement throughout his career. "Librarians have given me endless support," ­Selznick said, recalling Barbara Gross, a school librarian who invited him to stay at her house and threw a dinner party for him after his first novel, The Houdini Box, was released.
The closing session featured Eszter Hargittai, a communications professor at Northwestern University, who talked about her research in social and economic effects on digital skills. "Think of me as your digital myth buster," she said.
The first myth she busted: "All young people are digitally savvy." In her research, many students were not able to correctly identify that "bcc" in an email meant that the recipient would not see all the people the message was sent to. She also found that many could not identify a legitimate bank URL from a false one.
"The internet can have positive effects, and depending on how it is used, it can be negative," she said. Beyond the economic factors, children develop skills. "It depends on the support they get in their libraries."