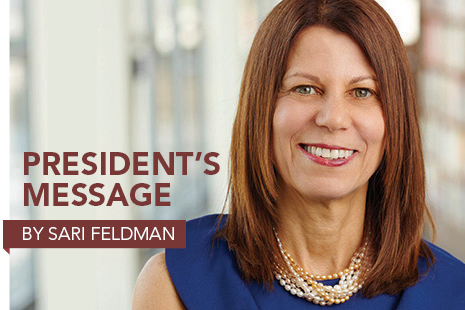 The American Library Association's strategic plan places firm emphasis on three priorities: advocacy, information policy, and professional and leadership development.
Although each priority has an individual implementation plan, it is at the intersection of our three strategic directions where we achieve the greatest impact.
The National Library Card Sign-Up Month is one example of how the three priorities of the ALA strategic plan come together. Library Card Sign-Up Month events and campaigns add value to individual libraries by creating enthusiasm for membership and affection for a local school, public, special, or academic library. On a collective level, it takes leadership and professional skills to ensure that libraries are transforming to meet critical needs as defined by the communities they serve. It also requires library leaders to develop the relationships with schools, faculty, funders, elected officials, and other stakeholders necessary to achieve a desired campaign outcome.
President Obama's recent ConnectED program goal of getting a library card into the hands of every student in the United States supports libraries' broader goal of a lifetime of library use. ConnectED's positive message about the library card presents an incredible advocacy opportunity for libraries of all kinds. In September 2015, ALA's Library Card Sign-Up Month messaging resulted in bipartisan support for libraries by US Representatives from Ohio Jim Renacci (R) and Marcy Kaptur (D): "Every student deserves access to a quality education. Regardless of political party or ideology, we can agree that education is an important foundation for opportunity and future success … we hope library cards are among the first items [students] grab in the morning when they leave for the day" (The Hill, Sept. 21, 2015).
At the same time Library Card Sign-Up Month communications were reaching key stakeholders, a major reauthorization bill overhauling education policy—the Every Student Succeeds Act (ESSA)—was working its way through Congress. In December 2015, after more than a decade of librarians and library workers actively advocating for school libraries at the policy level, ESSA was signed into law with the Innovative Approaches to Literacy program calling out school libraries as essential to education. This milestone demonstrates the role that leadership and advocacy play in transforming libraries, moving from policy issues to practice.
Another example of advocacy, information policy, and leadership coming together involves the crisis moment when readers turned in droves to the library for digital content. We didn't have it, and we couldn't get it. Today almost all libraries offer digital content to their customers and nearly all publishers sell content to libraries. ALA formed the Digital Content and Libraries Working Group to begin the dialogue with publishers, aggregators, and the publishing community. It took collective advocacy to deliver the promise of access to content that library patrons want and need. The entire process examined and analyzed information policy issues of privacy, confidentiality, first sale, digital access, and business models.
The Libraries Transform campaign aims to operate in that sweet spot where the three strategic directions align. We are at our most powerful as a profession when we are one ALA, rising to the challenge of delivering transformative library service and united in our communication with local, state, and national decision makers.
Transforming ourselves and our libraries is challenging work—but it is essential in an ever-transforming world. We must show patience, perseverance, and passion because, after all, our libraries are worth it.