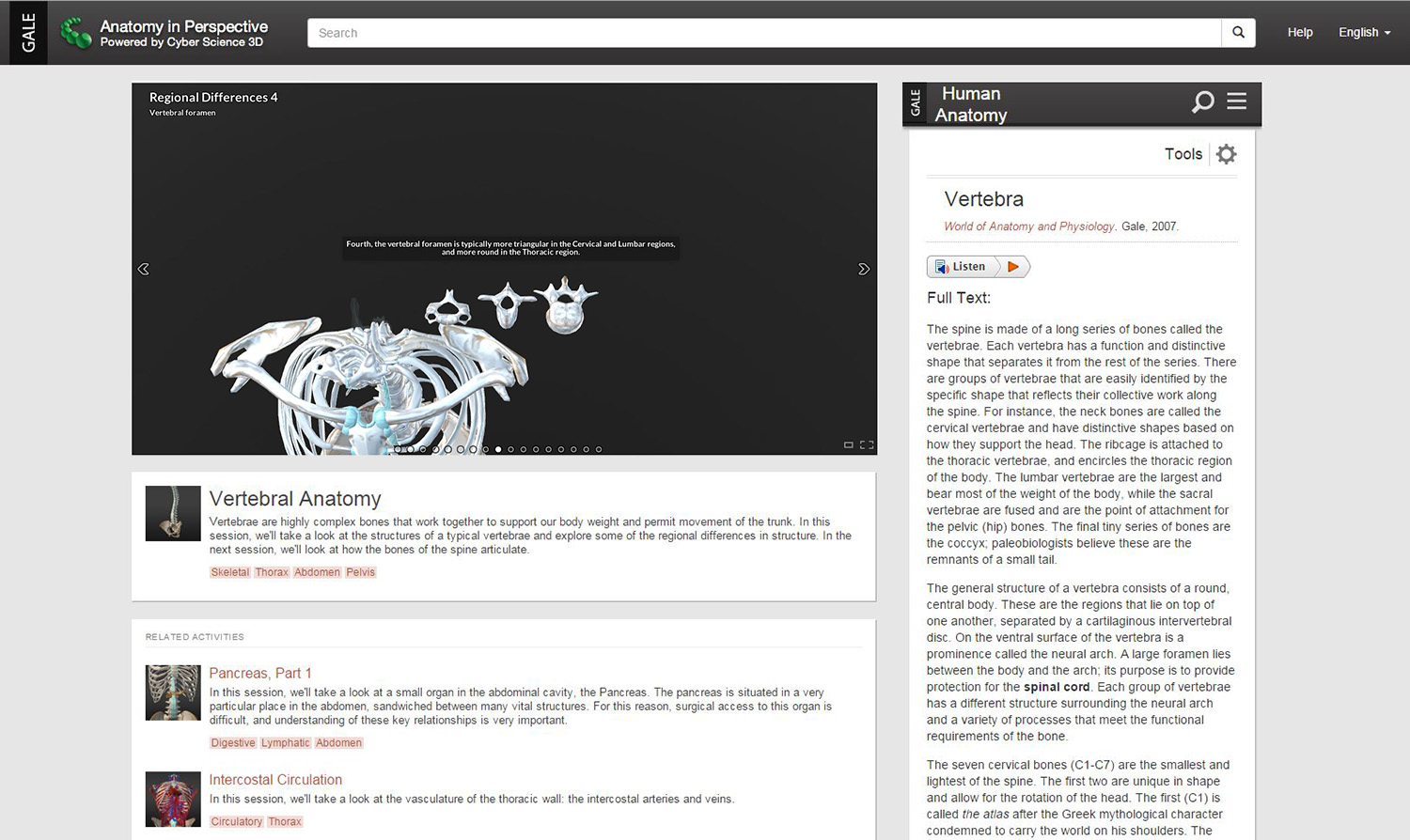 Gale goes 3D
Gale and Cyber Science 3D have partnered to bring science to life for students.
With both academic and high school students in mind, Gale—a division of Cengage Learning—has created three distinct interactive science programs that allow students to explore multiple science-based subjects.
One program, used as a learning tool for high school and introductory college-level courses, spans a wide range of science topics, while two other programs deal with human anatomy and chemistry and are geared toward higher learning.
The programs use 3D models to help students interact with the subject matter: and users can zoom in out and rotate models of the human body and manipulate them to reveal musculature and bone structure. By clicking on a specific section of the model, users can access related reference content, including relevant hyperlinks and the ability to search across content. The models are 3D printable and can be viewed on 3D monitors. These web-based programs are also available in 2D.
Key features include:
guided simulation lessons
key concept review quizzes at the end of sessions
3D printing capabilities with installed driver
content provided in multiple languages, including English and Spanish
Gale interactive science programs combine Gale's database resources and Cyber Science 3D's educational technologies. They are available for interactive whiteboards, projectors, tablets, laptops, and computers and are accessible through Google Chrome, Firefox, Opera, Safari, and Internet Explorer browsers. For more information, visit gale.com.
Open access with 1science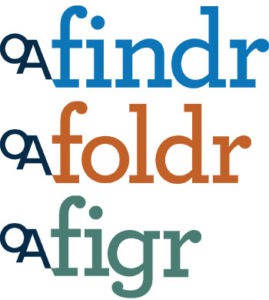 The Montreal-based start-up company 1science creates easier ways of finding open access peer-reviewed scholarly articles for librarians, researchers, and students.
With the original goal of improving open access, 1science expanded to help institutions reduce costs, manage their online reputation and journal subscriptions, and expedite information flow, leading to the creation of their suite of products.
The company has released three new products—oaFindr, oaFoldr, and oaFigr—collectively  known as the 1science Library OA Solution. Each has its place in 1science's integrated offering.
The first product, oaFindr, acts as a one-stop shop for retrieving all open access peer-reviewed articles from a given search. Pulling in articles from the internet, it can reach across disciplines and also functions across platforms, opening several papers at the same time.
The second product, oaFoldr, goes a step further. It is a virtual storage program for faculty peer-reviewed journals. It finds all open access papers published directly by the user's institution, eliminating  effort spent finding already available articles.  No installation or maintenance is required.
The oaFigr subscription service analyzes the user's university journal subscriptions to assess what is currently available in open access. It compiles lists of the journals that are most frequently cited, as well as the ones that a university's authors are most frequently published in. These lists can help users make informed decisions concerning subscriptions.
The first-to-market 1science Library OA Solution is available internationally. For more information, visit 1science.com.
Case Study: SIPX for Schools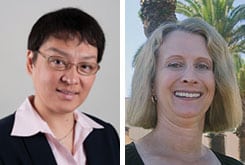 Users: Grace (Gan) Ye, digital systems librarian, and Sally Bryant, head of access services, Pepperdine University Libraries in Malibu, California
Product: ProQuest SIPX, proquest.com
Details: SIPX collects open access and open education resource materials, publisher content, and library holdings into an intuitive web interface where faculty and support staff can set up and share course readings with students. SIPX recognizes and applies library holdings and open content to selections, eliminating redundancies that could lead to increased expenditures. Instructors pay only for the readings they want to assign instead of purchasing entire texts. SIPX integrates with all major teaching and course materials platforms, delivers to all mobile devices, and provides real-time analytics.
How do you use SIPX? Our libraries use SIPX as our e-reserves system. Because SIPX is integrated with Sakai, our learning management system (LMS), it allows us to pass basic course information from Sakai to SIPX, where we can easily add reading materials. After reading lists are created, we inject the SIPX reading list links back into the LMS course sites. In addition, SIPX has copyright licensing integration with our library's holdings, allowing us to search our holdings at the SIPX site.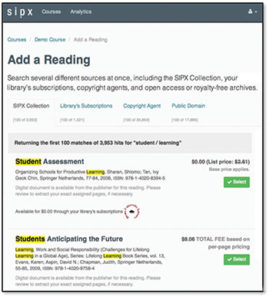 How does SIPX serve your library's needs?  We wanted to better integrate our e-reserves service with other campus technologies. We also wanted to have copyright licensing integration with the library's holdings. We do not need to worry about the license problem anymore.
What are the main benefits? We never have to worry about the copyright licensing process and compliance with SIPX. It also has a user interface that is very easy to use.
What would you like to see improved or added to its service? SIPX has some great changes coming soon that really interest us. It is reaching out to many open educational resource sources to get this content added to its system in order to give schools and faculty even more choices in how they can save students money.
SIPX is also working on a new "my content" area on the website, which will allow us to more easily import citations and reuse content across multiple courses, mixing and matching readings for new courses.