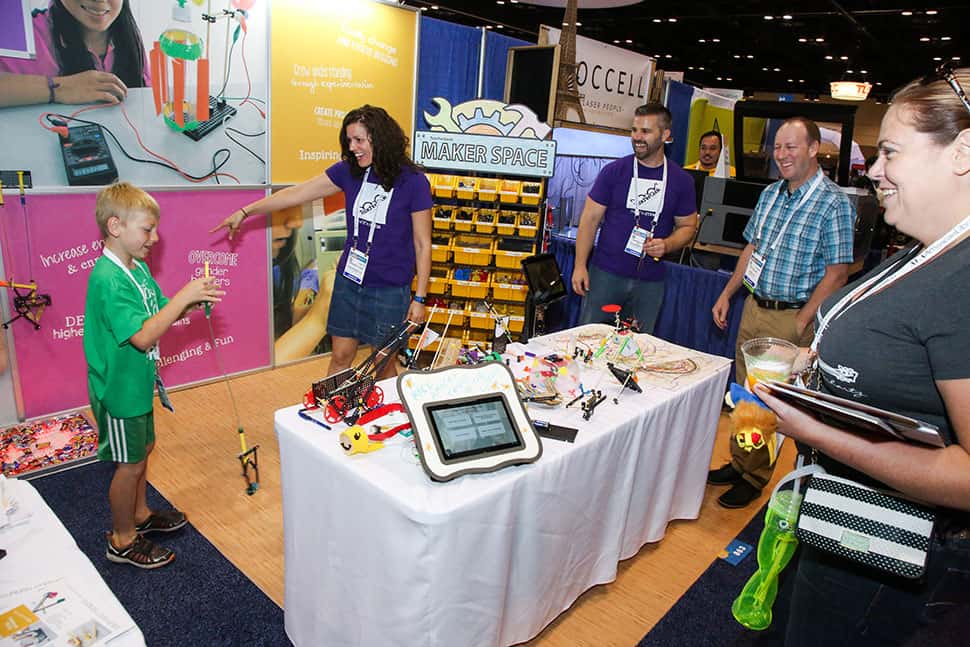 The exhibit hall of the American Library Association (ALA) Annual Conference and Exhibition in Orlando, Florida, offered attendees a chance to see the latest in an incredible range of technology products and services. Technology pervades almost all aspects of libraries—both in their behind-the-scenes work and in the services they provide. The annual conference assembles the largest exhibition of library vendors globally, providing a unique opportunity to investigate the full range of technologies oriented to libraries.
Though turnout was a bit lighter than usual (16,597 total attendance), many exhibitors mentioned that traffic was brisk. Vendors appreciated the opportunity to engage with current and potential library customers. Consistent with the consolidation of the industry, there were fewer booths, and many vendors showed off an ever-expanding portfolio of gadgets and devices.
Technology products spanned many levels. Resource-management systems and discovery services represent some of the larger investments for libraries, supporting key activities related to collections and services. Other technologies enhance in-library services, such as self-service kiosks. This year, products related to makerspaces had a strong presence. The sheer quantity of vendors and products on display in the exhibits defies a comprehensive treatment; the following highlights will sum them up for anyone who was unable to attend the conference or cover the entire exhibit hall.
Strategic infrastructure
In the case of strategic library systems, the booths on the exhibit floor paralleled the consolidation that has reshaped the industry. Key technology products are increasingly offered by top-level companies, each shaping a strategy based on distinct combinations of content, technology, and metadata services.
Although the Ex Libris Group brand remains prominent, its booth adjoined that of ProQuest, reflecting that company's December 2015 acquisition of Ex Libris. The technology products from both organizations fall under the Ex Libris brand, with Alma as the flagship leading a fleet of related products—such as Leganto, its recently introduced reading list management tool. On the discovery service front, Primo (developed by Ex Libris) and Summon from ProQuest both continue to be promoted, though consolidation of their discovery indexes and knowledge bases is under way.
Ex Libris also came to the conference with an early look at a new mobile app for Alma that is oriented to tasks better performed untethered to a service desk or staff workstation. Touting its open qualities, the company announced that Alma now routinely receives more than 1 million transactions via its application programming interfaces (APIs). On the ProQuest side, the new Ebook Central platform has been deployed to unify its previously separate ebook offerings, including a new access-to-own model with broad publisher participation. ProQuest announced its acquisition of Alexander Street at the conference, adding its vast collections of video and multimedia content to the company portfolio.
EBSCO Information Services featured its broad offerings of content and technology. Key products include EBSCO Discovery Services (EDS), Full Text Finder, Holdings and Link Manager, and Apps and Cloud Services. EDS ranks as the most widely implemented of the index-based discovery services, supplementing the company's offerings of databases and content products. But the loudest EBSCO buzz was heard outside the exhibit hall. The recently formed initiative to create a new open-source library services platform (LSP) that EBSCO has helped launch generated many conversations. Details of the project were given in my April 22 American Libraries online feature. The formal announcement of the initiative, including its vision, status, and stakeholders, was made at the conference.
This initiative now has a name: FOLIO (The Future of Libraries Is Open). It brings together a variety of entities, including Index Data, an open source firm commissioned to develop the underlying microservices-based infrastructure, and the Open Library Environment (formerly Kuali OLE), a group of libraries engaged in the development and adoption of open source library software. EBSCO has committed substantial financial resources to the project and has promoted it in many meetings and venues at the conference. EBSCO executives and representatives touted FOLIO as an alternative to the current slate of resource-management products that fall short of the company's vision of a more competitive landscape. While still in its infancy, FOLIO is gaining attention with the full backing of one of the major forces in the industry.
Follett, another of the top-tier library companies, had a lower profile at this conference, presenting its Destiny family of resource-management tools, as well as its content offerings and integration tools. Follett focuses its technology products and services primarily on the PreK–12 arena. The conference came on the heels of its April acquisition of Baker & Taylor, one of the mainstay providers of books and other content resources to libraries. Baker & Taylor exhibited separately with no conspicuous Follett branding. It will be interesting to see to what extent these businesses integrate by the time of the 2017 ALA Annual Conference. The B&T Axis 360 platform supports ebook lending, a service of ever-increasing interest in public libraries.
Gale, a business unit of Cengage Learning, maintained a conspicuous conference presence as one of the largest exhibitors and the sponsor of the shuttle buses—a service especially appreciated in Orlando. While its content products fall outside the scope of this report, Gale made several tech announcements, such as the integration of Microsoft Office 365 with its products. The company recently introduced Gale Researcher, designed to ease students into college-level work by connecting them with citable content resources from Gale's portfolio and beyond it, including items provided by instructors. In support of digital humanities, Gale has released a variety of tools that open data and metadata for research and analysis, providing a hosted and supported environment for institutions that may lack local digital humanities infrastructure. Gale has also created APIs into its content products that can be tapped for enhanced discovery and presentation of content.
OCLC always brings a large cadre of experts to discuss its diverse array of products and services. This year marks the fifth anniversary of WorldShare Management Services (WMS), the organization's flagship LSP, which has now attracted more than 500 libraries across six continents. WMS has become well established as one of the major alternatives for academic libraries and is seeing inroads among public and other types of libraries. Other conference news included its Knight News Challenge award to make library resources more accessible to Wikipedia editors.
All roads at SirsiDynix in recent years lead to BLUEcloud. Positioned as an LSP supporting a hybrid deployment architecture, BLUEcloud enables libraries to shift to modern interfaces and workflows without having to migrate from their existing Symphony or Horizon integrated library systems (ILS). This suite of web-based products supplements, and in some cases replaces, aspects of Symphony and Horizon. Though making good progress on its BLUEcloud development roadmap, the company did not make any major announcements. SirsiDynix also highlighted its engagement with Zepheira to provide the benefits of linked data exposure for its customer libraries.
This conference marks the first since the February appointment of James Tallman as the new CEO of Innovative Interfaces. The company continues to see strong adoption of Sierra and Polaris, as well as its Encore Duet package, which integrated EBSCO's EDS. Technical development includes progress on new web-based interfaces for its staff modules, based on the Leap technology developed by Polaris, as well as new mobile apps, including a new version of Mobile Worklists.
The Library Corporation (TLC) demonstrated its diverse line of products and services for public libraries and schools. Its Carl•X ILS targets large urban libraries and was recently selected by Nashville (Tenn.) Public Library to provide a unified, collaborative infrastructure with the public school system. Broward County (Fla.) Library extended its commitment to Carl•X. Library•Solution supports midrange public libraries as well as centralized school districts. The company's offerings extend beyond automation to include bibliographic services, social media management as the exclusive distributor for SocialFlow for libraries, and integration of other products from its strategic business partners. Technical development includes progress on the Carl•Connect suite of web-based interfaces and tools for Carl•X. Tech Logic, a wholly owned subsidiary of TLC, offers a variety of self-service, sorting, and automated material-handling equipment and software.
Auto-Graphics discussed the progress on its SHAREit resource-sharing platform, which was recently selected for statewide projects in Indiana and South Dakota. Despite the increasing demand for interlibrary loan and resource sharing, only a sparse set of products compete within this niche. The company also offers its VERSO ILS, popular among smaller libraries and gaining some acceptance in the midsized tier. The statewide resource-sharing projects using SHAREit also open new opportunities for VERSO.
Biblionix demonstrated its Apollo ILS, designed especially for small public libraries, now with almost 600 installations.
LibraryThing is known for its LibraryThing for Libraries service to integrate tags, summaries, cover art, and other value-added content into library catalogs. This conference saw the debut of its new TinyCat service, providing a basic catalog and circulation system for very small libraries, those with less than 20,000 items in their collections. TinyCat provides a clean and straightforward faceted-discovery interface and makes use of the LibraryThing platform for cataloging, along with basic circulation capabilities.
Always focused on user experience, BiblioCommons demonstrated the latest improvements in the BiblioCore discovery service for public libraries and its BiblioWeb portal, providing a comprehensive digital presence.
Open source ILS
Open source technologies could also be seen throughout the exhibit floor.
ByWater Solutions has become established as the leading provider of support and hosting services for the open source Koha ILS. The company has deployed a multitenant hosting environment that enables it to efficiently support its growing base of customers, incorporating technologies such as Elasticsearch and Plack to deliver speedier performance.
Equinox Software, the dominant provider of development and support services for the Evergreen ILS, featured its Sequoia hosting services platform. Evergreen was created for large consortia comprising mostly small to midsized public libraries. Equinox also provides services for Koha, especially for standalone libraries not within a consortium. The company developed and provides support services for the FulfILLment consortial borrowing environment.
TIND Technologies, a small company based in Switzerland, demonstrated Invenio, an open source integrated platform based on technology developed at CERN. TIND garnered attention when it was implemented in the prestigious California Institute of Technology library.
LibLime, a division of Progressive Technology Federal Systems (PTFS), presented its Bibliovation platform for management of print and digital resources with an integrated discovery layer. LibLime also continues to support LibLime Koha and LibLime Academic Koha.
Media Flex promoted OPALS, an open source ILS it developed and supports for schools and other small libraries.
Digital lending
OverDrive, the dominant provider of digital lending services for libraries, presented its latest offerings, including a preview of its new e-reading mobile app, now in beta. The app has been reengineered to provide a much more streamlined process for first-time users, one of the most critical problems with ebook lending. The company also promoted its new circulation and demand analysis service, available to customers at no cost, including a comprehensive set of reports assessing the performance of a library's digital collection, benchmarked to peer institutions. OverDrive also announced new publishers and suppliers available through its Marketplace.
Using an alternative business model, Total BooX enables libraries to offer ebooks to their patrons without large up-front costs. A library pays fees based on the actual number of pages read by their patrons from the platform's catalog of more than 50,000 titles. The service offers reports and controls that enable the library to remain within its allocated budget.
Odilo demonstrated its OdiloTK platform for ebook lending that supports both library-owned content as well as OdiloPL, its catalog of titles from major publishers. OdiloCS enables a consortium to develop content libraries that can be selectively shared among their member libraries.
Self-service and operational automation
Bibliotheca, which acquired 3M Library Systems in October 2015, now ranks as the largest global provider of self-service technologies and is a major player in ebook lending with its cloudLibrary platform (previously 3M Cloud Library). Featured technologies include a new family of interfaces for its in-library self-check and ebook kiosks. This new QuickConnect software has seen significant enhancement in recent months, with new features and a streamlined interface to provide discovery and self-service loans for both physical and digital items. Bibliotheca also showed its new portal to enable library staff members to manage and access usage data and reports. New capabilities in cloudLibrary include a self-service patron registration module that allows patrons to begin borrowing items even before they visit the library to sign up for a library card.
The cadre of other vendors offering self-service and automated material handling equipment suggests that despite the consolidation of 3M and Bibliotheca, competition remains strong within this sector.
A variety of products related to different aspects of patron self-service and productivity were on display at the EnvisionWare booth. The company offers such products as PC Reservation for scheduling public computers and LPT:One for managing printing, as well as a suite of self-check, theft control, and sorting equipment based on RFID technology.
P.V. Supa, known for its self-service, automated-return, and sorting equipment, also demonstrated a couple of interesting additional products. One was a set of two- or four-person workspace modules, called Smartblocks, which are available with a variety of lighting and equipment options for meetings and personal presentations, reminiscent of a restaurant booth and table. Libraries can make the Smartblock units available to patrons for collaborative projects, meetings, or training sessions. Convergent Library Technologies, which distributes Smartblock in Canada, was on hand to help demonstrate the product. P.V. Supa also highlighted its new Open Library package, which enables access to a library after normal opening hours, enabling controlled access, video surveillance, alarms, and other components. This service has been adopted by libraries in Scandinavia and is now being offered in the US.
Displayed at the mk Solutions booth were several of its self-check and sorting products. The company offers an extensive portfolio of products, including self-check kiosks, automated return and sorting systems, dispensers for automated lending of materials from remote locations, and the LibManager console for library staff to monitor and manage their equipment.
D-Tech International featured several examples from its product lineup of self-service, security, and vending equipment. For libraries with busy laptop or tablet lending services, D-Tech offers a self-service unit that stores, charges, and enables self-service borrowing.
Creativity and engagement
Many libraries, anxious to explore new opportunities to increase engagement with their patrons, provide equipment, software, or other tools to foster creativity. This year the exhibit hall included a Maker Pavilion, including an interesting variety of products to help libraries develop their own makerspace or extend the offerings of a creative commons. These vendors, focusing on creativity and engagement on a smaller scale, added an interesting layer to the mix of technologies in the exhibit hall.
HP was present to show off the capabilities of its Sprout Pro, a 3D scanner to capture physical objects, creating digital representations that can be incorporated into creative works or reproduced on a 3D printer.
Visitors to the Raspberry Pi Foundation booth could experience the flexibility and power of these tiny and inexpensive computer units, which can power an incredible variety of projects, facilitating possibilities to move ideas to prototypes and into products.
TeacherGeek demonstrated some of its components and educational kits that enable learners to design and assemble their own mechanical creations.
Nonprofit KaBoom! promoted the importance of creative play in childhood development.
This whirlwind tour of technology in the ALA Annual Conference exhibit hall provides at best a glimpse of some of the tech products and services available. It's more difficult to convey the enthusiasm and expertise embodied by the individuals each organization makes available at their booths, so many of whom are librarians.