DK Readers, new and improved
Children are exposed to more images on a daily basis than at any time before. To help capture and hold their attention while assisting them with reading, illustrated reference publisher DK Readers has updated its beginner reading program.
DK Readers develops reading programs for all ages. Earlier this July, DK Readers added 15 new stories to its beginner reading series, which focuses on readers ages 4–12. The updated program features stories that combine new narrative content on kid-friendly subjects such as jungle animals and Lego stories with eye-catching visuals such as gold-foil jackets.
The beginning readers program combines real photography with nonfiction stories written and reviewed by literacy experts to make them appealing and informative to children. Each book in the series contains a glossary and index to help children easily refer to the information presented.
Librarians can assess which books are most appropriate for each child based on DK Readers' level system. Level 1: Learning to Read is designed for children who do not have prior reading experience. Level 2: ­Beginning to Read, for those just starting to read. Level 3: Beginning to Read Alone helps children learn to read independently. Level 4: Reading Alone suggests books that are suited to a child who is already proficient at reading. The reading levels are based on ability rather than age.
To find out more, visit dk.com.
WorldCat for Spanish speakers
Nonprofit global library cooperative OCLC has partnered with media company Univision Contigo to help Hispanic families prepare their children for schoolwork in the United States.
Through the partnership of OCLC and Univision Contigo, Spanish-speaking parents can make the most of their community libraries.
Univision Contigo's "Clave al Éxito" enables Spanish-speaking parents to more easily participate in their children's education with bilingual information and resources.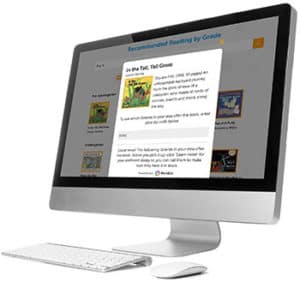 By integrating WorldCat, OCLC's global catalog of library collections and resources, Hispanic families will be able to access a mobile-first digital guide that includes a wider range of library materials than before.
The integrated guide comes with a reading log that offers book recommendations depending on the child's grade level in school. By clicking on the image of a recommended book, parents can tap into WorldCat's network and identify nearby libraries with that book.
Because the WorldCat network draws from individual member library contributions, available holdings continue to expand, which makes finding the nearest library location easier.
"Clave al Éxito" continues to expand as well. Earlier this month, Univision Contigo released its "Pequeños y ­Valiosos" campaign, which adds an early childhood section of its product.
Parents can access information through an online portal about early brain development related to bilingualism. The portal includes tools for parents, caregivers, and librarians, including prompts that allow parents to talk, read, sing, and count with their children.
For more information on ­WorldCat's integration with "Clave al Éxito," please visit oclc.org/worldcat.
Case Study: Bookshare Helps Students with Print Disabilities

User: Kate Owen, school librarian, Thetford Academy Library in Thetford, Vermont
Details: Bookshare is an online digital library for those with print disabilities such as blindness, dyslexia, and vision impairment, among others. It comes with the ability to listen to books using text-to-speech, hear and see highlighted words on the screen, read with digital Braille or enlarged print, and read directly from an internet browser.
How do you use Bookshare?
Bookshare is a key ingredient in the mix of tools Thetford Academy Library uses to serve students with disabilities. Bookshare helps support those with a disability that affects how easily they can access a printed book. A student with a physical disability who has difficulty holding a book and turning pages suddenly has a huge library at her fingertips when she loads the titles on her tablet. Another student with severe dyslexia loves to download the MP3 audio recordings available through Bookshare.
How does Bookshare serve your library's needs?
Bookshare enables me to ensure that a print-based disability will never stand in the way of a student accessing fiction, nonfiction, a periodical, or a textbook. One of the most significant improvements over the services provided by State Libraries for the Blind and Disabled is the turnaround speed that Bookshare offers.
What are the main benefits?
The speed of access and the ability to empower students so they learn to meet their own needs after they graduate. Of course, Bookshare wouldn't be half so useful if it didn't have a tremendous collection of accessible texts. I have searched for hundreds of titles on Bookshare and only found once, in 2010, a title that wasn't there. Yet I requested the book and Bookshare worked with the publisher to have it available within a few weeks.
What would you like to see improved or added to their service?
I'd love to see human-read audiobooks added. I purchase downloadable audiobooks from publishers when they are available, but there are so many assigned readings that aren't in print or aren't available in a manner my small school library can afford or support.