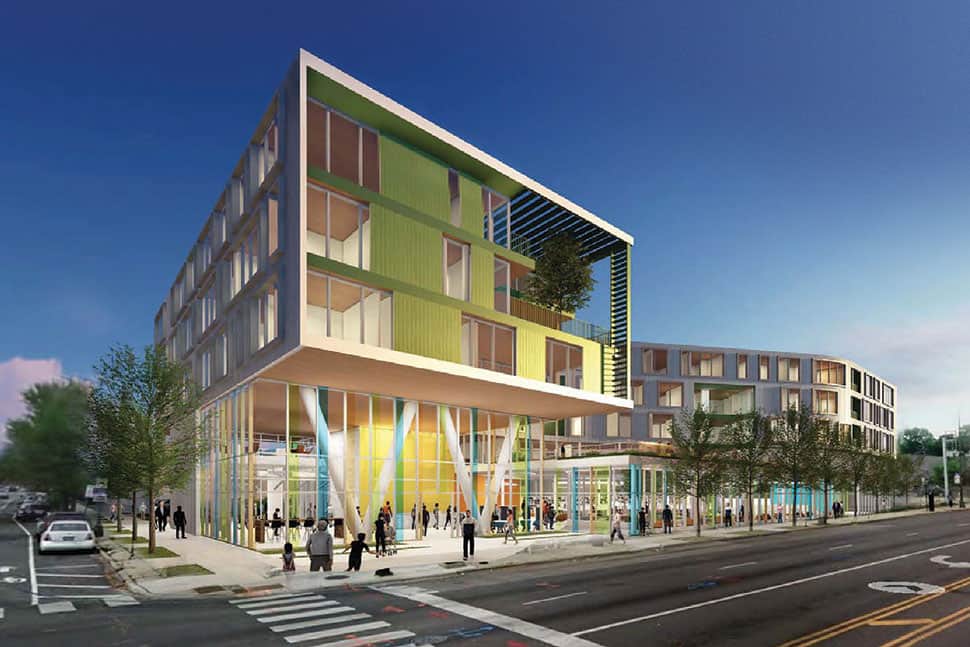 As funding challenges continue to threaten their survival, public libraries are teaming up with local public housing authorities to keep costs down and doors open. In these partnerships, the library provides its services to a traditionally underserved community while the housing authority shoulders the cost of building and maintaining a facility.
A rocky start
In August 2013, the first satellite library in a public housing development opened at Estrada Courts in Los Angeles, a joint project between Los Angeles Public Library (LAPL), the Housing Authority of the City of Los Angeles (HACLA), and Kids Progress Inc., a nonprofit established in 2009 by HACLA. The program was designed to bring "social, health, educational, and work opportunities" to high-risk children and youth living in the city's public housing developments, according to the project's website.
The joint venture lasted for just over a year, says Brenda Breaux, principal public relations representative for LAPL, before lack of funding forced it to close. The public library system is looking into revisiting the project and possibly establishing a temporary satellite library at a housing facility this summer, according to Breaux. The project is just getting started, but officials hope that it will mirror the success at Estrada Courts.
Chicago's expansion
Also in 2013, Chicago opened a public library—instead of a typical school library—in a high school in the Back of the Yards neighborhood. Under this arrangement, the city rents space from the Board of Education and pays for the library's operating costs, but the Board of Education covers the building maintenance costs.
In October 2016, the city announced an even broader partnership between Chicago Public Library (CPL) and the Chicago Housing Authority (CHA). The new plan will colocate public libraries within high schools, housing projects, and community centers in an effort to cut costs and increase the number of library patrons.
CPL says it's too early to know how much it will be paying in capital and operating costs for the new branches.
The three proposed libraries include a senior housing building and two mixed-income housing developments in different parts of the city. CPL anticipates that the new branches will open in late 2018.
"This partnership is unique because, in addition to public libraries and public housing, there is also a strong civic architecture component," says CPL Commissioner Brian Bannon.
The design competition yielded 32 entries, and three firms were selected in March. The libraries are expected to include traditional programs, computer classes, internet access, and various courses, such as free classes in graphic design and other software as part of the American Graphics Institute Library Partner Program.
Automated in Milwaukee
Milwaukee has taken a different approach in a housing development in Westlawn Gardens. The city has created an automated, unstaffed library that is open 24 hours a day, seven days a week.
"We have a strong partnership with the housing authority," says Eileen Force Cahill, community relations and engagement director for Milwaukee Public Library (MPL). "This was a way to provide connection to the library and introduce an underserved area to library services without the cost of a staffed branch."
The automated library contains only books, at least for now; most of the books are for children, but there is some reading material for all ages. MPL staffers restock and rotate titles on a monthly basis.
MPL does not have plans yet for other unstaffed branches, although it is open to the idea. It already has 12 community branches in addition to its main library downtown. Cahill calls the unstaffed library branch a success and says it is "expanding outreach and programs in the area to meet the unique needs of the community." She estimates annual operating costs for the Westlawn Gardens express branch at about $25,000, compared with roughly $600,000 for a traditional staffed branch.
Other cities are also exploring collaboration between libraries, housing authorities, and nonprofits. The El Pueblo housing community in Pittsburg, California, and DeAnza Gardens in Bay Point, California, have children's library programs. In addition, Brooklyn (N.Y.) Public Library is collaborating with the nonprofit Fifth Avenue Committee to build a new Sunset Park branch that will include 49 units of affordable housing. The project is still in the planning stages but is expected to open in 2018.
Libraries are cornerstones of their communities, and colocating them with housing developments, high schools, and other public institutions appears to be paying off.