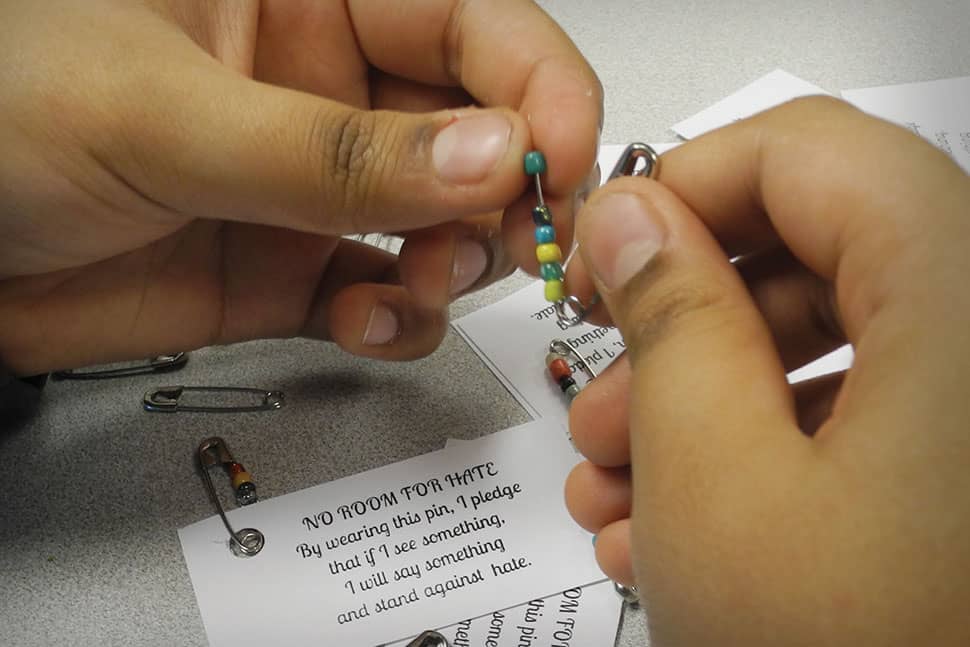 Jody Gray witnessed a "barrage of tragedy" within her first year as director of the American Library Association's (ALA) Office for Diversity, Literacy, and Outreach Services (ODLOS)—from the Pulse nightclub murders in Orlando, Florida, to the Dallas police shootings.
"Libraries were suddenly in the middle of everything," Gray says. Libraries have long offered their patrons inclusive, safe places to go, she says, but increasingly "they were doing it in crisis."
Nationally, librarians looked to ALA for leadership. When Gray received calls from people seeking advice on how to deal with trauma and discrimination, she privately connected them with colleagues who faced similar issues in their own communities. But Gray started thinking: "There's got to be a way for people to communicate to each other what they're doing in these times of crisis that doesn't have to be vetted [by ALA]. It could be flexible, on the ground, and offer a space for librarians to share directly with each other."
That's why Gray's office launched the Twitter hashtag #LibrariesRespond last summer. ODLOS wanted to foster a grassroots conversation in which library professionals could share ideas and responses to current events. The tag caught on, more widely than Gray and her colleagues expected. ODLOS also built out a section of its website to include ongoing #LibrariesRespond resources for a variety of topics, such as the Dakota Access Pipeline (DAPL), immigrant and refugee rights, and protecting transgender students.
By late 2016, librarian Tori Gammeri had seen #LibrariesRespond on newsletters, listservs, and Twitter. Gammeri has worked at Oliver McCracken Middle School in Skokie, Illinois, for 17 years, partly because she loves the school's diversity. McCracken's approximately 400 students speak 48 languages at home, from Assyrian to Amharic. The day after Donald Trump won the presidential election, many of McCracken's students cried, Gammeri says. They wondered if they could still wear their hijabs and whether their families would be deported.
"Our students are too young to vote, but they're fully aware of the political climate," she says. "Many of the things that we're struggling with at school are directly related to politics."
It's important for us to make visible [those] communities who otherwise may feel marginalized.—Nina Lindsay, children's services coordinator at Oakland (Calif.) Public Library
In collaboration with her 7th-grade students' social studies instructors, Gammeri planned an activity to enhance their previously scheduled lesson on immigration. She put her pupils on one side of the library and asked them to take a step forward if they answered "yes" to a question. She asked if anyone was born in another country or if anyone's parents or grandparents were born abroad. Gammeri kept asking similar questions until, eventually, everyone ended up on the other side of the room.
"We're all immigrants," Gammeri told her class, before breaking students into small groups where they examined narratives from diverse voices. She shared a photo of her class on Twitter with the #LibrariesRespond tag, and other educators asked about the lesson.
At Oakland (Calif.) Public Library (OPL), Nina Lindsay, children's services coordinator and president-elect of the Association for Library Service to Children, manages youth programming across 17 libraries. Lately, her staff members have fielded an unprecedented number of worries from their patrons: Is my family going to be separated? Am I going to be deported? Is Dad ever going to be able to join us?
About a year ago, OPL librarians hung a poster by local artist Micah Bazant of a headscarf-clad woman with the words "Everyone Is Welcome Here." Bazant designed the poster after OPL librarian Amy Sonnie informed the artist that local literacy class students were routinely harassed on the street. The pair launched the poster in partnership with members of the Alliance of South Asians Taking Action, and Bazant now provides the poster free of charge for noncommercial use.
"We feel that the Library Bill of Rights is very clearly expressed through that statement—'Everyone is welcome here,'" says Lindsay. "It's important for us to make visible [those] communities who otherwise may feel marginalized."
Across the bay in San Francisco, public librarians responded when presidential executive orders called into question the community's status as a sanctuary city. City Librarian Luis Herrera circulated an internal memo indicating that local institutions would remain safe spaces for diversity. Then librarians amplified Herrera's words.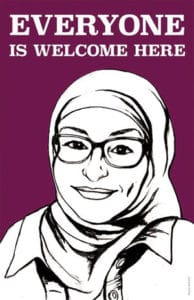 "[Herrera's] quote was initially directed toward staff," says Cristina Mitra, family engagement coordinator for San Francisco Public Library, "but the staff made displays to show the public that this is our leadership." At least one of those displays—a poster with Herrera's message of inclusion translated into over a dozen languages—landed on Twitter tagged with #LibrariesRespond.
Another visual symbol of inclusion garnered wide news coverage and social media attention this year: gender pronoun buttons offered by the University of Kansas in Lawrence. People can wear the accessory to display their preferred gender labels: she/her/hers, he/him/his, or they/them/theirs. Dean of Libraries Kevin Smith says that although the buttons originated with another department on campus, the library takes pride in making them available to patrons.
Sarah Kostelecky, education librarian at the University of New Mexico, felt compelled to act when her students asked for information about DAPL last fall. "A lot of students wanted to write about it, but there weren't many scholarly resources," Kostelecky says. The event was unfolding in real time, and many mainstream media outlets weren't yet reporting the story.
Inspired by LibGuides for other high-interest, popular, and political subjects, Kostelecky decided to create a LibGuide for DAPL. In order to increase public access to her guide, Kostelecky included resources that aren't hidden behind paywalls. "This is my way to support the movement and communities," she says.
Mitra says her community feels stronger than ever lately. At ALA's 2017 Midwinter Meeting & Exhibits, she attended the Martin Luther King Jr. Holiday Observance and Sunrise Celebration, where librarians held hands and sang "We Shall Overcome."
"I am in exactly the right profession," Mitra says she thought at that moment. "All of these people are committed to making the world a better place."