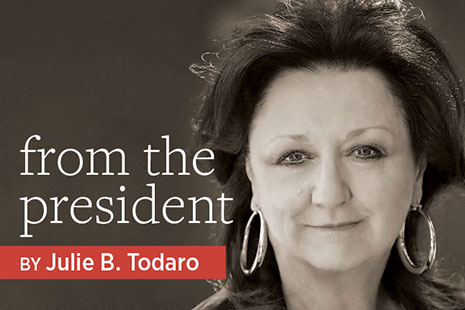 The past year has been—to say the least—the most interesting of my career. And I can say both humorously and truthfully that I did not know how hard it would be to be president.
I continue to be honored to represent our profession in our ongoing and successful challenge to federal funding issues. And we continue to communicate and educate stakeholders about our work, its value, and the very need for our existence. Many libraries face similar challenges more regularly, and I have a newfound appreciation and respect for what you do every day.
What is humbling is being reminded of our incredible relationships: coalitions and partners from related professions and supporting businesses; the advocacy of constituents, patrons, and users; and elected and appointed officials who champion us with votes.
I am honored by my steering committee's work on my expertise initiative, launching this summer. I am also pleased to provide a wrap-up of my presidential initiatives at the upcoming Annual Conference in Chicago. Here are a few programs I'd like to highlight:
Compelling communication
At "Making the Case: Influencing Your Funding Future" on Saturday, June 24, experts will share information about how to persuade lawmakers to fund libraries. Moderated by former ALA President Courtney Young, the panelists include:
Shailagh Murray, former advisor to President Barack Obama, former deputy chief of staff to Vice President Joe Biden, and former Wall Street Journal and Washington Post journalist
Sharon Páez, partner at D.C.-based Hilltop Public Solutions and consultant and producer of Spanish-language radio and TV advertising
Jenny Backus, D.C.-based consultant and board member of D.C. Public Library Foundation
Jessie "Chuy" Chavez, Google software engineer, diversity and education evangelist, and community leader
Experts and expertise
Saturday's "Library and Information Experts Succeeding in the 21st Century" program will identify roles and responsibilities for current and next-gen library professionals. These presenters will build on their March webinar, which had 3,600 registrants from more than 90 countries:
Eileen Abels, dean, Simmons School of Library and Information Science in Boston
John Bertot, professor and codirector, Information Policy and Access Center at the College of Information Studies at University of Maryland
Valerie Gross, president and CEO, Howard County (Md.) Library System
Unique engagement
At the heart of our work is often a love of the written word. Organized discussions—frequently in the form of book clubs—can be found in all sizes and types of libraries, where we support reading initiatives for children, teens, and adults. What's most important is that our patrons are reading.
I am delighted to announce the official launch of ALA Book Club Central in support of readers everywhere. I'm also especially pleased to invite you to the President's Program on June 24, where Book Club Central's honorary chair, Sarah Jessica Parker, will unveil her first title selection. Parker, a lifelong reader, library supporter, and member of book clubs, is uniquely positioned to lead this initiative, which was created in partnership with Booklist, Penguin Random House, and United for Libraries. Please join us at Annual for the kickoff, where we will reveal our new online platform, featuring an online book club, reading resources, club activity recommendations, expert book lists, and other tools for book clubs and their readers.
I am looking forward to seeing all of you in Chicago!