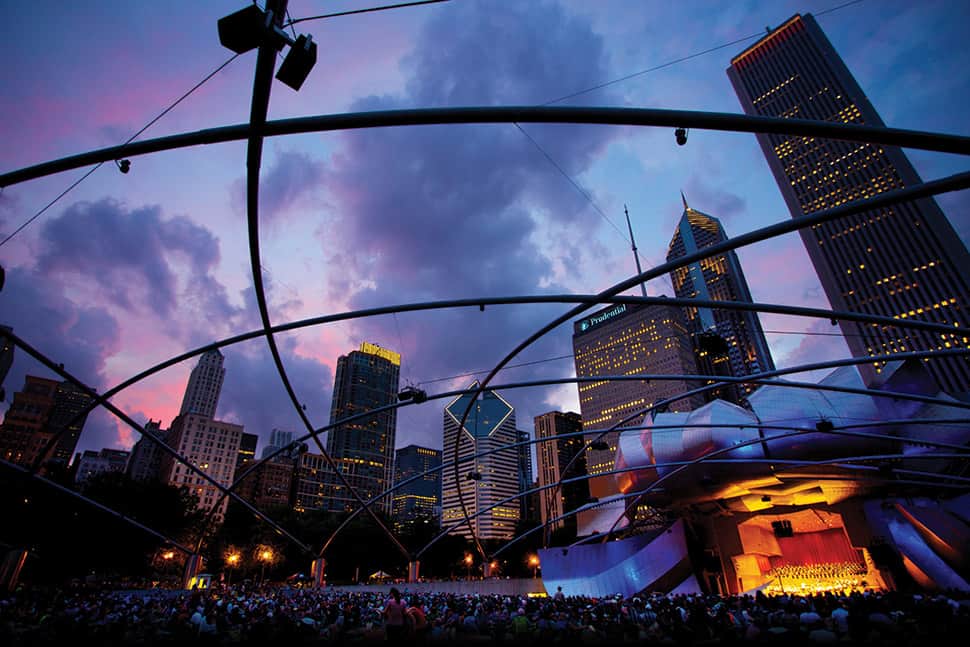 Willis Tower, Navy Pier, the Art Institute—they're all well worth a visit, but surely you don't need us to direct you there. Instead, the American Libraries staff offers a bevy of off-the-beaten-path ideas for enjoying your time in the Windy City. Each lies within a reasonable public transit or taxi/ridesharing trip from McCormick Place.
In downtown's Millennium Park, the Frank Gehry–designed JAY PRITZKER PAVILION offers free outdoor concerts. On the evening of  June 23 or 24, bring a picnic and enjoy the strains of Stravinsky's The Firebird, performed by renowned American pianist Conrad Tao. Not a classical-music fan? June 22 brings a concert by folk group Hurray for the Riff Raff and folk-rocker Matthew Santos; June 26 sees performances by jazz band Jaga Jazzist and electro-African group AfrotroniX.
In the Loop? The CHICAGO CULTURAL CENTER is well worth a pop inside. This enormous, stunning 19th-century landmark once housed the city's main library; now it's an arts and culture center that offers free exhibitions as well as music, dance, and theater performances. You'll definitely want to wander into its Preston Bradley Hall, home of the largest Tiffany dome in the world. For the serious historical and architectural scoop, there are free tours on Wednesdays, Thursdays, Fridays, and Saturdays at 1:15 p.m.
As you might guess from its name, THE WICKER PARK SECRET AGENT SUPPLY CO. is a quirky boutique full of spy-themed gag gifts, such as a bottle opener shaped like a shoe, earbuds that make the wearer look like a Secret Service agent, and an "emergency bow tie" (for those last-minute disguises). But this secret-agent shop has a secret of its own: Every item sold supports 826CHI, a nonprofit that helps students age 6–18 develop their writing skills.
Think you know what Chicago-style pizza is like? Think again. Tavern-style pizza, which features a thin, crunchy crust and square slices, is a lesser-known favorite of the City That Works. Find it at FOX'S RESTAURANT AND PUB in Beverly, where each pie comes with pleasingly crispy edges.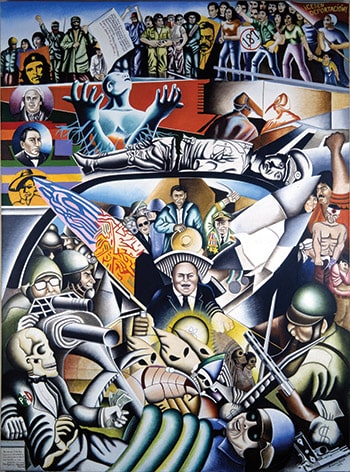 In the Lower West Side neighborhood of Pilsen, the NATIONAL MUSEUM OF MEXICAN ART holds a trove of gorgeous and fascinating works from both sides of the US–Mexico border and from many time periods. In the folk art collection, the Día de los Muertos (Day of the Dead) items are a special favorite. Admission is free. Afterward, on nice days, it's fun to take the 25-minute walk to DÍA DE LOS TAMALES, a tiny storefront restaurant specializing in tamales both innovative (buffalo chicken with bleu cheese) and traditional (spicy black bean and corn).
In the historic Bronzeville neighborhood, GALLERY GUICHARD showcases art from the African diaspora. Housed in a former Borden's dairy, the gallery features works from painters, sculptors, and other artists from all over the world. Just down the street, PEACH'S ON 47TH is famous for comfort-food breakfasts and lunches, like shrimp and cheese grits or peach-bourbon french toast.
At the Judy Istock Butterfly Haven of the PEGGY NOTEBAERT NATURE MUSEUM, more than 1,000 exotic butterflies representing 40-some species flutter their gorgeous wings, occasionally landing on visitors' heads or shoulders for a spell. Scattered benches make it easy to sit and soak up the tropical ambience.
CHINATOWN is a destination in itself, great for buying gifts, candy, bubble tea, and K-pop albums. The best dim sum (in our staffer's opinion, at least) is found at Phoenix Restaurant; on weekends, those in the know arrive early to avoid lines. On nice days, a ride on a Chicago Water Taxi from Chinatown to the Magnificent Mile makes for a cheap ($5 one way), scenic adventure.
It's well worth it to call ahead for a tour of WILLIE DIXON'S BLUES HEAVEN FOUNDATION, a nonprofit housed in the former studio of Chess Records—the seminal blues, soul, gospel, and rock 'n roll label that recorded everyone from Muddy Waters and Howlin' Wolf to Etta James and Chuck Berry. See original recording equipment and memorabilia while you bask in the music-soaked ambience.
If you're visiting Willis Tower, consider combining it with a stop to nearby LOU MITCHELL'S, a diner that was founded in 1923 and has shown no signs of stopping since. Expect silver-dollar pancakes, Denver omelets, patty melts, and other classics. And don't be surprised to be welcomed with a few Milk Duds—it's a sweet tradition that started with "Uncle Lou" many decades ago. The restaurant's location near the beginning of US Route 66 is a bonus for history buffs.
Hidden in the South Side's Jackson Park lies THE GARDEN OF THE PHOENIX, a small Japanese garden originally built to house a temple that served as the Japanese Pavilion at the 1893 Columbian Exposition (the world's fair featured in Erik Larson's The Devil in the White City). The temple is long gone, but visitors can still enjoy strolling among cherry trees, alongside peaceful waterways, and across a beautiful curved bridge. Note that the garden is easily reached from the public parking lot of the MUSEUM OF SCIENCE AND INDUSTRY.
Those fascinated by the excesses of the Gilded Age will love the RICHARD H. DRIEHAUS MUSEUM, housed in an 1883 mansion once home to an exceedingly wealthy Chicago banker. Located just two blocks off the Magnificent Mile (and around the corner from the headquarters of the American Library Association), the museum holds a vast collection of sumptuous furnishings and artworks, including a silver Tiffany & Co. punch bowl first exhibited at the 1893 Columbian Exposition.
North of downtown sits the INTERNATIONAL MUSEUM OF SURGICAL SCIENCE, the only museum in North America dedicated to the history of surgery. Okay, it might not be for visitors who get queasy easily—but for the rest of us, it's a fascinating look at medicine through the ages.
Located in the historic Water Tower Water Works on the Magnificent Mile, LOOKINGGLASS THEATRE COMPANY is known for ambitious, visually spectacular performances. From June 7 to September 3, it's featuring Moby Dick, a reimagined and compelling rendition of Herman Melville's epic tale.
Just south of McCormick Place, at 2400 S. Lake Shore Drive, sits the MCCORMICK BIRD SANCTUARY, a haven for wildflowers, migrating birds, and the people who love them. The best way to get there: by foot on the Chicago Lakefront Trail. It's hard to believe that these six lovely acres sit on top of one of McCormick Place's own parking garages.