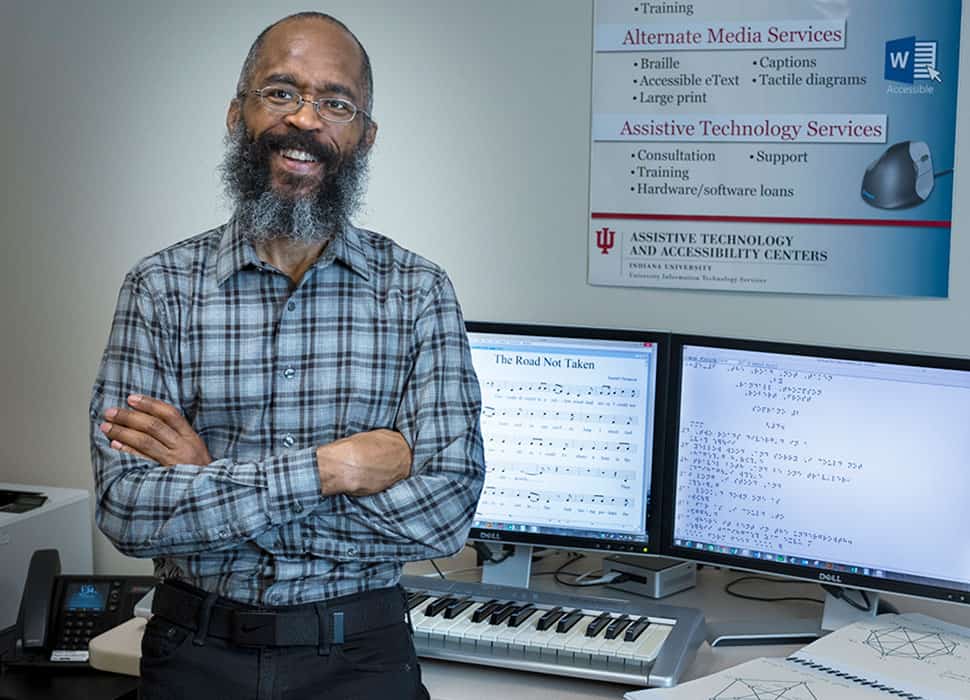 In a windowless third-floor room of Indiana University's (IU) Herman B Wells Library, Christopher Goodbeer labors over dual computer screens and a keyboard. He and his colleagues work at the assistive technology and accessibility centers, providing tools to help students with disabilities from all seven IU campuses tackle their studies.
Goodbeer—a 2007 graduate of Indiana University's master's programs in music and library and information science—is a Braille music transcriber. According to the Library of Congress, which certifies music transcription in Braille, fewer than 100 people are listed as having such a skill.
"It was an uphill climb at first," Goodbeer says of learning the work, as he didn't read Braille and had to learn literary Braille before working on music transcription. "But I hit the trail running." He's been working in assistive tech for 10 years.
Goodbeer came to love music early. His father was a jazz singer, his brother sings in church, and Goodbeer himself has been singing in choirs since junior high, taking on occasional singing gigs even now.
He says he transcribes music with students' needs in mind, whether they want a single line of melody or all the dynamics and ornamentation. The final music is printed in familiar raised dots, just like literary Braille. The number of scores he does each year varies, depending on the needs each semester of music students who are visually impaired.
"We're always solving problems," he says of his department, "and figuring out the best ways to present information."