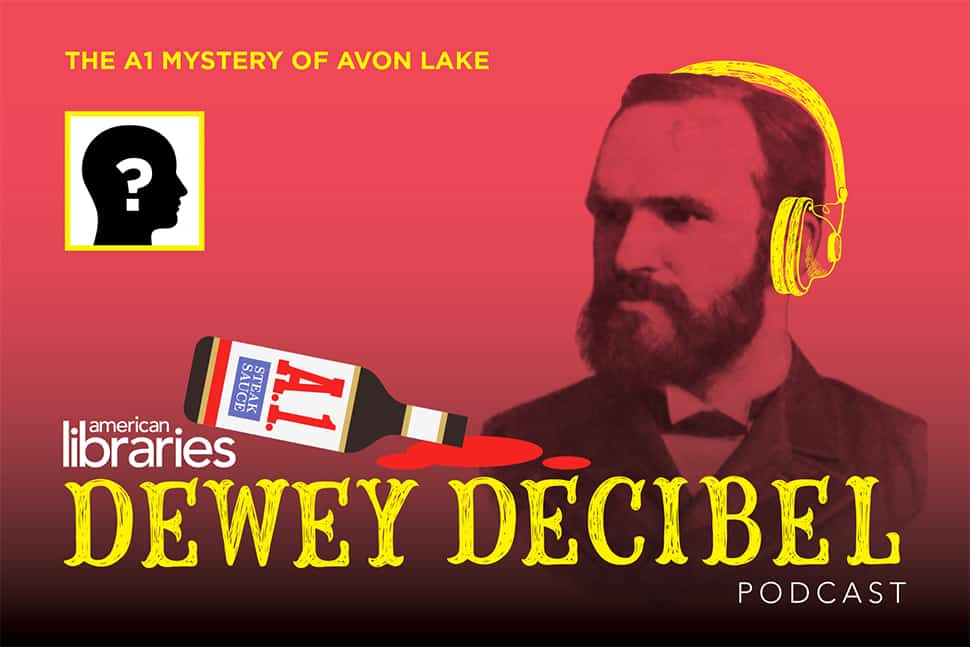 Who's behind the 55 cleaned, emptied, and delabeled A1 Sauce bottles that mysteriously appeared at Avon Lake (Ohio) Public Library between January and August? Could Dewey Decibel podcast's investigation turn up any new leads or suspects? We sure hope so.
In Episode 19—our special Halloween episode—Dewey goes on the road to bring you a story from Avon Lake, a town nestled along Lake Erie with a population of about 23,000. Lurking below the idyllic setting is a condiment caper that's been baffling the community for months.
Dewey Decibel correspondent Terra Dankowski—inspired by a photograph that appeared in the Elyria Chronicle-Telegram—rode 14 hours on a bus so that she could analyze the facts of the steak sauce case up close. She interviewed 11 former and current staff members of Avon Lake Public Library to better understand the motive, means, and profile of the bottle bandit. She snapped photos of the scene, the A1 Sauce bottles, the two copycats—and is opening up her case file to you.
Did Dewey Decibel suss out the saucy truth? Listen to the episode to hear what we found, and click through the slideshow to examine the photographic evidence.
Whodunit? Think you know? Leave us a comment below, on Twitter, or on iTunes. If you have feedback for this or future episodes, email the Dewey Decibel team at deweydecibel@ala.org.