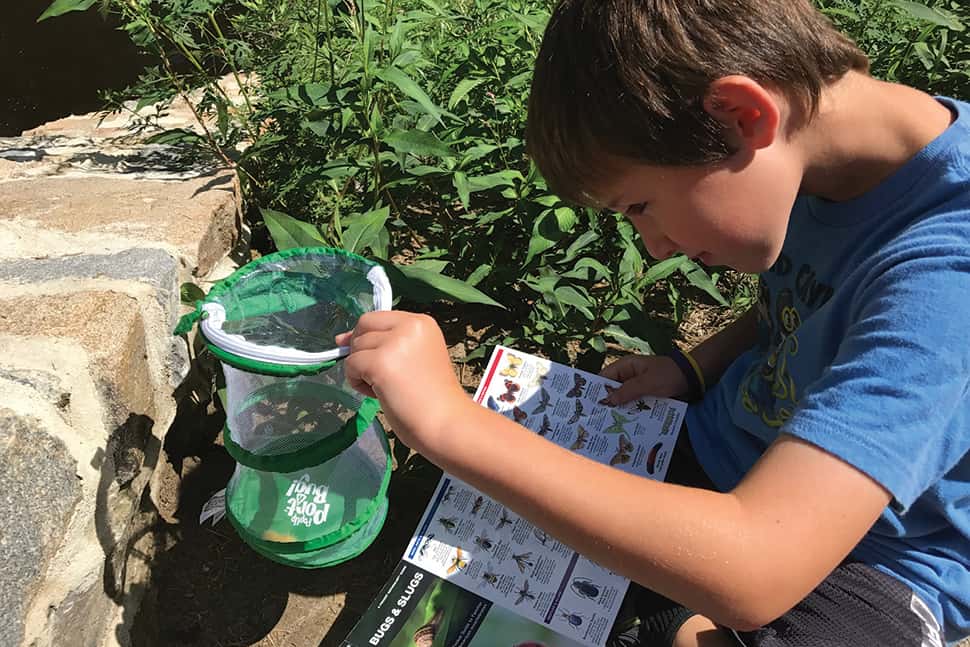 At public library branches in several states, staffers are sending patrons to the trails instead of the stacks.
Libraries from coast to coast are buying hiking backpacks, stuffing them with field guides and park passes, and making them available for checkout. The intent, officials in several libraries agree, is to give families a new reason to get off the couch and into the world.
"It's really becoming more and more popular by the day," says Chris Henning, marketing communications manager for Denver Public Library (DPL). "When the state came to us and said 'Hey, we're doing this program,' [we thought] what a great opportunity."
State library systems are using federal grants to provide would-be explorers with hiking kits. The ideas are homegrown and backpacks' contents vary in each state, but most include guides to plant life, animal tracks, and wilderness first aid; binoculars for adults or children; maps and compasses; bug magnification boxes; and other supplies. Most also include free passes to state parks, giving families an opportunity to discover or return to natural sites without admission fees or equipment costs.
The money that bought this gear often comes from the Institute of Museum and Library Services' (IMLS) Grants to States program. IMLS senior public affairs specialist Giuliana Solitario Bullard says the agency didn't create the backpacking program—Grants to States funding recipients can use their gifts for a range of purposes, and exploring nature simply became one of them.
"We are unaware of any central organization helping to coordinate or drive these programs," she wrote in an email. "Instead we have gathered anecdotally that programs have spread when one state library has heard of the success of another's program."
For Nan Carmack, director of networking and development for the Library of Virginia, their program is what libraries have been headed toward for years. "Oh heck, this isn't anything different than what we've always done," she says. "Libraries have always been where people go to learn. It's really an entire learning system for our natural world."
Carmack says Virginia's program began in 2013, with the intent of making libraries a way station as families learn about things librarians generally do not want inside their facilities: wild animals, overgrowth, and dirt. Although it sends borrowers away from the building, she says the program may help solidify the library's position in borrowers' hearts and minds.
Virginia State Parks held a "Think Outside the Photo" contest in summer 2017 to solicit pictures in seven categories, including "Library Backpacks in Action." Mechanicsville Public Library (MPL) patron Lisa Scheid, who took her sons J. T. and Mitchell to Pocahontas State Park with MPL gear for Labor Day, won the grand prize in that category—a $500 overnight stay gift certificate for the state parks.
"We went out exploring with the backpacks, and it was great," Scheid says. "I told several of my friends about the program after we came back." She adds that the highlight of the trip for her sons was using the magnifying glasses and "bug catchers" to examine caterpillars.
Teaming up
In Virginia, the state library handled the grant money, purchased and stocked the packs, and distributed them to interested branches, Carmack says.
In Colorado, Henning says the state's Department of Education teamed up with Colorado Parks and Wildlife, another state agency, to put the backpacks together, and the Colorado State Library used its annual Library Services and Technology Act funds to buy field guides for the packs. All DPL had to do was ask for them.
In Georgia, backpacks became available in October 2017 at more than 400 branches. As in Colorado, these kits are the product of partnership between state agencies: Georgia's Public Library Service and the State Parks and Historic Sites, plus some IMLS funding.
"We saw how successful it was in Colorado and thought, 'Hey, that sounds like a great idea,'" says Dustin Landrum, strategic partnerships manager for Georgia Public Library Service. The packs cost about $75 each to buy and fill.
Henning says DPL stocked its 26 branches with backpacks in November 2016; since then, patrons have checked the bags out 1,268 times, while 334 holds wait in the system. Borrowers can keep them for two weeks.
He says the addition has been hitting its intended market: residents who never venture into the Colorado wilds because of the expense. "People in Denver don't always go to the mountains," he says.
DPL staffers found an unexpected side effect, though: The packs are popular with regular outdoor enthusiasts, who would rather borrow than buy.
Carmack adds that even in the age of in-home virtual reality, genuine nature still has no trouble attracting young minds. Even if borrowers step into the library only to pick up their gear, she says that branch has served its purpose.
"The idea of strapping on a backpack and going adventuring is an appeal to all," Carmack says. "Hopefully this will spark some curiosity, and they'll come back and learn some more."
Update, Jan. 12, 2018: The original version of this article misstated the funding source for Colorado's backpack program. This version has been corrected.
Update, Feb. 7, 2018: The number of states involved in the program was incorrectly reported because of a miscommunication with the source. This version has been corrected.