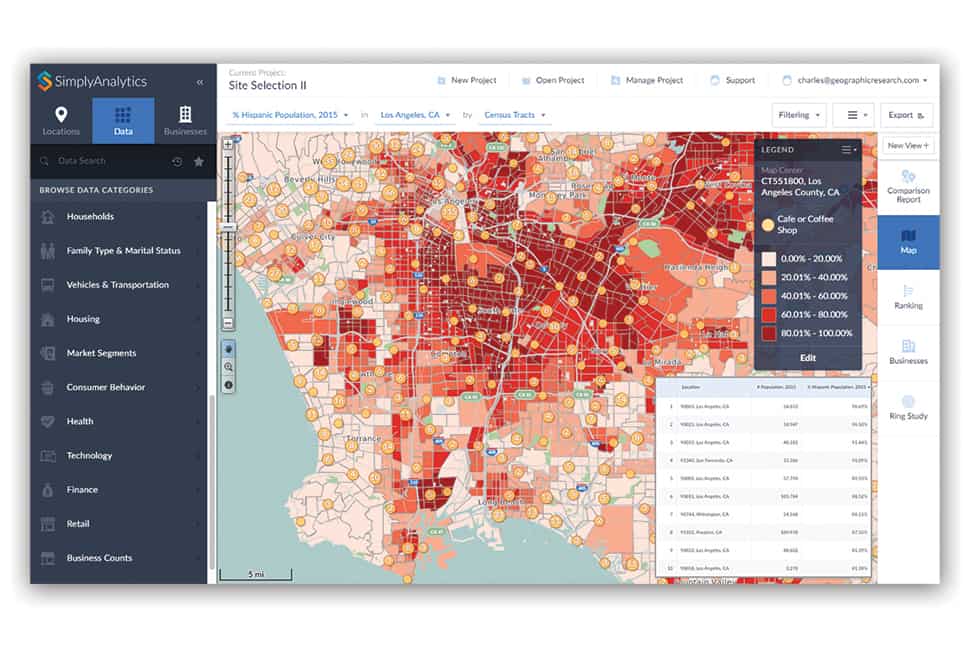 Libraries are a key pillar of support for small businesses: They provide programming, prototyping tools, and access to market research, and have been shown to increase access to capital. As more libraries add coworking spaces and makerspaces, they are becoming even more appealing locations for entrepreneurs to get their start. Easy-to-use research databases and software are essential to providing all-around support, helping entrepreneurs understand their niche and get their projects off the ground, whether it's patent research for prototypes or market research and business plan creation for small businesses.
SimplyAnalytics
After 10 years of providing geographic analytics, SimplyMap relaunched as SimplyAnalytics in mid-2017, with expanded and refined mapping and analytics tools. Researchers can create thematic maps and reports using more than 100,000 data variables. The standard data package includes more than 3,000 variables, including demographics, retail sales, employment, and ancestry. Premium data packages include historical data, market research from Simmons and Nielsen, and US company databases. New data sets are added regularly.
Users can create simple maps of local businesses to determine the best place to locate their new venture, or create maps from multiple variables to explore consumer behavior, such as how much the average household in a census area spends on pet food, and compare the results with state and national averages.
SimplyAnalytics is designed for nontechnical users, with robust online resources, videos, and tips and tricks. Easy to use selection tools help users generate maps, comparison reports, and rankings, and users can easily customize colors and change their map view, location, and data variables from a drop-down menu. Metadata and white papers from sources are provided for more advanced researchers.
Personal accounts allow users to automatically save work, which can be shared directly with other SimplyAnalytics users. Maps, reports, and data can be exported in a variety of formats, including PDF, GIF, CSV, and shapefiles for use in geographic information system software.
Annual public and academic library subscriptions begin at $7,195 for one concurrent user for the standard data package. Premium data module add-ons are available for additional fees.
More information is available at simplyanalytics.com.
PatSeer
PatSeer, a web-based patent search platform from Gridlogics, provides full-text access to 43 patent authorities, bibliographic records for more than 100 others, and analytics and visualization tools. The database includes full machine translations of patents from 16 international patent authorities.
Six levels of access are available, each of which provides full access to the search database. PatSeer Lite provides search and basic analysis functions, and more advanced levels provide additional search and analysis capabilities, and collaboration and project management tools.
All versions include powerful search features, including search-term translation, related search suggestions, and stem search capabilities across six different languages to help users locate information from a greater number of international patents. Users can browse search results using a visualization feature that generates charts and graphs of variables including date of patent, patent assignee, and related patents. The data in these visualizations is interactive, and clicking a data point brings up a list of corresponding search results, making the patent search process more intuitive.
Detailed views of records include forward and backward citations and analysis of the patent content such as the key concepts cloud, a word-frequency graphic generated from the full text of the patent. A built-in drawing viewer allows for quick browsing of patent drawings. New records are added to the database each week.
Pricing starts at $900 per quarter for a single concurrent user for PatSeer Lite, with options for daily and monthly access. Discounts on PatSeer are available to subscribers of ProQuest's Dialog patents collection.
Additional information is available at patseer.com.
Launching a Small Business in Naperville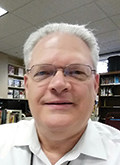 User: Kent Palmer, business librarian, Naperville (Ill.) Public Library
Product: Gale Small Business Builder
Description: Gale Small Business Builder is a software platform designed to help libraries support business planning for entrepreneurs, start-ups, and other small business ventures.
How do you use Gale Small Business Builder (GSBB)?
We use GSBB in three ways. Walk-in library customers who ask about any resources for writing a business plan are given a brief demonstration on how to use GSBB. Entrepreneurs who are writing a business plan can make one-on-one appointments to receive a more in-depth demonstration, including creating an account in GSBB. We also use the software as the foundation of a three-session class entitled Write a Business Plan, taught in the NaperLaunch Academy, our series of programs designed to support entrepreneurs.

How does GSBB serve your library's needs?
Entrepreneurs in our area hear about NaperLaunch, our business coworking space, and come to the library to work. Or they are directed by a SCORE Association mentor to come here for assistance with developing market information, demographics, and writing a business plan. We provide guidance on how to write a business plan through GSBB.

What are the main benefits?
The software was designed by a former investment banker with the intent of democratizing the process for business start-ups to access funding by giving smaller enterprises the same top-quality, professional approach to business planning that larger enterprises develop through expensive advisors and consultants. The advice and consulting services are built into the software. The software guidance is comprehensive, and the step-by-step approach encourages them to think of things they would not otherwise consider, allowing the entrepreneur to understand their own business and financials better after using GSBB. The entrepreneur using GSBB will create a more thorough plan than without its guidance.
What would you like to see improved or added to this resource?
We would like to see the return of two features that were available in Intercept, the previous version of the software: the ability to grant business plan access to a mentor, and the ability to access other library resources, such as Gale databases (DemographicsNow, Business Insights, Directory Library, and others) that support the research process when creating a business plan.