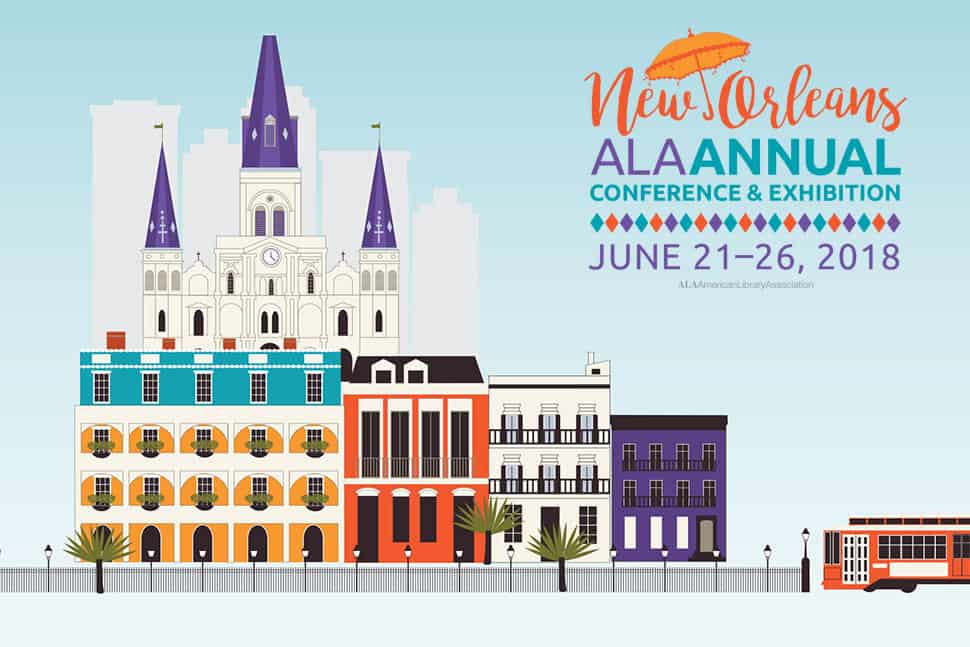 Libraries are committed to information, interaction, and innovation—and so is the American Library Association's (ALA). The 2018 Annual Conference and Exhibition in New Orleans (June 21–26) promises professional development, products and services, networking, and new titles and technologies to inspire your work. Hear from hundreds of bestselling authors and compelling speakers, explore exhibits, celebrate award winners, and take ideas back to your communities.
Use the Annual Conference Scheduler to start planning.
Speakers who inspire

ALA President Jim Neal welcomes Pulitzer Prize–winning journalist, filmmaker, immigrant rights advocate, and CEO of Define American Jose Antonio Vargas as his President's Program speaker (June 24).
This year's slate of Auditorium Speaker Session presenters includes presidential historian and Pulitzer Prize–winning author Doris Kearns Goodwin (June 23).
Television, theater, and film actress Viola Davis—author of the forthcoming children's book Corduroy Takes a Bow—will be the Closing Session speaker (June 26).
ALA divisions invite all attendees to hear speakers at the division presidents' and chairs' programs, including:
Librarian of Congress Carla Hayden will speak about forging library services that meet the needs of today's varied and diverse populations in a program sponsored by RUSA (June 23).
Panelists Chris Bourg (director, Massachusetts Institute of Technology Libraries), K. G. Schneider (dean of the library, Sonoma State University), Derrick Jefferson (communication librarian, American University), and Fobazi M. Ettarh (student success librarian, California State University, Dominguez Hills) will examine resilience and structural inequalities in a session moderated by Eamon Tewell (reference and instruction librarian, Long Island University Brooklyn) and sponsored by ACRL (June 23).
Culinary and cultural historian Michael W. Twitty will discuss his book The Cooking Gene and his journey to uncover the history of Southern food in his own family, in a program sponsored by ALCTS (June 25).
Moderator Mimi Lee (diversity and literacy consultant, New Jersey State Library) and panelists will highlight Arab-American poetry, fiction, nonfiction, and children's literature in a program cosponsored by the Ethnic and Multicultural Information Exchange Round Table and Office of Diversity, Literacy, and Outreach Services (June 23).
The Intellectual Freedom Round Table will sponsor a debate moderated by Bill Marden, director of privacy and compliance at New York Public Library, on the subject of Big Data analytics in the library world (June 23).
Sponsored by the Retired Members Round Table, author Denise George will speak about her writing and research process for her latest novel The Lost Eleven: The Forgotten Story of Black American Soldiers Brutally Massacred in World War II, coauthored with Robert Child (June 24).
Mary Niall Mitchell, associate professor of history at the University of New Orleans and author of Raising Freedom's Child: Black Children and Visions of the Future after Slavery, will present the Edward G. Holley Memorial Lecture for the Library History Round Table (June 24).
In the exhibit hall

The exhibit hall is a lively and essential part of your conference. Discover more than 900 organizations and vendors, convene with colleagues, browse new products and titles, meet authors, and enjoy live events. Features include the Book Buzz Theater, PopTop Stage, Graphic Novel and Gaming Stage, What's Cooking @ ALA, Artist Alley, and specialty pavilions devoted to mobile apps, zines, diversity, and more.
Ticketed events

Find tickets for preconferences, award celebrations, receptions, and more on the Ticketed Events page.
Award-winning and honor book authors will speak about their writing at the Michael L. Printz Award Reception, presented by YALSA and Booklist (June 22).
The Coretta Scott King Book Awards Breakfast celebrates leading authors and illustrators of quality children's books depicting the African-American experience (June 24).
The Newbery-Caldecott-Wilder Banquet recognizes authors and illustrators of the year's most distinguished books for children (June 24).
Comedian and United for Libraries spokesperson Paula Poundstone will headline The Laugh's On Us, featuring bestselling humor authors (June 24).
Open to all conference attendees, the International Librarians Reception welcomes librarians from more than 70 countries with an evening of culture, ideas, and regional cuisine (June 25).
Continue the conversation

Attend peer-led poster sessions (June 23–24) and keep up with ALA Washington Office updates throughout the conference.
The PR Xchange offers an opportunity to sample promotional materials from libraries across North America (June 24), and the PR Xchange Awards will recognize the best library public relations and marketing from the past year (June 24).
Be sure to visit the JobLIST Placement and Career Development Center for guidance, workshops, and résumé review.
Coming next month
Catch our conference preview, dining guide, and New Orleans recommendations in the June issue.