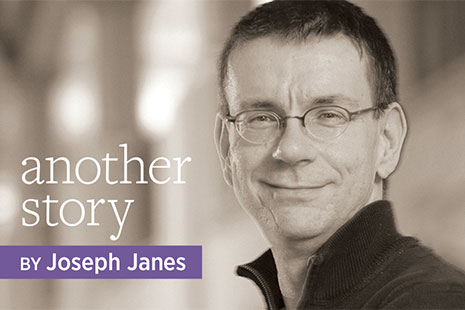 I remember with great clarity how this all started. I was sitting at the kitchen table in the summer of 2002, cleaning out my mother's house after her passing, when the phone rang with an offer to take over the Internet Librarian column from Karen G. Schneider, who continues to write and think deeply about matters important to us all. It's probably funny for some people newer to our ranks to even think about why we would need to have an Internet Librarian column, though for those years around the turn of the millennium, it had its value. Then in 2012, playing off the tagline I closed all my columns with, I transitioned to this new title, where I have happily written about broader matters for several more years.
My mom was the first of many inspirations in my professional life. She took a job at our smallish public library when I was a kid. I started hanging around there, which led to helping out, shelving, and eventually working the desk, and I never really left. She and my dad worked very hard to make sure I could do whatever I wanted, and I was lucky to find something I was good at and loved early on. Through all the twists and turns of my career and life, that joy and satisfaction have remained. Much of that I've documented here; much water has gone under many bridges, and we've covered a lot of territory together. Now the time has come for us to part as I'll be starting a new adventure as a contributing editor for Publishers Weekly soon.
Many thanks and debts of gratitude are required. To all the wonderful people I've had the good fortune to work with at American Libraries—from former Editor and Publisher Leonard Kniffel, who made that fateful phone call, through former Managing Editor Gordon Flagg, former Senior Editor Beverly Goldberg, and most recently Interim Editor and Publisher Sanhita SinhaRoy and Senior Editor Amy Carlton, all of whom helped me to sound as though I knew what I was talking about, and who all showed grace and patience with my continual inability to make a deadline. (This one included.)
I remain as I started, forever optimistic for a profession that has nourished and, okay, occasionally frustrated me for decades.
Thanks also and especially to all of you—I hope I have been able to share some insights or ideas, raise a few questions or a few eyebrows, and perhaps give you a chuckle now and then.
I remain as I started, forever optimistic for a profession that has nourished and, okay, occasionally frustrated me for decades. As I always tell my students and anybody else who will listen, there is no finer, more worthwhile, or more valuable work to be done, and that will continue to be so in a future brighter still with so many people so dedicated and working so hard to make our institutions, our profession, and our work more authentic and meaningful to all our gloriously myriad communities. Keep doing all those great things.
Just this afternoon, I was at my branch library to return a book and pick up a couple more. That's among the most mundane of library activities and simultaneously one of the most profound. Encouraging the simple yet powerful act of reading, fostering equity and equality of access, maintaining the freedom to read and think as one likes without fear of censorship or censure—these form the foundation of all our other activities and services past, present, and future.
As for my tagline? In that first column, it was completely unthinking; as anybody who knows me will tell you, I am forever saying it, because I forever have story after story. (Ask my students.) Then I sort of kept using it, and 16 years and 130 columns later, here we are. I have loved writing this column. Sharing these stories with you has been one of the signal joys and honors of my professional life. I bid you all a heartfelt au revoir … but for now, this story must come to its end.