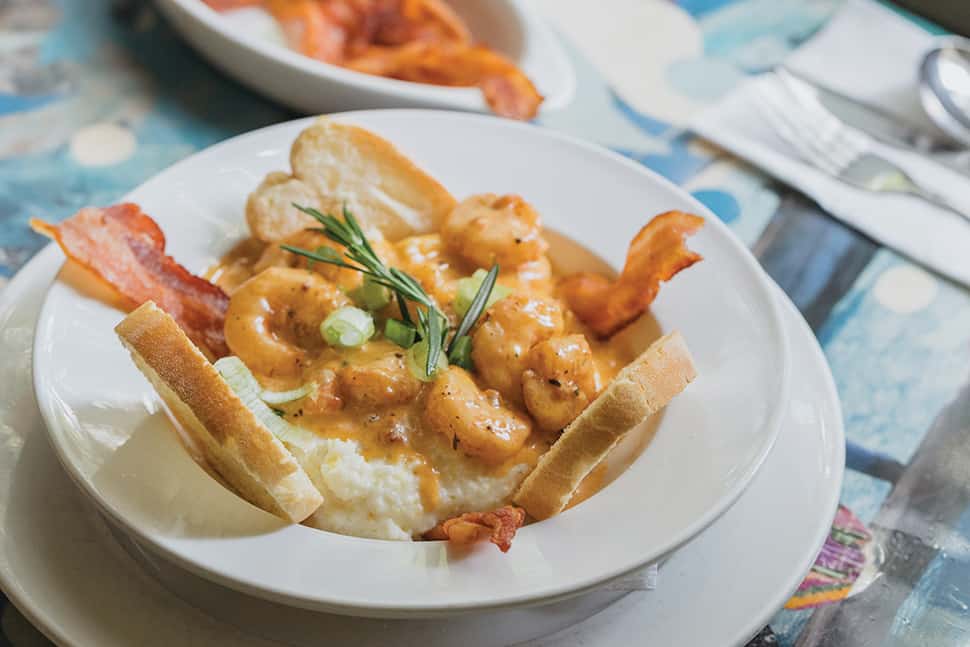 Let's be real: New Orleans' reputation for good times, really good music, and really, really good food wasn't exactly a deterrent when it came to booking your trip to the 2018 ALA Annual Conference and Exhibition. But where to start? Go for traditional Creole cuisine or opt for a modern take? Where best to splurge on an extravagant dinner or grab a healthy lunch near the Ernest N. Morial Convention Center (ENMCC)?
As author of numerous travel guides, including Frommer's Easy Guide to New Orleans, I'm here to help. My customized dining guide lists a spectrum of selections, focusing on those in proximity to the convention center and some choice spots a short distance away. There's something for everyone, so dive in with forks ablaze and laissez les bons temps rouler.
Convention Center–centric (Warehouse District and Central Business District)
Auction House Market
801 Magazine St.
504-372-4321
auctionhousemarket.com
This stunning new food hall is ideal for solos, groups, the multipalated, and the indecisive. Ten vendor options—ranging from Indian to oysters to empanadas to avocado toast—surround a sleek marble bar. Sushi, sandwiches, and coffee are also available; all are enjoyed by a lively mix of locals, conventioneers, and moms with strollers. Do check out the bathroom décor. B, L, D daily $–$$$
Cochon
930 Tchoupitoulas St.
504-588-2123
cochonrestaurant.com
At this much-lauded, amped-up Cajun swine shrine (Cajun being the rustic, country cousin to New Orleans' more citified Creole cooking), we're particularly fond of the starters: the cracklins; boudin balls (crunchy outside, savory and porky inside); and the creamy, burnished mac and cheese ($7). Wood-fired oysters bathed in chili garlic butter ($14) have a briny bite; chicken livers with pepper jelly ($8) are astoundingly good. L, D daily $$–$$$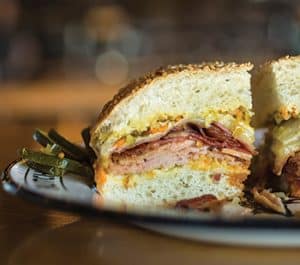 Cochon Butcher
930 Tchoupitoulas St.
504-588-7675
cochonbutcher.com
As the name attests, they butcher and cure onsite, turning house-smoked meaty goodness into small plates and world-rocking sandwiches. The boudin sausage ($6) is the best east of Lafayette; the muffuletta ($14) may surpass Central Grocery's; pork belly with cucumber and mint ($10) is wondrous. Get the vinegary Brussels sprouts ($6), dreamy mac and cheese ($6), and swoon-worthy caramel doberge cake ($5/slice), or rue your bad decision. Casual, high-top tables open to the street via garage-style doors. Bonus points for the Star Wars table. L daily, D (M–Sat) $$
Company Burger
611 O'Keefe Ave.
504-309-9422
thecompanyburger.com
Sometimes you just need a good burger. Here's where you can get one. Try its namesake ($8.75) and a good beer to go with it. L, D daily $–$$
Compère Lapin
535 Tchoupitoulas St. (in Old No. 77 Hotel)
504-599-2119
comperelapin.com
Top Chef alumna and Saint Lucia native Nina Compton blends Caribbean, French, Italian, and Creole influences into winning dishes that are just exotic enough: a deeply flavored, wonderfully textured curried goat with sweet potato gnocchi ($28); perfectly jerked and crisped local drum with lush caramelized sunchokes ($29); conch croquettes with pickled pineapple tartar sauce ($6). At the commodious bar, munch on pig's ears with smoked aioli ($5) while sipping shimmery, beautifully balanced drinks. Stellar lighting helps update the lively room's weathered warehouse-y bones. B (Sat, Sun), L, D daily $$–$$$
Domenica
123 Baronne St. (in Roosevelt Hotel)
504-648-6020
domenicarestaurant.com
Bittersweet-chocolate walls, soaring ceilings, great art, small bar, large crowd: They set the scene for perfectly bubble-edged Neapolitan pizzas, arguably the best salami in the city, and wow-factor veggies like the whole roasted cauliflower ($18). We rarely make it to the secondi after loading up on antipasti, primi, and pizza—especially during half-price happy hour. Don't miss their notable cocktails and chocolate hazelnut budino ($10). L, D daily $$–$$$
Drago's
2 Poydras St. (in Hilton Riverside)
504-584-3911
dragosrestaurant.com
Thirteen reasons to go: a dozen charbroiled, buttery, garlicky, Parmesan-y oysters that Drago's originated and perfected ($20). The 13th reason is the convention center–adjacent location. (It's in the lobby of the nearby Hilton Hotel.) Bargain-priced Maine lobster ($22) is also worthwhile. The sprawling, low-key dining room can fill up, and they don't take reservations, so a wait is possible. L, D daily $$$–$$$$
Emeril's New Orleans
800 Tchoupitoulas St.
504-528-9393
emerilsrestaurants.com/emerils-new-orleans
He heads an empire and pioneered New Orleans' modern restaurant scene, but Emeril Lagasse's flagship restaurant has never flagged. It's still high-quality (and high-priced), interesting, exciting cuisine with dishes that build meaningfully on tradition. Massive grilled pork chops ($34), glazed with tamarind and tomatillo molé sauces, are perfectly done. Meyer lemon crème elevates brandied lobster bucatini ($38). Order chocolate soufflé ($10) with your entrée, but get banana cream pie ($8) too. The wine list is intelligent and broad; service is professional, helpful, and unstuffy. Noise is well managed in the buoyant room; open-kitchen bar seating is perfect for single diners. The three-course lunch ($35) is a great deal. L (M–F), D daily $$$$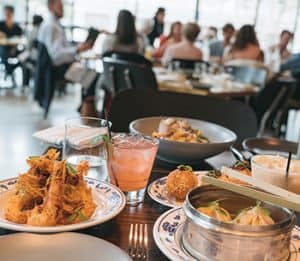 Maypop
611 O'Keefe Ave.
504-518-6345
maypoprestaurant.com
Our hands-down favorite spot for Asian-Italian-Indian-Southern cuisine (sometimes even all at once). The inventive, flavor-packed cooking surprises rather than stuns, satisfying both the serious foodie and the food-shy (especially at the more affordable lunch). Don't skip the standard-sounding Bibb lettuce salad ($10). You'll do well with the fried hot chicken vindaloo ($16) or hand-pulled pasta ($19). L, D daily $$–$$$
Meril
424 Girod St.
504-526-3745
emerilsrestaurants.com/meril
Emeril Lagasse's newest restaurant is casual, spacious, bustling, and reasonably priced. The focus is on internationally inspired small plates and creative cocktails. Hybrid tamales are made with boudin sausage and topped with roasted tomatillo sauce ($8); crispy turkey necks ($8) get spiked with local fave Crystal hot sauce. A good variety of salads, sides, and flatbreads makes this a crowd pleaser. L, D daily $–$$.
Mother's
401 Poydras St.
504-523-9656
mothersrestaurant.net
Legendary Mother's gets a "touristy" rap, but hey, Paris is touristy, too. Its worth is in proportion to line length: If there are more than four parties ahead of you, go elsewhere. The combo platter ($20) makes a decent introduction to Creole cuisine. Best bet is any po' boy with Mother's signature baked ham, like the top-selling Ferdi ($13.50). Guffaw at the bread pudding ($6) with its retro inclusion of canned fruit cocktail, but it's freakishly good. Follow the line rules: no table-saving. B, L, D daily $$
Pêche
800 Magazine St.
504-522-1744
pecherestaurant.com
There's nary a dud on the menu of wood-fired seafood at this uber-popular mega-award winner. The raucous room works best for plate-sharing parties, not dates or deep convos. Start with beer-battered fish sticks ($12); hearty crawfish and jalapeño capellini ($14); and catfish with pickled greens and chili broth ($10). The whole grilled fish (market price)—perhaps buttery, fire-crusted redfish with salsa verde—is fab. The raw bar is equally fine and fun. Terrific craft beers and Eurocentric wines. Reserve well in advance. L, D daily $–$$$
Willa Jean
611 O'Keefe Ave.
504-509-7334
willajean.com
In this casual atmosphere, Southern-accented food is done exceedingly well and with flair. Awesome breads or pastries (good gluten-free options, too), Intelligentsia coffee, and biscuits with sausage gravy rock ($9) breakfast. For lunch, try the fried chicken on a house-made Hawaiian roll with serrano slaw ($13), barbeque shrimp toast ($17), or the roasted beet, pistachio, and citrus salad ($12). Lunch gets slammed—reservations are wise. Dinner is less interesting. B, L, D daily $–$$
French Quarter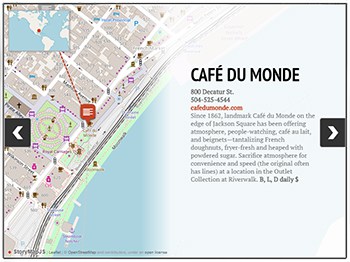 Acme Oyster House
724 Iberville St.
504-522-5973
acmeoyster.com
It's the oldest oyster bar in the French Quarter, and it serves big, meaty Gulf oysters. It's busy but worth the wait. (It's speedy once inside, but if you're famished, hit Felix's across the street.) The bivalves are tastiest when you're standing at the bar, talking tourist trash with the shucker. Or get stellar garlicky charbroiled oysters ($20/dozen), serviceable po' boys ($10–$17), and Creole standbys (jambalaya, gumbo, red beans) at the campy checked-clothed tables. L, D daily $–$$
Antoine's
713 St. Louis St.
504-581-4422
antoines.com
Owned by the same family and serving generations of locals since 1840, Antoine's is anything but modern. But the definitive New Orleans dining experience is worth it (especially at $20.18 for the three-course weekday lunch). Go for conviviality, classics, drama, a $.25 cocktail, and oysters Rockefeller ($15), which were invented here. Add buttery, crab-topped trout Pontchartrain and puffy soufflé potatoes ($40). Finishing with frivolous, flaming baked Alaska ($19) and touring the memorabilia-packed rooms and astounding wine alley are musts. Note: There is a dress code. Brunch (Sun), L, D (M–Sat) $$$–$$$$
Brennan's
417 Royal St.
504-525-9711
brennansneworleans.com
The glorious pink exterior, elegant garden-party dining room, charming courtyard (with turtle pond), and attentive service scream old New Orleans, but there's nothing tired on the plate. Noted chef Slade Rushing twists Creole classics into updated, polished awesomeness. Breakfast here is an automatic celebration, but any meal works—the two-course breakfast/lunch menu ($29–$31) is a steal. Start with a frothy Ramos fizz, get Gulf fish amandine ($31) or rabbit rushing ($28) and side of barbeque lobster ($19). Bananas Foster ($10), born here in 1951, is a fun, flaming tableside finale. B, L, D daily $$$–$$$$
Café Amelie
912 Royal St.
504-412-8965
cafeamelie.com
Expect café standards with something for everyone in a picture-pretty brick courtyard. Salmon cakes ($10), goat cheese and beet salad ($11), cochon de lait pork sandwich ($15), and blackened catfish ($16) stand out. The relaxing spot calls for a lemonade or mint julep and slice of doberge cake ($10). Offshoot Petite Amelie next door (900 Royal St.) has tasty takeaway meals, soups, salads, cheeses, and pastries via counter service. Brunch (Sat, Sun), L, D (W–Sun) $$
Café du Monde
800 Decatur St. or 500 Port of New Orleans Pl.
504-525-4544
cafedumonde.com
Since 1862, landmark Café du Monde on the edge of Jackson Square has been offering atmosphere, people-watching, café au lait, and beignets—tantalizing French doughnuts, fryer-fresh and heaped with powdered sugar. Sacrifice atmosphere for convenience and speed (the original often has lines) at a location in the Outlet Collection at Riverwalk. B, L, D daily $
Central Grocery
923 Decatur St.
504-523-1620
centralgrocery.com
The iconic muffuletta sandwich ($20) consists of Italian cold cuts and cheeses piled high on round seeded bread, topped with olive salad. Those last two ingredients differentiate it from the standard Italian hero. Central Grocery, the originator, has a few tables, but it's mostly take out. Lines move fast. B, L daily $–$$$
Galatoire's
209 Bourbon St.
504-525-2021
galatoires.com
New Orleans' consummate old-line Creole French restaurant is a fine-dining classic beloved by generations of regulars (upon whom tuxedoed waiters lavish jovial obsequiousness). Tennessee Williams, Stella, and Blanche all supped here. Line up early for a table in the main dining room, which oozes tradition and civilized frivolity; it's a tad more somber upstairs, where reservations are accepted. No one comes for spectacular gastronomy, though Galatoire's knows seafood and grills a mean steak. Go with crabmeat maison ($14) or fried eggplant ($7), and whatever fish the waiter suggests, à la meunière, add crabmeat. Skip the heavy sauces and meh desserts; do enjoy a port. Note: There is a dress code. L, D (Tue–Sun) $$$
GW Fins
808 Bienville St.
504-581-3467
gwfins.com
This impeccable, modern seafood shrine is one of the city's best restaurants, period. Ultra-fresh fish is served in stylish preparations like the signature "scalibut," thin-sliced scallop "scales" atop grilled halibut on lobster risotto ($38). Order the pretzel-crusted salty-malty ice cream pie ($9), even if you only have room for a bite. The wine list thoughtfully complements the cuisine; the tiered dining room is conversation-conducive. D daily $$$–$$$$
Irene's Cuisine
529 Bienville St.
504-529-8811
Consider Irene's if you're invariably enticed by the scent of simmering garlic. This friendly French Quarter institution serves delectable house-made pastas and sauces and delicious, unfussy French Provincial and Creole-Italian dishes. There's duck St. Philip with raspberry-pancetta demi-glace ($25) and shrimp and crab pappardelle ($26), plus seemingly simple chicken rosemary ($20)—marinated, par-cooked, remarinated, and roasted—that is nearly perfect. Plan for a wait, even with reservations. D (daily) $$$
K-Paul's Louisiana Kitchen
416 Chartres St.
504-596-2530
kpauls.com
Paul "K-Paul" Prudhomme started the Cajun cooking craze in the 1980s and introduced "blackened" to our culinary vocabulary. His sauce-and-spice empire still thrives, and the restaurant remains a standard-bearer for American regional food. The menu changes daily, but budget diners know the classic blackened drum is about $25 less at lunch than at dinner, albeit served in a po' boy and on a paper plate. L (Th–Sat), D (M–Sat) $$–$$$$
Restaurant R'evolution
777 Bienville St. (in the Royal Sonesta Hotel)
504-553-2277
revolutionnola.com
This extravagant spot, helmed by food-world icons John Folse and Rick Tramonto, keys the cuisine to New Orleans' globe-hopping cultural influences. Lead with Death by Gumbo ($18)—a rich concoction with roasted quail, andouille sausage, oysters, and filé rice—and gently crisped crab beignets ($16). Lustrous duck-liver mousse ($11) and rugged country pâté terrines are the best bang for your buck. Shrimp and grits ($28) receive a chili-and-ginger Asian kick; the voluminous veal chop ($65) bursts with flavor. A jewelry box of tiny cookies makes a darling lagniappe, but get beignets with coffee anyway. Brunch (Sun), L (F), D daily $$–$$$
Sylvain
625 Chartres St.
504-265-8123
sylvainnola.com
The tradition-bound French Quarter is surprisingly devoid of coolness, save for a few spots like gastropub Sylvain, with its side-alley entrance, resident ghost, Civil-War-meets-Soho vibe, and literary heritage. Fortunately, it's delicious, friendly, and unexpectedly unpretentious. Try the absurdly tender beef cheeks ($26), the signature "Chick-Syl-Vain" buttermilk fried-chicken sandwich ($14), or brightly delightful shaved-apple and Brussels sprout salad ($11). Since the menu doesn't skew light, share the chocolate pot de crème ($9). Tables in the discreet back alley are less boisterous. Brunch (F–Sun), D daily $$–$$$
Uptown and Garden District
Brigtsen's
723 Dante St.
504-861-7610
brigtsens.com
Frank Brigtsen was one of the first to convert a beautiful 19th-century house into an upscale neighborhood restaurant. You'll find forward-looking but homey Cajun-rooted dishes and amiable intimacy. Chef Brigtsen's panéed sesame-crusted rabbit in tangy Creole mustard sauce ($28) and crispy, moist roast duck ($34) are beloved; the grand "Shell Beach Diet" seafood platter ($36) is an impressive extravagance. Copiously crusted pecan pie ($8) is also justifiably revered. The wine list is limited but satisfying. D (Tue–Sat) $$$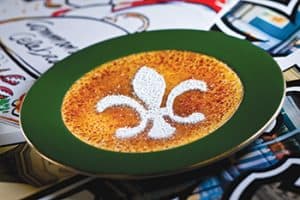 Commander's Palace
1403 Washington Ave.
504-899-8221
commanderspalace.com
The grande dame of New Orleans restaurants, Commander's Palace provides arguably the ultimate dining experience—here or anywhere. There's no resting on long-held laurels here. They've instead established a foothold at the top of the culinary game and mastered the art of pairing fine dining with frivolity, so it's formal, not stodgy. The à la carte menu mixes their classics—spicy-sweet shrimp and tasso Henican ($11.50) and consistently perfect pecan-crusted Gulf fish ($39)—with innovative seasonal newbies. The elaborate chef's tasting menu ($85) is most imaginative; multicourse lunch deals are most affordable. Dress code. Brunch (Sat, Sun), L (M–F), D daily $$$$
Coquette
2800 Magazine St.
504-265-0421
coquettenola.com
Tin-ceilinged and chandeliered, this chic bistro offers ingredient perfectionism and chefs who are wells of culinary creativity, surprising even jaded foodies with unique creations like scallion ash tagliatelle with lamb merguez, shrimp, and harissa ($13) and tempura butternut squash over farro in a mild onion broth ($20). If possible, spring for the five-course blind tasting ($70) at this perennial favorite in the upper echelon of New Orleans' restaurants. Brunch (Sat, Sun), D daily $$–$$$
Domilise's Po' Boys and Bar
5240 Annunciation St.
504-899-9126
domilisespoboys.com
At this century-old, cluttered, lowdown po' boy shop tucked away in Uptown, your hands-down order is the wet-dry, battered-and-fried-to-order shrimp, piled onto puffy po' boy loaves ($12–$15) by friendly fry-counter ladies. Peak lunchtime lines can move slowly. Take a number. It closes at 6:30 p.m., so get there early. L, D (M–Sat) $–$$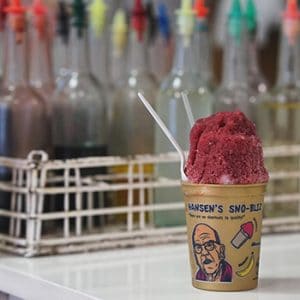 Hansen's Sno-Bliz
4801 Tchoupitoulas St.
504-891-9788
snobliz.com
Lucky you: You're visiting during sno-ball season—refreshing local delights made with custom machines (invented here three generations ago) that shave the ice to a fine fluff. A revered cultural icon, Hansen's offers homemade syrups ranging from standard fare to herbal exotica. The long lines snaking through the neighborhood are a social scene. L (Tue–Sun) $
High Hat Café
4500 Freret St.
highhatcafe.com
504-754-1336
This casual neighborhood diner on bustling Freret Street is a no-fail, go-to spot for quality, unfussy, upgraded Southern comfort food, starting with graceful oyster fennel soup ($8). Fork-tender, slow-roast pork ($12.50) with sublime braised greens and addictive mac and cheese compete with flat-top catfish ($13) accompanied by tangy slaw and house-made tartar sauce. Oven-fresh pie or the insane Grillswith, a grilled donut à la mode ($6), round out the meal. L, D daily $–$$
Pascal's Manale
1838 Napoleon Ave.
504-895-4877
pascalsmanale.com
The fabulous neon signs and welcoming conviviality at this century-old neighborhood joint are cherished; the celebrity-level oyster shuckers more so. Hang with them before being seated. Then strap on a bib and get the colossal, buttery, peel-and-eat barbecued shrimp ($27) for which Manale's is famed (they have nothing to do with barbeque as you've known it), and some spaghetti and meatballs ($18). Neighboring tables often converse here—a welcome intrusion. L (M–F), D (M–Sat) $$–$$$
Surrey's
1418 Magazine St.
504-524-3828
surreysnola.com
This straightforward, unfancy, really good breakfast and lunch cafe offers house-made everything and a fresh-juice bar. Try the outstanding corned-beef andouille hash ($12) or the no-fuss avocado and house-smoked turkey sandwich ($10). The felonious sugar- and rum-drenched French toast stuffed with Bananas Foster ($10.50) and creamy crab melt ($14) are divine. B, L daily $–$$
Further afield
Angelo Brocato Ice Cream and Confectionery
214 N. Carrollton Ave. (Mid-City)
504-486-0078
angelobrocatoicecream.com
This wonderfully throwback, family-owned ice cream parlor has spent more than 100 years serving delicious traditional gelato, fresh-fruit Italian ices, perfect cannoli, and other pastries. Here's to 100 more. L, D (Tue–Sun) $
Café Degas
3127 Esplanade Ave. (Mid-City)
504-945-5635
cafedegas.com
Every neighborhood should have a charming, casual French bistro that serves a perfect salade niçoise ($16.50) and has a tree growing in the middle of the indoor/outdoor dining room. It's also popular for traditional franco-faves like escargot ($8), hanger steak ($22), delicate roast quail ($15), and hearty onion soup ($8.50). Brunch (Sat, Sun), L (W–F), D (W–Sun) $$
Café Reconcile
1631 Oretha Castle Haley Blvd. (Central City)
504-568-1157
cafereconcile.org
Do good while eating well. This culinary training ground serves sturdy meals like grilled or fried catfish ($10), jerk chicken ($9), and po' boy sandwiches ($8–$11), while preparing young men and women for careers in food service. There is no lack of quality in these tasty local specialties, and the attractive café is located in a newly burgeoning area. L (M–F) $–$$
Camellia Grill
626 S. Carrollton Ave. (Riverbend)
504-309-2679
If you have the time, take the streetcar to white-columned, circa-1946 Camellia Grill for luncheonette-style counter service with white linens, Southern hospitality, and witty banter dished out by white-jacketed servers. Get a classic grill-top burger ($4) or fluffy omelette ($8) and a slice of chocolate pecan pie heated on the grill ($4), and served à la mode. Good prices, true character. B, L, D daily $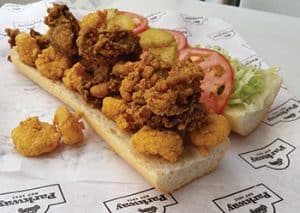 Parkway Bakery and Tavern
538 Hagan Ave. (Mid-City)
504-482-3047
parkwaypoorboys.com
One of the city's stalwart and best po' boy shops began in 1911 as a corner bakery, was shuttered for years, and nearly floated away during Hurricane Katrina. Thanks to extensive travel media love—and a visit from the Obamas—people literally come by the busload now (go off-peak if possible). The tender fried shrimp ($12) and ultra-juicy roast beef ($11) sandwiches are worth it. Round out with killer homemade potato salad ($4) and old-school banana pudding ($4). Walk it off along historic Bayou St. John nearby. L, D (W–M) $
Willie Mae's Scotch House
2401 St. Ann St. (Faubourg Tremé)
504-822-9503
williemaesnola.com
This once humble shack in the historic Tremé neighborhood exploded in 2005, when octogenarian Willie Mae and her secret recipes were honored with the James Beard Award for being "America's Classic Restaurant for the Southern Region." Soon after, Mae's home and restaurant were under water. Today, her business thrives. Go before opening or mid-afternoon and order the chicken ($15) and creamy butterbeans ($7.50). It closes at 5 p.m., so get there early. L (M–Sat) $–$$  
Veggie and vegan (but not exclusively)
Carmo
527 Julia St.
504-875-4132
cafecarmo.com
Caribbean, South American, and African flavors and ingredients influence the tasty, eclectic menu. Nonveggie options, too. B, L, D daily $–$$
Cleo's
940 Canal St.
504-522-4504
facebook.com/CleosNOLA
Surprisingly good Mediterranean food amid the schlocky Canal Street shops, open 24 hours. B, L, D daily $$
Daily Beet
1000 Girod St.
504-605-4413
thedailybeetnola.com
Fresh salads, grain-based bowls, and cold-pressed juices made to order or grab-and-go. B, L, D daily $
Green Goddess
307 Exchange Pl.
504-301-3347
greengoddessrestaurant.com
Imaginative, offbeat Spanish, Indian, Hawaiian, and Middle Eastern–inspired cuisine served at raffish alleyway tables. L, D (W–Sun) $$
Magasin Kitchen
611 O'Keefe Ave.
504-571-5677
The cuisine of New Orleans' huge Vietnamese population offers delicate, refreshing flavors and good vegetarian options. L, D (M–Sat) $ 
Inclusive Eats
ALA's Office for Diversity, Literacy, and Outreach Services and the University of Wisconsin–Milwaukee ALA student chapter have compiled a selection of minority-, women-, and LGBTQ-owned restaurants in New Orleans, all within a roughly three-mile radius of ENMCC. Selections include:
Casa Borrega
1719 Oretha Castle Haley Blvd.
504-427-0654
casaborrega.com
Brunch (Sun), L, D (Tue–Sat)
El Gato Negro
800 S. Peters St.
504-309-8864
elgatonegronola.com
L, D daily
Maïs Arepas
1200 Carondelet St.
504-523-6247
facebook.com/maisarepas
L (Tue–Sat), D (Tue–Sun)
The Munch Factory
1901 Sophie Wright Pl.
504-324-5372
themunchfactory.net
Brunch (Sun), L, D (Tue–Sat)
Pressed
919 St. Charles Ave. 504-900-5466
pressednola.com
B, L (M–F)
For a complete list of restaurants, other related businesses, and a map noting the distance of each from ENMCC, visit sites.google.com/view/ala-nola-diverse-businesses.