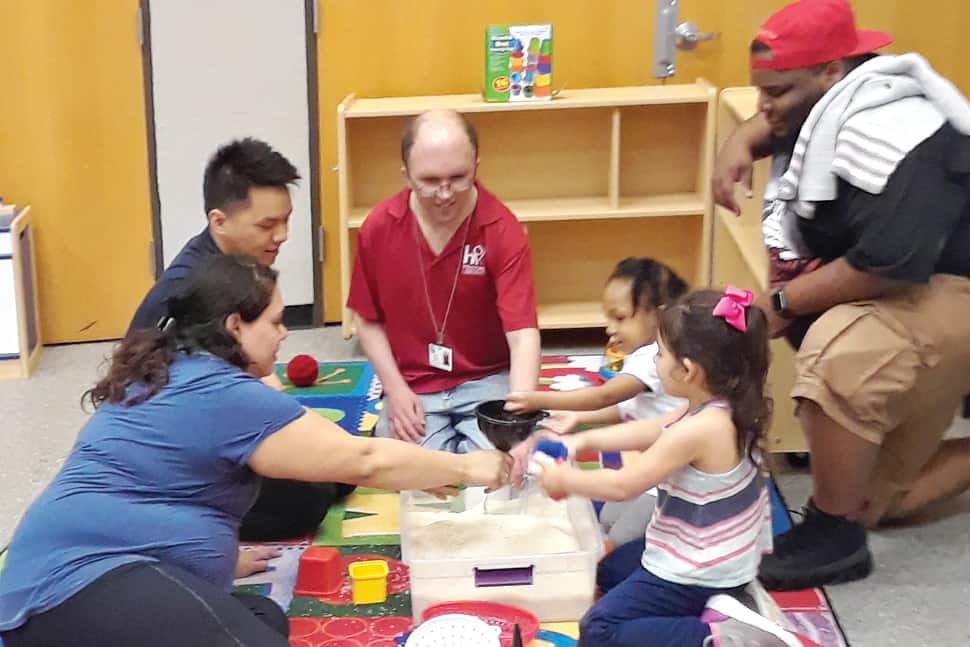 Is it free?"
It's a question that Marisa Conner, manager of youth and family engagement at Baltimore County (Md.) Public Library (BCPL), says her staffers are often asked when doing outreach at Women, Infants, and Children (WIC) centers. She explains: Many WIC clients, particularly those originally from other countries, aren't sure what a library is or whether it costs anything.
But thanks to an increasing number of partnerships between public libraries and WIC—the federally funded, state-administered program that provides supplemental food, nutrition counseling, and social services screenings to low-income and nutritionally at-risk mothers, pregnant women, and kids up to age 5—users of both institutions are learning about the services the other has to offer.
"How can we reach the people who don't know about us?" asks Conner. "A WIC center seemed like a really logical place to go."
Libraries and WIC have a lot in common: Both have tens of thousands of locations across the US, are known for giving information referrals and upholding customer privacy, and are considered lifelines by underserved populations. Now these entities are collaborating to extend their reach, advance common goals, and team up on early literacy and health initiatives—in, near, and outside of the library.
Shared spaces
"It all started with a directive from the mayor, to start pooling our resources," says Drew Alvey, manager of Houston Public Library's (HPL) Stimley–Blue Ridge branch.
The WIC center located in that building is the result of complete remodeling paid for by the City of Houston Health Department. The space celebrated its reopening with a health fair in May 2017, and as far as Mary Wagoner, senior manager of special projects, is aware, it is the first co-located library and WIC clinic in the country.
Though the library and WIC keep their working spaces separate because of medical privacy concerns, partners share programming spaces, a meeting room, and a break room. "And most importantly, customers and aligned missions," says Wagoner.
Another area of convergence is a long hallway that serves as the WIC waiting room. Furnished with discovery toys provided by a Family Place Libraries grant, library staffers treat the area as an opportunity for "swooping" and "in-reach." While families wait for consultations, library personnel greet them, engage them in lively activities, and point them to offerings of interest, such as bilingual storytimes, parenting classes, after-school programs, community resources, HPL's own Family Literacy Involvement Program kits, and free books from a vending machine.
"Because we value customers' confidentiality so much, we tend to [make referrals] assuming everyone could benefit," says Alvey. "More than not, these parents start engaging with us on early literacy."
Stimley–Blue Ridge saw its share of detractors in the beginning—those with negative stereotypes of WIC—but Alvey says once those people saw a storytime in the new library, many changed their minds and became advocates.
How can we reach the people who don't know about us? A WIC center seemed like a really logical place to go.—Marisa Conner, manager of youth and family engagement at Baltimore County (Md.) Public Library
Alvey urges libraries that might not have the money or space to replicate the Stimley–Blue Ridge model to try a different approach: "Start bringing your library into the clinic." He also cautions that interacting with WIC clients requires a lot of adaptability, patience, and positivity from your team. "You do have to like the sound of crying babies," says Alvey.
Partners by proximity
Branch Manager Meg Lloyd Robertson recalls what one WIC client said upon discovering Ramsey County (Minn.) Library's New Brighton branch: "'Wow, all these resources, and I've never been in. I live just down the street.'" Robertson adds, "I've noticed an uptick of new immigrants who have never been in a library before. It's a delight to interact with those families."
When the branch opened in the New Brighton Community Center in 2011, WIC was an existing tenant in the building. Today the neighbors collaborate on early literacy.
With help from the library's Friends group, Robertson secured a grant from Minnesota nonprofit health care provider Allina Health in 2014 to create giveaway bags with early literacy toys, brochures, and two preschool-level books—one or both themed around nutritious food or physical activity. The library devised a clever approach to distribute the bags: Have WIC staff give bookmarks to clients after a visit that they could immediately use as vouchers.
Though the books are a big draw, "We consider the staff welcome to be the most important part of this program," Robertson says. Library staffers take time to explain the contents of the bag, inform recipients of upcoming events, show families the children's play area, and make new patrons feel comfortable.
Thanks to the bookmarks and survey data, Robertson knows that almost 500 families were referred in the first year and a half—and most made return visits. "Anecdotally, staff have seen the green book bags reappear with families in the library," she says.
Additionally, New Brighton donates materials weeded from the collection to the WIC waiting room.
Location was an asset when Nashville, Tennessee's mobile WIC program was scouting partner sites in the northernmost parts of Davidson County, where WIC didn't have physical offices. Nashville Public Library's (NPL) Goodlettsville and Madison branches offered a solution.
"I think they were really excited about the visibility that being in a library would provide, having the WIC van parked out front," says Elizabeth Atack, program manager of NPL's Bringing Books to Life. "[And] the potential to cross-promote programs."
The mobile WIC clinic uses meeting spaces within the libraries for client appointments. In 2014, the program served 27 people; by 2017, that number had grown to 1,331. "It definitely brings in families who are the target audience for storytimes," says Atack.
NPL also conducts two monthly workshops in English and Spanish at brick-and-mortar WIC locations that incorporate a wellness component into Every Child Ready to Read (ECRR) activities. In 2017, there were 24 workshops with 142 attendees.

"This is a very good program and I really love this class. I'm very much looking forward to doing more reading with my son and taking him to the library," one WIC client wrote on a comment card.

"We've been invited to a lot of health fairs because of [the workshops]," Atack says. "It's a great opportunity to get facetime with families."
Outcomes through outreach
BCPL is among those that bring the library to WIC. What started as a single program has expanded to all seven WIC centers in Baltimore County and approximately 1,200 families served in 2017.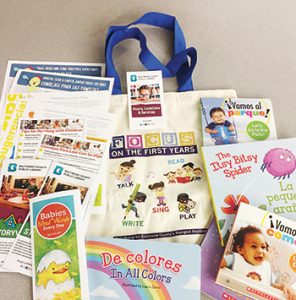 Initially, BCPL caught pushback. "The big thing was how to get into the waiting rooms, because they don't let other agencies in," says Conner. Though WIC's priority was client confidentiality, the director agreed to allow BCPL staffers to bring early literacy practices into its Woodlawn location.
"It took the pilot for them to see what was happening, and they saw it was positive," Conner says. "The engagement that we have with families meets the high standards of WIC."
Trained librarians from BCPL's 19 branches host hour-long, high-trafficked storytimes in WIC waiting rooms to model ECRR techniques on a rotating schedule. Like New Brighton, BCPL distributes bags of early literacy materials that include books, ECRR and technology tip sheets, fliers for library programs, and library card applications. Or if a staffer has the mobile technology available, "we'll often do a library card while they're there," Conner says.
The partnership is popular among librarians, who have commented that they love watching babies light up at the board books, matching clients to specialized services, and chatting in Spanish with families. One staffer, for example, was able to recommend a language stimulation program at BCPL to a family that was worried their 2-year-old wasn't yet speaking.
What ultimately makes the program successful, Conner says, is that WIC clients feel the experience is nonthreatening and relaxing. "It was those personal relationships with the librarian," she says. "This has been one of the best outreach programs we've ever done."