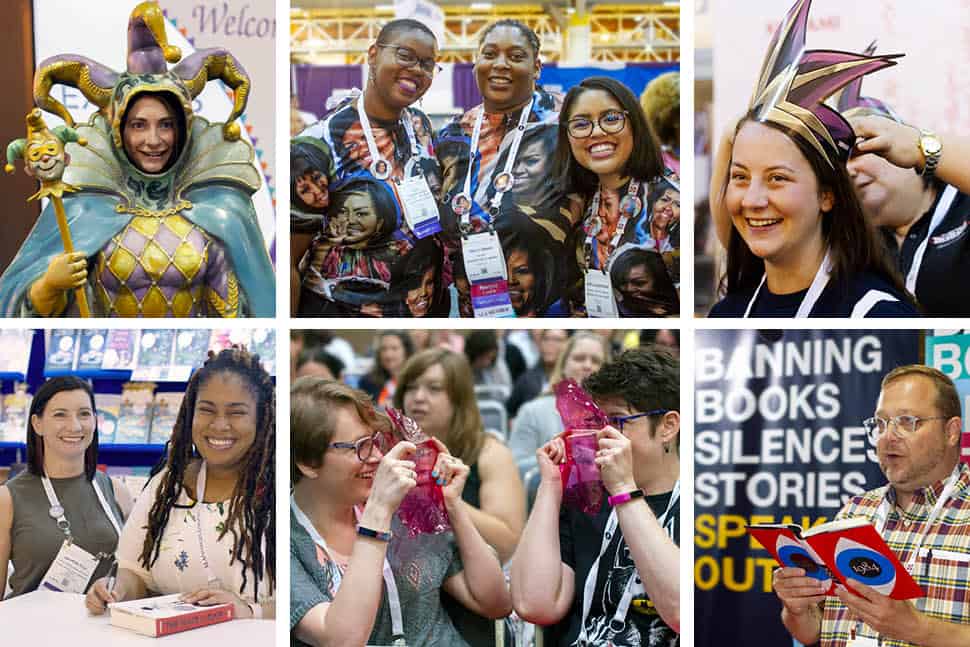 Librarians came, saw, and certainly let the good times roll. New Orleans is a lively town, and those in attendance at the American Library Association's 2018 Annual Conference and Exhibition June 21–26 couldn't escape its palpable pizazz, even indoors. Some of our favorite photos from the convention center, clockwise from top left:
Bethany Mitchell, technology assistant at Vestavia Hills (Ala.) Library in the Forest, peers through a jester cutout.
From left: Aisha Conner-Gaten (instructional design librarian at Loyola Marymount University in Los Angeles), Tracy Drake (archivist at Chicago Public Library), and Aurelia Mandani (technology services librarian at the National Oceanic and Atmospheric Administration Boulder Labs Library in Colorado) show off their matching Michelle Obama shirts.
Brooke Powell, youth services librarian at South Mississippi Regional Library, gets fitted for a Yu-Gi-Oh! hat at the Gaming and Graphic Novel Pavilion.
Joe Collier, business reference librarian at Mount Prospect (Ill.) Public Library, reads from 1984 at the Banned Books Read-Out.
Kristy Toplikar and Megan Durham, youth services librarians at Daniel Boone Regional Library System in Missouri, play with colored acetate sheets at the "STEM for Babies and Toddlers" session.
Amanda Koji, school library media specialist at Hillsborough County (Fla.) Public Schools, poses for a photo with The Hate U Give author Angie Thomas.