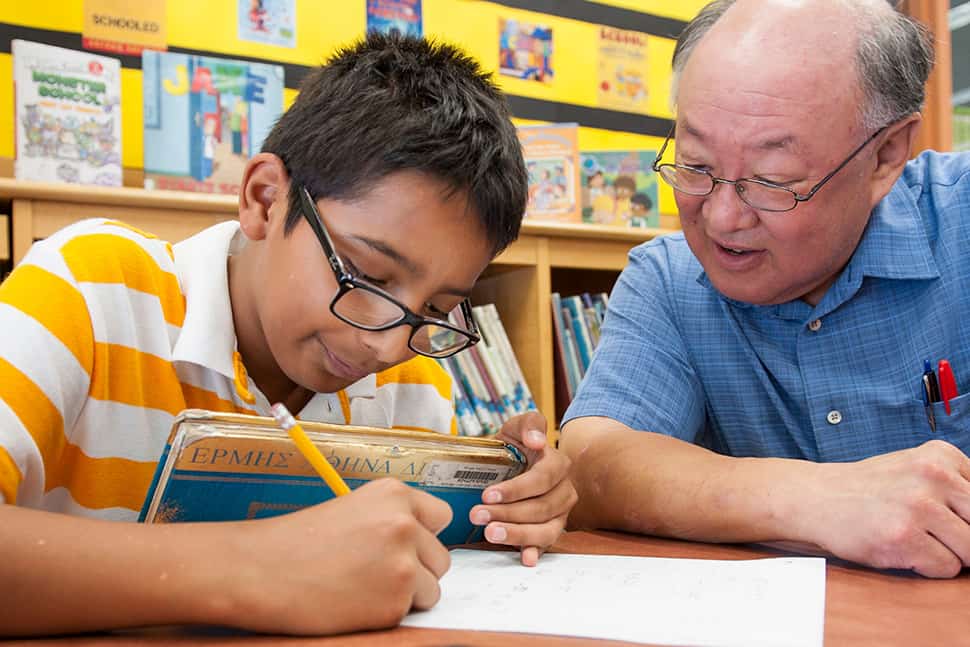 More than anything, staffers make the difference," Eva Mitnick, director of Los Angeles Public Library's engagement and learning division, said to me about the library's after-school Student Zone program. Indeed, providing adequate staff is the single most important element in offering effective homework assistance at your library. While some librarians call their curriculum-based collection of computers and reference materials a homework center, true homework assistance cannot happen without a staff member or volunteers to help students complete their work. Plus, many youngsters need the attention of an adult or peers to keep them on task when completing school assignments. They may also need validation to succeed.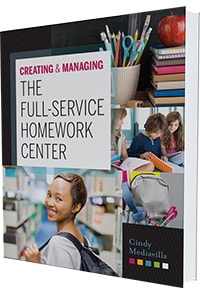 The challenge comes in maintaining a paid or volunteer workforce large enough to provide sufficient assistance to the multitude of students who use the library every day after school. Most libraries cannot afford to hire the number of part-time employees needed to provide necessary homework help. Nor are they prepared to recruit and train a battery of after-school volunteers. Still, many libraries have succeeded in accomplishing this seemingly impossible task by maximizing the combined efforts of paid and volunteer staff.
Paid versus volunteer staff
Most homework centers would not exist without volunteer help. Paid employees are usually responsible for recruiting, training, and scheduling homework helpers, but it is often the volunteers themselves who provide the actual after-school assistance. At the Hennepin County (Minn.) Library, each homework-help site has a team of three essential program personnel: a librarian, a lead tutor, and volunteers. More than 300 volunteers staff the program throughout the library.
In lieu of a salary, some libraries give their volunteer homework helpers free parking passes, email accounts, T-shirts, lapel pins, mugs, water bottles, and recognition through public newsletters or social media. The motivation to volunteer can be extrinsic—for example, the chance to build one's résumé—or intrinsic. At Seattle Public Library's Lake City branch, a retired homework assistant said she enjoys helping kids because it's fun and the emotional reward is immediate. In addition, Seattle's 230 homework helpers can attend all-city training on various topics, including teen behavior and race relations. Ninety percent of Seattle's homework helpers are adults.
Consistency is key in a program where young students expect to see familiar faces every day. Therefore, some libraries prefer to hire their homework helpers, rather than rely on the unpredictability of volunteers. Boston Public Library pays its teen homework helpers $11 an hour and requires them to sign a contract stipulating that they will work the entire school year. Likewise, the Long Beach (Calif.) Public Library staffs its Family Learning Centers with paid learning guides who work for the library year-round and help with the summer reading program.
In their 2015 joint "Homework Help Best Practices" statement, the Reference and User Services Association (RUSA) and the Young Adult Library Services Association (YALSA) recommend that an in-house staff person be designated to manage the homework center and train, coordinate, and schedule volunteers. In Monterey County, California, part-time homework site coordinators are hired to oversee individual centers and recruit and schedule volunteer helpers. At the Castroville branch, for example, the site coordinator works closely with the local university to recruit service-learning students, who are required to complete 30 hours of volunteer service each semester. The library gets free help from educated young adults, while the college students receive credit for required community service. Everybody wins.
Staff qualifications
Many libraries look to local school districts for homework helpers who are either current or retired teachers. Perhaps the best example of this is at Chicago Public Library, where accredited teachers provide after-school homework help at most branches, four days a week. The educators, many of whom are bilingual, are paid through the privately funded Teacher in the Library program. Thousands of hours of assistance are provided library-wide every school year. In Boston, teacher-tutors offer after-school help courtesy of the Boston Teachers Union. A schedule of the tutors' availability, which varies from branch to branch, is posted on the library's website.
Of course, not all homework helpers are teachers, nor should they necessarily be expected to have extensive educational backgrounds. Libraries should, however, appoint assistants who enjoy working with kids and are committed to helping them succeed. Previous experience working with youth, either in a paid or voluntary capacity, is often preferred. At the Winters (Calif.) Community branch of the Yolo County Library, high school juniors and seniors become helpers only after spending one or two years as mentors-in-training. At the Free Library of Philadelphia, college-aged homework helpers become associate leaders in the after-school program only after serving as teen leadership assistants during high school.
Other qualities are also highly desirable. The primary responsibility of Los Angeles Public Library's homework helpers is to assist students using Student Zone laptops to complete school assignments. Therefore, strong knowledge of and experience with computers are mandatory. The ability to read and speak in languages other than English is important, too. Across the country, libraries are being tasked with helping students who speak Farsi, Hindi, Japanese, Khmer, Korean, Russian, Somali, Spanish, Tamil, Urdu, and Vietnamese, among other languages.
The coordinator of King County (Wash.) Library System's Study Zone program maintains a list of bilingual homework helpers, noting exactly where and when they are scheduled each day, so students can be referred accordingly. Other, more generic qualifications include problem-solving skills, patience, flexibility, organizational skills, the ability to work as a team player, access to reliable transportation, and availability after school and on the weekend.
Recruitment
Homework assistants are generally recruited in the late summer and early fall, before the school year begins. Libraries use various methods of recruitment, including word of mouth, in-person conversations with community members, and printed fliers. A colorful brochure distributed by Monterey County (Calif.) Free Libraries beckons prospective homework center volunteers by promising a rewarding experience where one can learn about library resources, explore science kits with students, and play educational games, in addition to helping children complete their homework.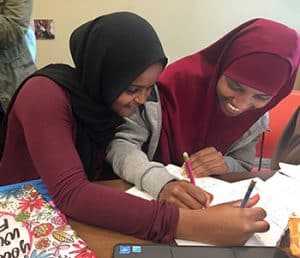 Libraries also post recruitment announcements on their websites, linking either from the homework-help site, general volunteer recruitment page, or library jobs page, if the position is paid. In Hennepin County, the announcement for paid homework-help lead tutors includes program goals, the position's primary duties and responsibilities, minimum qualifications, number of hours per week, and hourly wage.
Several libraries make use of established programs to provide homework assistants. These include Literacy Volunteers of America, AmeriCorps VISTA, Reserve Officers' Training Corps, America Reads, Learning Is ForEver, and the Retired and Senior Volunteer Program. RUSA and YALSA recommend working with the National Honor Society to recruit teen homework volunteers.
College-aged helpers make good role models, too, especially in communities where dropout rates are high. Saint Paul (Minn.) Public Library recruits young adult assistants through local college work-study programs, which often pay up to 100% of the homework helper's salary. Education majors and members of the Future Teachers of America work especially well with younger kids. College students may even treat the homework center as a laboratory for testing their own teaching and disciplinary skills.
Library staff also welcome the assistance of teenaged homework helpers. Despite occasional problems with teens forming cliques or flirting with each other, high schoolers perform as well as, if not better than, their older counterparts. At the La Habra branch of Orange County (Calif.) Public Libraries, sophomores, juniors, and seniors are recruited to help younger kids with homework. Once they gain enough experience, they can become tutor captains responsible for checking in and matching students with an appropriate helper. In a 2003 study of teen-assisted homework programs, Virginia Walter and I found that student helpers gain a sense of pride from serving their community, especially in low-income neighborhoods. We also learned that teen helpers are more socially competent and better prepared for the job market as a result of their homework center experience.
Benefits of homework-help programs
Students may develop meaningful relationships with homework helpers. In the library, young people have an opportunity to see adults in a nonclassroom, nonparental role. Most students appreciate the assistance they receive and understand that these adults are dedicating their time to help. Teenage homework helpers often bring hope and encouragement to neighborhoods where few positive role models exist. They prove that succeeding in school is possible. As one program coordinator explained, sometimes tutors become mentors.
Helping young people succeed in school can be very rewarding for the helpers, too. A retired teacher in San Diego told me she provides homework help because she wants to enrich children's minds. Another helper, a retired administrator in Sacramento, California, revels in seeing youngsters' "eyes light up" when they suddenly understand their homework. Likewise, a grandmother in King County, Washington, said she enjoys seeing students grow mentally as well as physically. "It's a lot more fun helping other kids do their homework than it was helping my own daughters," she joked.