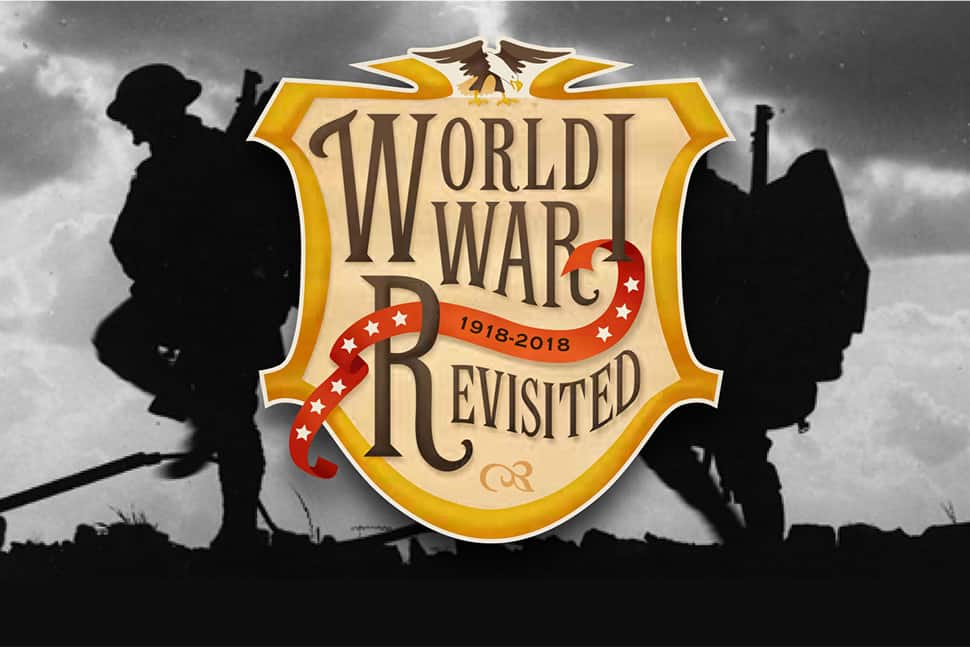 This Veterans Day marks the centennial of the end of hostilities in World War I, and libraries across the US are commemorating this anniversary through programming, events, and displays that highlight the impact that the Great War had on the service members who fought, the family members who remained at home, and society as a whole. For some of these libraries, the WWI centennial provides more than an opportunity to remember an important historical moment. It also offers a chance to consider how the effects of that war both parallel and diverge from those associated with contemporary military conflicts.
Beginning in 2016, Library of America (LOA) awarded grants to 120 libraries around the country as part of its World War I and America program. The grants were created to support library programming that would bring together US veterans and their communities through shared exploration of firsthand writings from WWI.
To establish the connection between WWI and today's service members, some library workers have developed programming to help transcend the boundaries of specific conflicts.
"Our veteran community here is significant, and our veteran support community is even more so," says Cecilia Ann Marlow, director of Cromaine Library in Hartland, Michigan, who notes the importance of connecting her library's WWI programming with military veterans and service members. "Looking at WWI and comparing it to today's America meant including a focus on veterans. Since we have none from then, but we have lots from now, including a few from WWII, it was imperative we include them in any programming related to our nation's wars."
James Scott, reference librarian at Sacramento (Calif.) Public Library (SPL), led efforts at his library to create WWI-focused programming that speaks to former service members. He notes that the contributions of veterans to the WWI program series was critical. "America has been at war since 2001, so it's easy to see why the Great War would be relatable to the modern-day veteran's experience," he says. "For our programs, veterans served as lecturers, subject experts, poets, and healers. It's hard to imagine having the impact that we did without the veteran component."
The history of PTSD
One common program theme relates to post-traumatic stress disorder (PTSD). Although the term PTSD has only been in use in recent decades, it is one of the most common service-connected disabilities. Veterans of earlier conflicts who exhibited similar symptoms were commonly described as experiencing "combat fatigue" or, as was often used in WWI, "shell shock."
Jeremy Scarlet, adult services librarian at Simi Valley (Calif.) Public Library (SVPL), says, "PTSD is a serious issue facing many who have served or are serving in the armed forces, and there is still quite a bit of stigma around PTSD-related mental health problems—in the general population, but probably even more so in this [military] population. As a result, any discussions seem worthwhile​ that can shed light on PTSD and, potentially, reduce a little of that stigma.
"Furthermore," Scarlet says, "it seems that most of the PTSD conversations that do take place happen only in medical settings, so I thought perhaps bringing it into the public library would provide additional visibility and value."
SVPL created a "From Shell Shock to PTSD" program featuring a clinical psychologist who discussed the historical symptoms, diagnosis, and treatment of service members with shell shock symptoms as well as newer methods for treating PTSD.
Cromaine Library also held an event on this topic, focusing on the benefits of equine therapy for veterans with PTSD.
Women and minority experiences in the military
Another central programming theme relates to the role of women and minorities during military conflicts. Scott notes that it was important to include these groups as part of SPL's WWI series because, "not doing so denies an American experience that was panoramic. Whether it be Red Cross nurses or the Harlem Hellfighters, a total war like WWI demanded the sacrifices of an entire society."
SPL invited Occidental College professor emerita Lynn Dumenil to speak about her recent book, The Second Line of Defense: American Women and World War I. The talk also featured an introduction by Melissa Washington, a Navy veteran and founder of Women Veterans Alliance.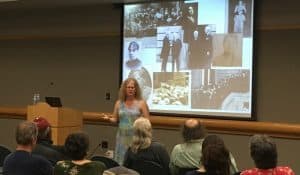 In a separate program, Chapman University history professor Jennifer Keene discussed her recent research on the African-American soldier experience during the Great War, a talk that was accompanied by the poetry and insights of Vietnam veteran Michael Voy.
Local effects of global conflicts
A third theme focuses on the profound and often lasting impacts of global war on the typical American community. Martin Olliff, professor of history at Troy University in Dothan, Alabama, spearheaded two Troy-sponsored programs that sought to shift the focus of WWI programming from a universal scale to one more local. "WWI history is often taught as an international/national event," Olliff states. "Inspired by 'microhistory,' I thought presenting Alabama-specific stuff would be beneficial." His presentation "The Great War in the Heart of Dixie: Alabama During World War I" was based on his 2008 book of the same name. He also hosted a panel discussion entitled "How Alabama Has Remembered the Great War, 1920–2017." Olliff notes that many attendees were military veterans or retirees, which indicates that military history–related programming is an effective way to engage this patron population.
Although programming and engagement opportunities such as the WWI centennial do not come around every day, veterans and service members are always a part of America's library patron populations. Libraries in the US can develop specific and targeted programming for these patrons throughout the year.
Library workers who are interested in further engaging their veteran and military-affiliated patrons or who have ideas to share can join the petition to create a Veteran Caucus Member Initiative Group within the American Library Association. This nascent group intends to further the conversation about supporting American veterans and military-affiliated patrons in libraries. Library workers from all types of libraries can come together to make veteran and service member patrons feel at home in libraries.