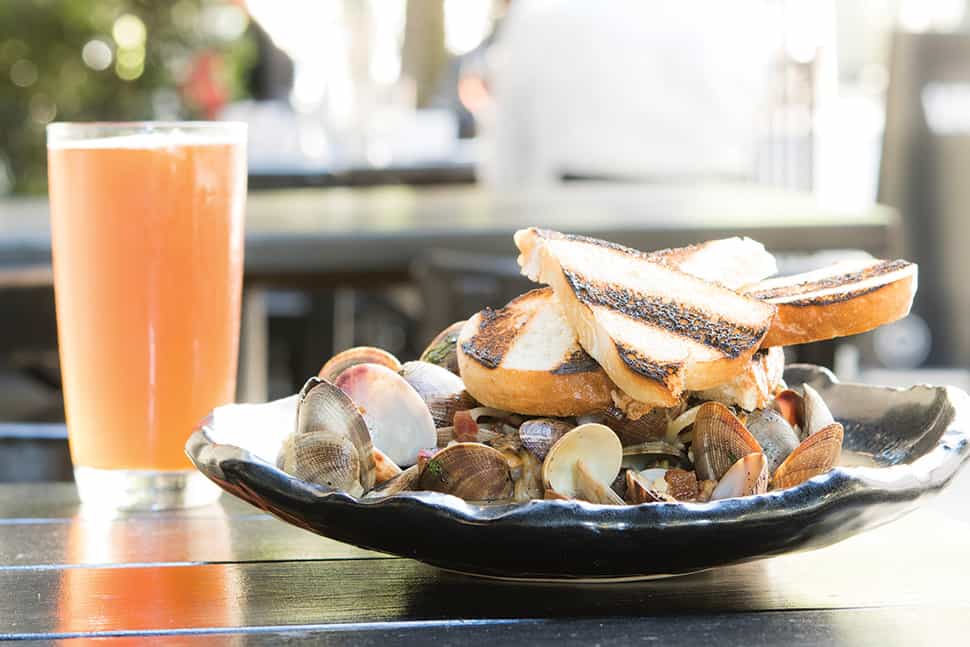 Seattle's reputation as one of the great restaurant cities in the US has grown steadily over the past three decades. Before that time there were some good Asian and Italian restaurants and always one or two classic French eateries, but eating out in Seattle had been mostly about seafood and steak.
Then, like the tech industry that refueled Seattle's ailing aerospace economy, the food scene exploded. Cooking became an art, and the materials needed to create that art were close at hand—right at the famous Pike Place Market. The "buy fresh, eat local" philosophy, which places a premium on sustainable fishing and organic farming practices, now pervades the Seattle food scene. To enhance your meal you will also find excellent Washington State wines and locally brewed beers.
As author of Frommer's Seattle Day by Day: 28 Smart Ways to See the City, I've been lucky enough to explore the city's restaurant scene for more than a decade. Many of Seattle's best downtown restaurants are independent kitchens attached to hotels; others are on the waterfront or in neighborhood spots outside the downtown core but easy to reach by public transportation or taxi. Finding these restaurants is easy at bit.ly/ALSeattleDiningMap.
Downtown/Belltown
Assaggio
2010 Fourth Ave.
206-441-1399
assaggioseattle.com
From the personal welcome by owner and chef Mauro Golmarvi to the handmade pastas and melt-in-your-mouth veal dishes, Assaggio is a place where food is a passion and hospitality is genuine. Everything at this charming, award-winning restaurant—from the simple margherita pizza and baked lasagna to the sophisticated osso buco—is fresh and memorable. Gluten-free versions of the pastas are available, and the wine selection is excellent. L (M–F), D (M–Sat) $$$
Café Campagne
1600 Post Alley
206-728-2233
cafecampagne.com
Tucked away in the secret little courtyard of Inn at the Market hotel, this charming, romantic French café-bistro overlooks the crowds and noise of Pike Place Market with a Gallic nonchalance. Try the French onion soup or one of the pâtés as an appetizer, then consider the cassoulet—a traditional Southwest French white bean stew with lamb, pork, duck confit, garlic sausage, and breadcrumbs. Café Campagne is a lovely spot for lunch or weekend brunch, too. Brunch (Sat, Sun), L (M–F), D daily $$–$$$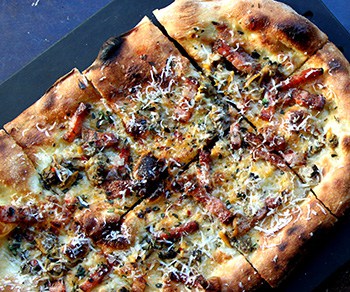 The Carlile Room
820 Pine St.
206-946-9720
thecarlile.com
It's difficult to characterize this appealing and adventurous downtown restaurant. The retro décor evokes a 1960s lounge, but the menu offers a contemporary "plant-forward" theme that emphasizes the freshest produce available. The menu changes daily depending on what produce is available. Chefs are given free rein to invent new taste combinations, like heirloom tomatoes with red-lentil hummus, mint, and sesame, and chickpea-fava fritters with almond tahini. Great for vegetarians. Brunch (Sat, Sun), D daily $$
Lola
2000 Fourth Ave.
206-441-1430
lolaseattle.com
You won't find better Greek-inspired food anywhere in Seattle. Lamb is Lola's specialty, and it's always delectable, whether you order the manti (lamb ravioli with yogurt, Aleppo pepper, and pine nuts); the kebabs (with caramelized garlic and red wine glaze); the slow-roasted lamb seasoned with oregano, mint, rosemary, and jus; or the lamb burger. Start with pita bread and the cauliflower and anchovy spread, and sample the traditional Greek salad. Brunch (Sat, Sun), B, L, D daily $$–$$$
Miller's Guild
612 Stewart St.
206-443-3663
millersguild.com
Above all, this is a place for grilled meat and fish. A giant mesquite-burning stove in the open kitchen grills steaks, chops, and seafood to perfection. If you're an unabashed carnivore, go for the juicy chops and steaks from Niman Ranch, one of the top purveyors of choice cuts of beef on the West Coast. Order a couple of sides, like creamy mashed potatoes and crispy Brussels sprouts, and a glass of Oregon pinot noir, and you're set. This is a good happy hour spot where you can get a glass of wine for $7 or a beer for $5 and order smaller versions of the lunch and dinner choices. Brunch (Sat, Sun), B, L (M–F), D daily $$$
Purple Café and Wine Bar
1225 Fourth Ave.
206-829-2280
purplecafe.com
Diners at Purple are somewhat dwarfed by the enormous room, with its huge glass windows and floor-to-ceiling wine storage tower, but no one seems to mind. Wine is a big feature here, and pairings with your various plates are surprisingly inexpensive compared to other Seattle restaurants. The ever-changing menu at Purple nods to international influences but makes abundant use of the bounty of the Pacific Northwest—you can find everything from Dungeness crab cakes to Columbia River sturgeon, depending on the day. You can also order crispy-crust pizzas, a burger made from free-range beef, a pear and blue cheese salad, or pastas. L, D daily $$–$$$
Serious Pie
316 Virginia St.
206-838-7388
seriouspieseattle.com
Chef Tom Douglas is serious about food, and that includes pizza. His applewood-burning oven turns out artisan-quality pies with crispy, chewy crusts and mouth-wateringly delicious toppings. Two of my favorites are the Yukon Gold potato pizza with rosemary and pecorino and the sweet fennel sausage pizza with roasted peppers and provolone. This low-ceilinged, pub-like room is very casual and always busy. There's beer on tap, a limited wine list, some excellent ciders, and a refreshing array of nonalcoholic concoctions. L, D daily $$
Shiro's Sushi Restaurant
2401 Second Ave.
206-443-9844
shiros.com
Sushi lovers from around the globe flock to Shiro's in Belltown for the best sushi in Seattle. Sushi master and local legend Shiro Kashiba serves only the finest, freshest fish to his lucky customers. For a sumptuous repast, order the chef's selection of omakase sushi or sashimi. Shiro's signature dish, broiled black cod kasuzuke, will have your taste buds dancing in delight. Reservations essential. D daily $$$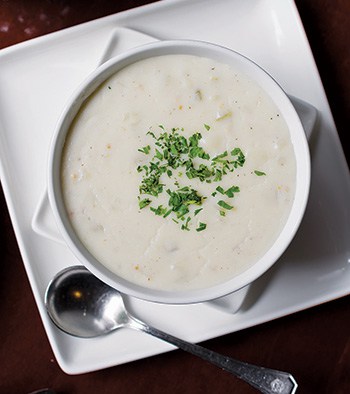 Shuckers
Fairmont Olympic Hotel
411 University St.
206-621-1984
shuckersseattle.com
I'm going to let you in on the best-kept secret in Seattle: During happy hour, fresh oysters on the half shell are only $2 each at Shuckers. Oysters are what this long-established spot at the Fairmont Olympic Hotel is known for. It usually has about eight local varieties just waiting to be shucked, served on ice, and slurped down by oyster lovers. The restaurant also serves baked oysters, pan-fried oysters, the freshest fish of the day, and a great clam chowder. L (M–Sat), D daily $$$–$$$$
Tulio
Hotel Vintage
1100 Fifth Ave.
206-624-5500
tulio.com
Tulio is a hands-on, family-run restaurant that uses Pacific Northwest ingredients in dishes inspired by the food of northern Italy. All of the pasta—tortellini, tagliatelle, ravioli, linguine, orecchiette—is handmade every morning. One of the standouts is the sweet potato gnocchi with sage butter and mascarpone; it practically melts in your mouth. Brunch (Sat, Sun), B, L (M–F), D daily $$$
Wild Ginger Asian Restaurant and Satay Bar
1401 Third Ave.
206-623-4450
wildginger.net
The heart-of-downtown location is great, the ambience is bright and lively, and the cooking is always good at this Pan-Asian restaurant across from Benaroya Hall. Skewers of chicken, prawns, short ribs, Kobe beef, and lemongrass tofu arrive hot from the satay bar accompanied by sticky rice and pickled cucumber. You can also order succulent Asian classics like Angkor Wat chicken, Thai passion tofu, and Mongolian noodles. A surprising number of the dishes are gluten-free, and a vegan menu is also available. L (M–Sat), D daily $$
Pike Place Market
Etta's Seafood
2020 Western Ave.
206-443-6000
ettasrestaurant.com
When you taste one of the crunchy-on-the-outside, creamy-on-the-inside Dungeness crab cakes, you'll understand why they are the signature dish at Etta's. Located in the perpetually busy Pike Place Market neighborhood, with big windows that let you people watch as you dine, Etta's roster of seafood dishes includes seafood stews and chowders, good fish and chips, and other seasonal specialties. Brunch (Sat, Sun), L, D daily $$–$$$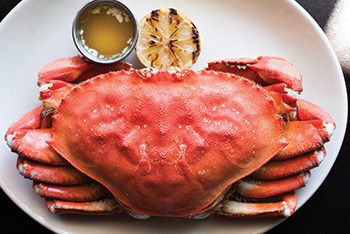 Place Pigalle
81 Pike St.
206-624-1756
placepigalle-seattle.com
If you have a soft spot for old-fashioned French restaurants that serve classic French dishes with French wines by the glass and feature Edith Piaf softly singing in the background, this is your place. You can't beat the steamed mussels Pigalle served with smoked bacon, celery, shallots, and balsamic vinaigrette at this romantic spot perched above Puget Sound in Pike Place Market. L, D daily $$$
Steelhead Diner
95 Pine St.
206-625-0129
steelheaddiner.com
No ordinary diner, this lively spot in Pike Place Market overlooking Post Alley features the cooking of Kevin Davis, who brings together influences of New Orleans, California, the Pacific Northwest, and France, making for a unique and exciting dining experience. For an appetizer, try the Dungeness crab and bay shrimp tater tots. Other standouts: kasu-marinated Oregon black cod and the poutine with melted cheese curds. Brunch (Sat, Sun), L, D daily $$
Waterfront
AQUA by El Gaucho
2801 Alaskan Way, Pier 70
206-956-9171
elgaucho.com/dine/aqua
The famous steakhouse El Gaucho operates this trendy waterfront restaurant with its long serpentine bar, big windows looking out on Elliott Bay, and deck for bayside dining. From a seasonal variety of local oysters to seared sashimi-grade ahi tuna and wild Alaskan halibut, Chef Wesley Hood's seafood is always fresh and delicious. Landlubbers can enjoy one of the dry-aged steaks prepared on an open-air charcoal grill. Vegetarians can choose from fresh salads, pastas, and curry dishes. D daily $$$$
Elliott's Oyster House
1201 Alaskan Way, Pier 56
206-623-4340
elliottsoysterhouse.com
Elliott's is one of the most trustworthy lunch and dinner spots along Seattle's waterfront. If you're an oyster maniac, come during Elliott's oyster happy hour to sample these briny bivalves for $1.50–$2.50 each. Since it's Seattle, we suggest you stick with whatever fresh fish is on the menu, but there are steak, salad, and pasta options, too. L, D daily $$–$$$
Ivar's Acres of Clams
1001 Alaskan Way, Pier 54
206-624-6852
ivars.com/locations/acres-of-clams
If you don't want to spring for an expensive seafood dinner in a waterfront restaurant, try this iconic alternative that's been in business since 1938. Come for takeout fish and chips made with fresh cod or halibut and a cup of thick, creamy clam chowder. It's a great place to eat, watch the ferries cross Elliott Bay, and afterwards stroll along the busy waterfront. L, D daily $$
Six Seven Restaurant
The Edgewater
2411 Alaskan Way, Pier 67
206-269-4575
edgewaterhotel.com/seattle-six-seven-restaurant
The glass-walled dining room at The Edgewater hotel looks out over Elliott Bay and the Olympic Mountains. The locally sourced and usually organic menu changes with the seasons, but you can never go wrong with the cedar-plank king salmon. Dinner is expensive, so come for lunch, when that Caesar salad with Dungeness crab costs a lot less. If you want a great lunch to go, order the deli board bento box with soup and your choice of sandwich. Brunch (Sat, Sun), B, L (M–F), D daily $$–$$$$
Capitol Hill
Dick's Drive-In
115 Broadway Ave. E.
206-323-1300
ddir.com
Retro all the way, Seattle's iconic burger joint still has the orange awnings from the 1950s, though its drive-up service has ended. Many locals won't eat burgers anywhere else, and we can't say that we blame them. Of course there are also great fries, hand-dipped shakes, and root beer floats. L, D daily $
Lark
952 E. Seneca St.
206-323-5275
larkseattle.com
This delightful neighborhood bistro on Capitol Hill encourages family-style sharing and features only locally produced, seasonal and organic grains, cheese, vegetables, fish, charcuterie, and meats. The fresh fish plates might include local Penn Cove blue mussels with ginger. Vegetables and grains selections might be farro with mascarpone and ratatouille or gnocchi with wild mushrooms. The cheeses here are artisanal delights offering an array of tastes and textures that will wake up your taste buds. D daily $$
Poppy
622 Broadway Ave. E.
206-324-1108
poppyseattle.com
Created by chef Jerry Traunfeld, Poppy presents a fresh take on the Indian thali, a compartmentalized platter holding dishes with different tastes. Traunfeld uses local, seasonal, and fresh herbs and produce to create his daily selection of dishes. Before you order your thali platter, though, you must try the eggplant fries with sea salt and buckwheat honey—there's a reason why they are one of Poppy's signature appetizers. The tastes and textures here are always surprising and delightful. D daily $$$
Queen Anne
Canlis
2576 Aurora Ave. N.
206-283-3313
canlis.com
A Seattle fine-dining destination for more than six decades, dinner-only Canlis was the first restaurant in Seattle to serve what is now referred to as "contemporary Northwest cuisine." Foie gras, malted pancakes, rabbit, salmon, haiga rice, and prawns are among the selections in its four-course meals. There's a comprehensive wine list, including delicious Northwest vintages. Reservations essential. No casual attire. D (M–Sat) $$$$
Lake Union
Ivar's Salmon House
401 NE Northlake Way
206-632-0767
ivars.com/locations/salmon-house
Ivar's on Lake Union is one of Seattle's most iconic restaurants and made its name with the fish most closely identified with the Pacific Northwest. Although the restaurant serves other dishes, it's the salmon—grilled or roasted—that defines the place, as does the creamy clam chowder. Native American tribes in this region developed the alder wood-smoked cooking method that is the signature style at Ivar's. As you dine you'll be able to watch boat traffic on Lake Union. L, D daily $$$
International District/Chinatown
Jade Garden
424 Seventh Ave. S.
206-622-8181
jadegardenseattle.com
In a town blessed with many good dim sum spots, this inexpensive restaurant is one of the best, though the ambience is practical rather than fancy. Start with some basics like humbow (steamed buns stuffed with sweet barbecued pork), ha gao (shrimp dumpling), and sticky rice wrapped in lotus leaves. If you like all those, you might want to sample other offerings. B, L, D daily $
Ballard
Bastille
5307 Ballard Ave. NW
206-453-5014
bastilleseattle.com
The best choices at this Parisian-style brasserie in the atmospheric Ballard neighborhood are the plats du jour, such as lamb Bolognese or Dungeness crab salad, but the plats principaux won't disappoint either—they include French classics like cassoulet, roasted chicken, mussels in white wine sauce, and steak frites. This is a great place to come for Sunday brunch, when the Ballard Farmers Market is in full swing right outside Bastille's door. Brunch (Sun), D daily $$
La Carta de Oaxaca
5431 Ballard Ave. NW
206-782-8722
lacartadeoaxaca.com
Seattle's most popular Mexican restaurant is known for its hand-mashed guacamole with house-fried tortilla chips and for the tender chicken in Oaxaca's signature sweet-spicy black mole. Tacos, empanadas, tamales, chile rellenos—they're all here, and they're all excellent. L (Tue–Sat), D (M–Sat) $$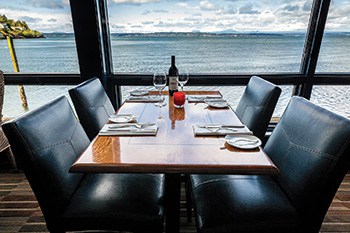 Ray's Boathouse Café
6049 Seaview Ave. NW
206-789-3770
rays.com/cafe
Ray's sits on the water's edge with stunning views of Puget Sound and the Olympic Mountains. Skip the formal and more expensive restaurant on the first floor and head upstairs to the casual second-floor café with its huge, heated deck. You'll enjoy ultra-fresh seafood dishes and salads with plenty of vegetarian and gluten-free offerings. There's also a pleasant happy hour here with small bites and lower prices for wine and beer. L, D daily $$
West Seattle
Salty's on Alki Beach
1936 Harbor Ave. SW
206-937-1600
saltys.com
If you want to enjoy food with a view and combine it with a bit of adventure, hop in the water taxi at the Seattle Ferry Terminal for the 10-minute ride to Alki Beach in West Seattle and enjoy the short scenic walk to Salty's. From the dining room and outdoor decks overlooking Elliott Bay, you'll see the downtown towers gleaming across the water. Salty's is famous for its weekend brunch buffet, laden with fresh seafood and sweeter specialties like gingerbread pancakes and a chocolate fountain that will give you a sugar high. We also recommend happy hour at Salty's Café-Bar, where you can dine for half of what it would cost for dinner and still enjoy that memorable view. Brunch (Sat, Sun), L (M–F), D daily $$$
---
The best caffeine in Seattle
Seattle is one of the country's most coffee-friendly cities, with cafés, coffee shops, and coffee carts everywhere. These congenial spots are a way of life in the city where the first Starbucks opened in 1971 and is now visited as a tourist attraction. Here's a brief list of coffees and cafés of special merit.
Ancient Grounds
1220 First Ave.
206-749-0747
For an unusual Seattle espresso experience, stop at Ancient Grounds not far from Pike Place Market. It's both a café and an intimate art gallery, loaded with intriguing treasures including Native American and Asian masks and netsuke. The espresso is strong, the ambience pure Seattle.
Caffe Ladro Espresso Bar and Bakery
801 Pine St.
206-405-1950
caffeladro.com
Serving only organic, fair-trade, shade-grown coffee, Caffe Ladro brews up a good latte and offers a small selection of baked goodies. One of 15 locations.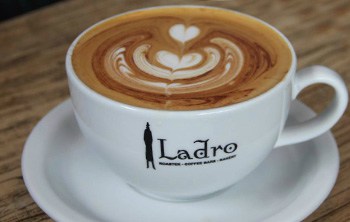 Caffè Umbria
320 Occidental Ave. S.
206-624-5847
caffeumbria.com
The Bizzarri family has been roasting beans since grandfather Ornello opened his first shop in Perugia, Italy, decades ago. Five blends are available, including fair-trade beans. Enjoy an extra-foamy cappuccino at their café near Pioneer Square.
Starbucks
1912 Pike Place
206-448-8762
starbucks.com
Seattle's coffee culture began at this little shop. There are no tables in the world's first Starbucks, only counter service, so take your beverage across the street to sip while you're exploring Pike Place Market.
Uptown Espresso
2504 Fourth Ave.
206-441-1084
velvetfoam.com
I love the velvety smooth lattes and the comfy, hassle-free environment of this café in Belltown. It's a good place to relax and read the morning paper with a great coffee and pastry.
Zeitgeist Coffee
171 S. Jackson St.
206-583-0497
zeitgeistcoffee.com
This spacious European-style coffee house in Pioneer Square is an urban oasis and cultural hub that features rotating exhibits by local artists along with its popular Italian beans.