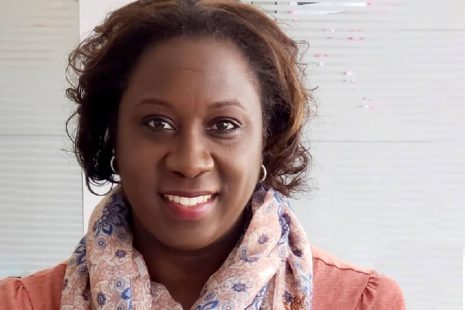 Earla J. Jones became director of the American Library Association's (ALA) Conference Services in the hectic week before ALA's Midwinter Meeting & Exhibits in Seattle. But Jones was well prepared to jump right in. She comes to ALA from the National Association of College and University Business Officers (NACUBO) in Washington, D.C., where she was senior director, annual meeting–education, development, and membership.
She previously served as vice president of meeting services at Cygnus Corporation in Rockville, Maryland, and convention coordinator at SmithBucklin, an association management company in Chicago. Jones has been an assistant professor at Northern Virginia Community College since 2005, providing instruction in meeting planning, and was previously an adjunct faculty member at Kendall College in Evanston, Illinois.
Jones answered our "11 Questions" to introduce herself to ALA members.
Coffee, tea, other?
The best days begin with a grande dirty soy chai latte.
What's the first website or app you check in the morning?
The Weather Channel.
Best career advice you've ever received?
Life is too precious to be doing anything less than what makes us happy.
What drew you to librarianship/ALA?
In my previous position at NACUBO, newly hired in 2006, my first charge was to evaluate the post-Katrina situation in New Orleans and determine if we should relocate our 2007 annual meeting. I was inspired by ALA's recommitment to the city and the book donation community service initiative. This led me to recommend that we uphold our contract and also inaugurate "Serving the Community," which became a staple for the annual meeting in the following years. ALA has been on my radar as an association that I would want to be part of ever since.
Most distinct aspect of your personal office?
Wonder Woman knickknacks.
Guilty pleasure?
Netflix.
First job?
Lifeguard.
What do you hope to bring to ALA and members?
I challenge myself daily with the words of Deepak Chopra: "Instead of thinking outside the box, get rid of the box." I hope to bring a fresh perspective to Conference Services and how we convene our members—focusing on the enrichment experience of engagement that extends before, during, and after our events.
If you had to choose any other profession, what would it be and why?
Owning a cupcakery—I love to bake.
Book you're reading?
John Grisham's Camino Island.
Tool used for keeping your life organized?
Personal/family—completely reliant on Google shared calendar.