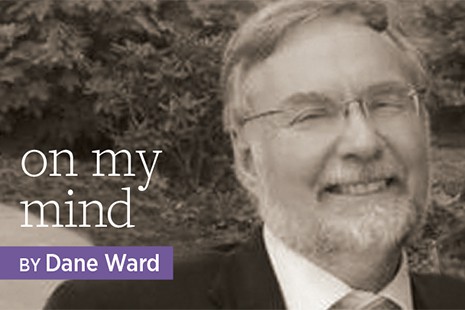 May is ALS Awareness Month, and librarians are well positioned to make a difference in the fight against this disease. I should know—I am dean of libraries at Appalachian State University in Boone, North Carolina, and I have ALS.
ALS—or amyotrophic lateral sclerosis, commonly known as Lou Gehrig's disease—is a motor neuron disorder characterized by progressive weakening of muscles, often beginning in the legs or arms. More than 5,000 people in the US are diagnosed with ALS each year, and about 20,000 have it at any given time. After diagnosis, most patients die within two to five years. There is no known cause and no cure.
I was diagnosed in January 2018 after I sought medical treatment for an odd catch in my gait. It was a huge shock. I've always been in great shape—I have competed in marathons and half marathons, as well as innumerable 5K and 10K races.
Now I live two lives: As dean of libraries, I seek integration of the libraries into teaching, learning, and research. This is fundamentally an information literacy issue. As our librarians become increasingly information literate in the disciplines, we become better at answering questions and providing meaningful instruction.
As a person with ALS, I am actively looking for ways to slow my progression while doing all I can to make a difference. This is also an information literacy issue. To advocate for patients and fundraising to support critical research, I need to understand the ALS universe of research and patient needs. I was recently selected to serve as a research ambassador by the Northeast ALS Consortium. I have a dream that librarians, individually and collectively, will take part in a larger ALS social movement to find a cure and care for patients. While few of us have any direct responsibility for ALS research and reference assistance, most of us possess the information skills and service attitude to help patients and caregivers.
ALS patients and caregivers consistently seek two types of information:
Practical information
Confronted by a relentlessly progressing disease, they look for information about adapting to changing circumstances in their daily life. For instance, how to avoid falling, how to turn over in bed, and what to do when you can no longer button your shirt.
Despite the viral 2014 Ice Bucket Challenge, which jumpstarted funding for research, we have a long way to go. Research is expensive, as are the costs of caring for someone with ALS. As the disease progresses, patients require electric scooters and wheelchairs, accessible vans, chairlifts, expensive home modifications, and endless adaptive equipment. Only some of this assistance is covered by insurance. Where might other resources be available?
Treatment options
Just as often, patients and caregivers want to know which treatments will slow disease progression. Most ALS patients use two FDA-approved drugs—Rilutek and Radicava—as well as a variety of alternative treatments and strategies. Medical care includes physical, respiratory, and occupational therapy and frequently tracheotomy, gastrostomy, and other such surgeries. In the absence of solid medical knowledge, patients and caregivers are also willing to take chances and explore unverified treatments.
The ALS information on the internet creates a situation ripe for the intervention of librarians. At one end of the spectrum are scientifically dense research articles about ongoing investigations that promise to yield treatments years from now, long beyond the lifetime of current patients. At the other end are more immediate observations from patients themselves, which can be more useful, though also more subjective, speculative, and unique to the individual. Additionally, promotional sites highlight products of uncertain effectiveness, and internet scams are everywhere.
Other questions that librarians might be able to answer include:
What are the important online ALS resources?
Where can I find information about emerging treatments?
How can I find a clinical trial in which to participate?
How can I determine whether ALS information is truthful and legitimate?
What evidence exists indicating that a treatment has a positive impact on ALS symptoms?
Where can I find hopeful stories about ALS reversals?
Librarians Defeat ALS is a Facebook group where patients and caregivers can ask important questions of information specialists. Here librarians can use their skills to make sense of ALS information and collectively navigate a confusing and complex universe.
We are all in this together—librarians making a difference in defeating ALS.