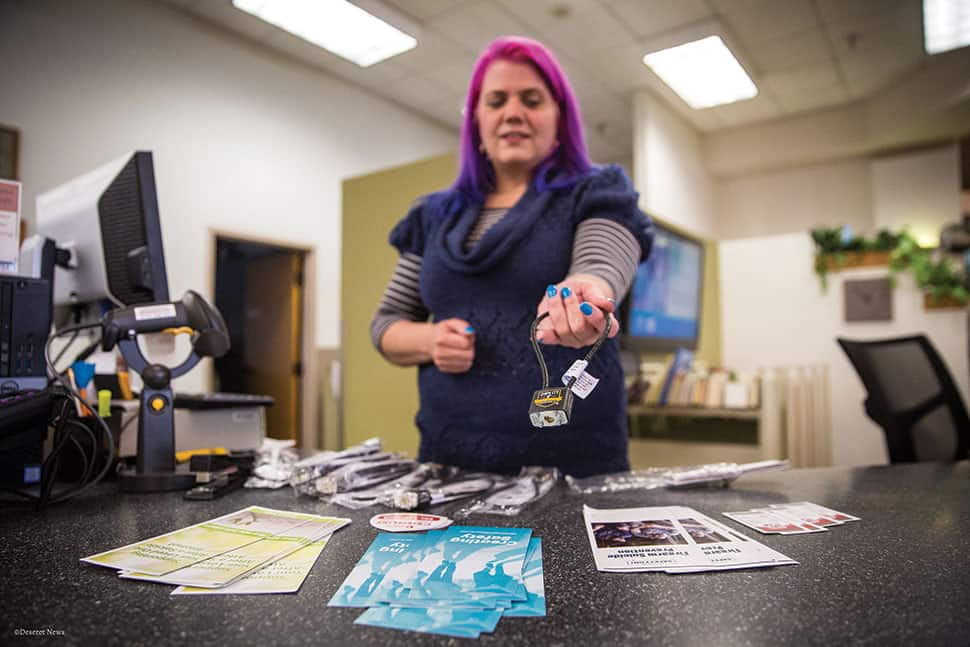 After a string of teen suicides hit Salt Lake County, Utah, in 2017 and 2018, Leslie Schow, manager of Salt Lake County Library's (SLCL) Herriman branch, decided to act. Working with Healthy Herriman, a community organization connected with the city of Herriman and the Salt Lake County Health Department, SLCL started hosting classes on the QPR (question, persuade, refer) method of identifying and preventing suicidal ideation. As part of the class, SLCL made gun locks available to community members.
Although not all the suicides in Herriman were gun related, Schow notes, statistically the use of firearms is the most common method of suicide in the country. According to the Suicide Prevention Resource Center, 51% of suicides in 2017 were committed with guns. The goal in giving away gun locks is to prevent the impulsive nature of some suicides—buying time for people to reconsider, she says. The locks can also help prevent children who find a firearm from using it as a toy, she adds. SLCL partnered with the Utah Department of Public Safety in November 2018 to offer locks at the system's 18 branches, resulting in the distribution of about 1,000 gun locks in a 24-hour period.
Such partnerships to make gun locks available have been popping up across the country: Law enforcement and public safety organizations provide the locks, while libraries serve as distribution centers.
In Kansas City, Missouri, two accidental shooting deaths in short succession in 2017 prompted Kansas City Public Library (KCPL) officials to team with the Kansas City Police Department (KCPD) for a gun lock giveaway program. Kim Gile, community reference manager for KCPL, says the giveaway launched that fall. That's when the library hosted a program by Moms Demand Action for Gun Sense in America, a national gun-violence prevention advocacy organization, to discuss such topics as how to have a conversation with other parents about gun safety and how to keep your own weapon secured.
The event was broadcast on Facebook Live, and gun locks were handed out to attendees. The library has hosted four of the forums to date and distributed about 50 locks. Gile says library staffers have discussed setting up a station at the library with representatives from Moms Demand Action and KCPD to continue the conversation and make more locks available to patrons. "Right now our library is focused a little bit more on having a larger conversation about violence in Kansas City as a whole; intentional violence is a much greater issue for us than accidental," she says.
The gun lock giveaway program at Indianapolis Public Library (IPL) began in 2014 and was driven by the Marion County Sheriff's Office, according to Ruth Hans, manager of IPL's Warren branch: "They offered gun locks for the branches, and we jumped on it." The branches have given out hundreds of the locks over the last five years, but the program has slowed down over time.
"At first, we just put a box of them out and discovered that people were taking many, and then we heard that word on the street was that people were selling them," she says. That prompted library staffers to place the locks behind the front desk, with a sign letting patrons know to ask for them. Hans says she was not deterred by the possibility that some people would take advantage of the program. "It's more impor­tant for us to get the gun locks out there," she says.
Schow says that although SLCL has distributed more than 1,000 locks, it's still difficult to quantify success, since there's no way to tell if someone is profiting off them. But as the program has gained attention in the press, a few other library systems have contacted SLCL to find out more. She says that along with other public health programs, such as their naloxone program to prevent opioid overdoses, the gun locks giveaway is just another way libraries are providing services for the community.
"As libraries change and morph over time and become community centers, it's important for us to take an active role in the health of our community," Schow says.