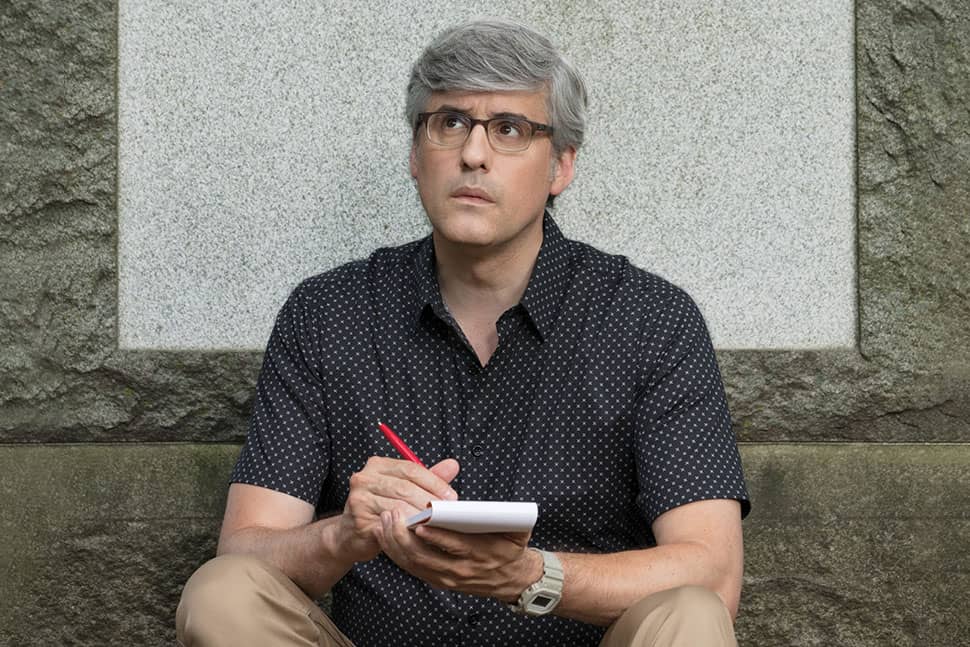 Mo Rocca—CBS Sunday Morning correspondent, panelist on NPR's weekly quiz show Wait, Wait … Don't Tell Me!, and author of the forthcoming Mobituaries (November)—is committed to a proper sendoff. From station wagons and snack foods to Audrey Hepburn and the Neanderthals, his book (and podcast of the same name) features the obituaries of forgotten people and things of the past. Rocca was the closing speaker at the 2019 American Library Association Annual Conference in Washington, D.C., where American Libraries caught up with him to discuss his love for tributes, his childhood library, and how he got his gig hosting the National Geographic Bee.
In your podcast Mobituaries, you exhume little-known facts about both relatively unknown and iconic people and events. How do you go about picking a story that you'd like to pursue?
I pursue stories about people and things that interest me. There are people who had obituaries the first time around when they actually died, but I gravitate toward people whose obituaries didn't do them justice. And of course, people and things that never got obituaries, like the Neanderthals. They died out 40,000 years ago, and I don't think there was even any mention in the paper at the time.
Was there a story from your upcoming Mobituaries book that truly surprised you?
There's so many. There's a Mobituary for the station wagon—a vehicle that, when I was growing up, we had for only a couple of years. It was the one thing that made my family like The Brady Bunch. Exploring the history of the station wagon was really fascinating. Station wagons in the 1970s had wood paneling because it was a throwback to original station wagons, which were all wood. They were called "station" wagons because they were originally used not for families but to transport groups from railroad stations to resorts, and for transporting industrial materials. Only in the post–World War II period, with the Plymouth Suburban, [did we see] the first family-oriented station wagon.
Have you always been fascinated by this idea of commemoration? What attracted you to this format?
My father always loved obituaries. He was drawn to the romance of obituaries. A good obituary feels like a really good movie trailer for an Oscar-winning biopic. It's the distillation of someone's life. Seeing it in shortish form like that, it takes on a sweep and a drama. I think there's something thrilling about it, but also obviously wistful, because the person's no longer with us.
What was your personal relationship with libraries growing up?
I used to go to Little Falls Library [in Bethesda, Maryland]. I was supposed to be down in the kids section, and it felt exciting to go up into the grown-up section. I would spend a lot of time in the reference section, I loved memorizing facts. It was where my thoughts took flight, and I would imagine, by looking at an almanac, going to a different country, traveling all around the world. It was a place of fantasy.
In the Mobituaries podcast, you described yourself as a "basement kid." What were the foundational books from your childhood?
The almanac, World Book Encyclopedia, and the Guinness Book of World Records. Those were the things I consumed over and over again. I used to love to go home and lie on my stomach on the red carpet in the family room and page through the World Book. I still know the capital of every country in the world. Throw out the name of a country.
Sri Lanka.
Colombo. I got that right, right?
[Editor's note: He did.]
How were you approached to host the National Geography Bee?
I was at a wedding in D.C., and a friend of the groom told me she worked for National Geographic, so I asked her for the cell number of the CEO. I drunk-texted him, late on a Saturday night, at this wedding. I introduced myself and said, "I want to host the National Geographic Bee." He said, "That's some nerve you have, texting me on a Saturday night. What's the capital of Romania?" I wrote back "Bucharest" quicker than I could've googled it, then I met him a couple weeks later and I got the job.
You've done a lot in your career—journalism, satire, radio, a TV show where you cook in a tank top with someone's Italian grandpa [My Grandmother's Ravioli]. Do you have a favorite gig?
Any job where I get to learn is exciting for me. I think that the most formative job I've had was writing and producing for a series called Wishbone on PBS about a Jack Russell terrier who, in his dream life, becomes the hero of classic novels in order to familiarize kids with the themes of those books.
I loved creating and hosting a cooking show where I went around the country and learned to cook from grandparents in their kitchens and heard their life stories. It wasn't a cooking show because I still can't cook—it really was about hearing their stories.
I've loved doing Mobituaries. But I would say that working on Wishbone and taking classic novels and compressing them, distilling them, to a half-hour format for kids, was storytelling bootcamp. Whatever skills I learned there, I keep going back to.
Did any of your Mobituaries research turn up ideas that you want to explore in a different kind of light or style?
Each of the essays in Mobituaries has brought up something that could be its own book. There are certain things you want to believe are true, and that's not such a bad thing. When I went to Hodgenville, Kentucky, to see the log cabin where Abraham Lincoln was born, they had a disclaimer saying that maybe some of the logs weren't from the original cabin, but they can't vouch for that. I came back home to Maryland and told my father that, and he said, "Don't tell me that. I want to believe that cabin is real, and that cabin was where Lincoln was born."
Don't take it! That's my idea.