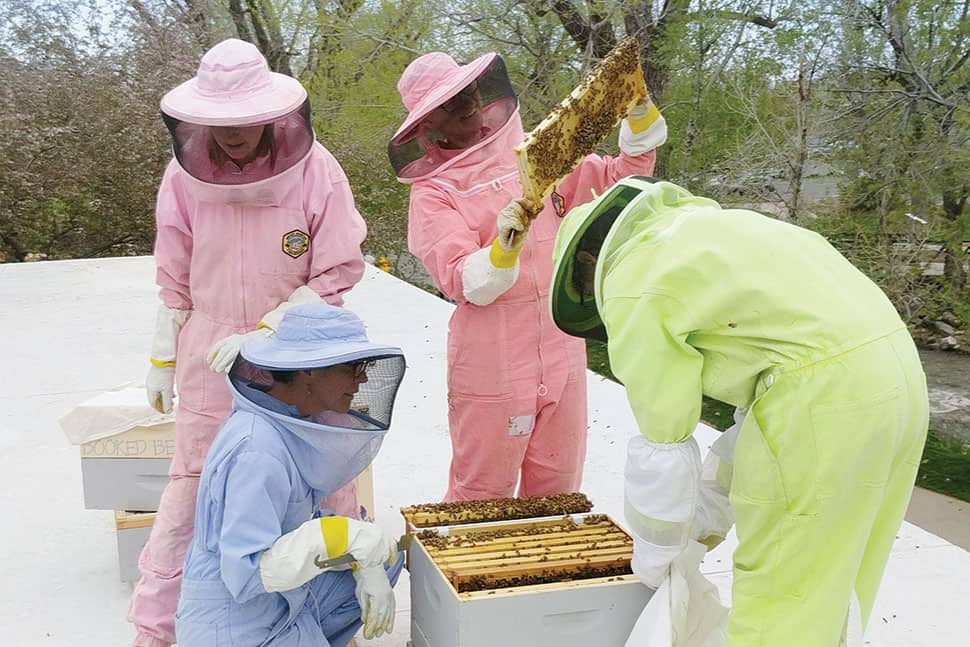 "Wouldn't it be cool to have beehives on the roof of a library?"
When Theresa Beck, a member of the Boulder, Colorado–based beekeeping team and advocacy group the BeeChicas, shared her idea with Kathy Lane at the Bee Boulder Festival in 2014, she didn't think of it as more than a playful suggestion. But Lane, who is programs, events, and outreach coordinator for the Boulder Public Library (BPL), ran with it.
"The city has a commitment to pollinators, improving the environment, and teaching sustainable living," explains Lane. "It fit very well with the city's mission as well as the library's."
Libraries across the country are discovering the benefits of beekeeping. Lane and the BeeChicas work together to provide programming around the library's edible learning garden and beehives, and the bees' extra honey is used in the library's café. Other libraries use hives as an educational tool and to support the pollinators themselves, which face growing environmental threats driven by pesticides and climate change.
A bee-plus in high school
At Niskayuna (N.Y.) High School, the library is always abuzz with activity. Thousands of honeybees busy themselves inside the school's observation hive, installed by science teacher Paul Scott in 2016.
The location of the hive was no afterthought: The media center, with its large windows overlooking an enclosed courtyard, is a prime location for students to watch bees exit and enter the hive through the pipe that connects the hive to the outdoors. And it's a hub of activity at the school.
"I didn't want it to be the science department's hive, I wanted it to be the school's hive," says Scott. "I wanted to reach as many people as possible, even those folks who don't think about going to the science rooms that often."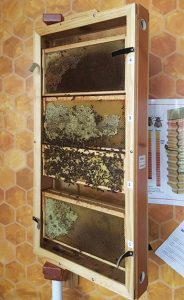 Donna McAndrews, the school's library media specialist, embraced the idea. "I felt like the library was a perfect place," she says. "Kids really come here—it's a place that they value for many reasons, and so I knew it would get a lot of traffic."
McAndrews developed a "bee corner" around the hive, displaying books and informational posters related to bees.
"The students love the bees," McAndrews says. "We have classes that come in and do different kinds of observation on the hive, and they're not just science classes." Students have formed a beekeeping club, and they now assist Scott in maintaining the hive, too.
Scott and another teacher built the hive from plans obtained online. But building the hive often isn't the hard part. Scott's first task was to get approval to bring a beehive into the school. "Make sure you start with the people who are most likely to be affected by it," advises Scott, who first consulted the school nurse about allergy concerns and the grounds crew before obtaining permission from the principal.
Raised on the roof
Getting approval for a hive can require some political acumen as well as beekeeping knowledge. Derek Wolfgram, library director of Redwood City (Calif.) Public Library (RCPL), met the Beekeepers' Guild of San Mateo at a public forum where they were lobbying—successfully—for city ordinances more favorable to backyard beekeeping. He was so impressed by their presentation that he contacted them to ask if they would collaborate with the library. Kendal Sager, owner of Sager Family Farm, a local educational farm, signed on for the project.
When it came time to place the hives, Wolfgram needed a lot of collaboration. "We had to talk with city attorneys about liability, we had to talk with our public works department" to establish processes for rooftop maintenance, he says. "It was time-consuming because there were a surprising number of people whose input was needed." But the rooftop location eased the process.
"Rooftop bees start out quite high, and they don't come down until they find a flower to forage on," says Sager. "People who don't want to interact with them aren't forced to."
In June 2018, Sager installed two hives on the downtown library's rooftop. These didn't survive the winter after a mite infestation, but new hives are thriving, according to Sager.
"We post frequently about the bees on social media," Wolfgram says. "It's funny, you never know what's going to be the thing that's going to catch the public's imagination, but I think this has been one of the most popular things we've ever done."
RCPL is still planning educational programs, but will have a livestream of the rooftop bee activity.
"Bees at a library are unexpected, but it totally makes sense when you think about our education role," Wolfgram adds. "Environmental sustainability is one of the things we want to teach people about, and bees are an important part of that."
More than honeybees
At BPL, the BeeChicas have maintained rooftop hives since 2016. While their honeybees get a lot of attention, the BeeChicas and BPL also collaborate with University of Colorado's citizen science project The Bees' Needs to help raise awareness of habitat loss for native bees. Most native bees build their nests within holes in trees or fallen logs and branches, which are lacking in many urban areas. BPL hosts workshops where patrons can build small native bee houses out of hollow sticks to take home and place in their yards.
"Most people don't even realize that there are 4,000 different types of native bees in our country. And they are the ones that nobody is helping," says Cynthia Scott of the BeeChicas.
"Not everyone who has an interest in supporting bees or other pollinators is interested in becoming a beekeeper," adds Deborah Foy, another BeeChica member. "But they can attend a fun workshop, learn more about the issues, and walk away with ideas on how to be part of the solution."