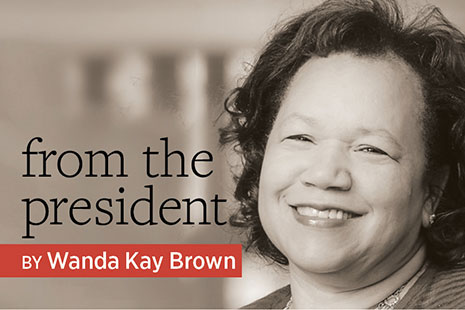 In 2017, when librarian J. J. Pionke was evaluating the messages the architecture at the University of Illinois at Urbana-Champaign library sent to students, he realized that wayfinding signage was deeply lacking. This, he understood, could be a possible barrier to entry for groups that were less likely to use the library, such as students who use wheelchairs or have social anxiety.
"When you can navigate a space, whatever that space may look like, and you don't have to ask for help and you can do it independently, that's confidence-building," he says. When we think of some of the foremost goals of our profession—advocating for the value of libraries, librarians, and library workers as well as promoting equity, diversity, and inclusion—we often frame them as issues to be addressed by people. But buildings can be influential messengers too, and the design and architecture of our physical spaces can send powerful messages to patrons and the community about the values housed within.
It's not always easy, especially for those of us who work on campuses full of historic but often unapproachable buildings. And not every system has a budget for a new building or renovation project. But there are ways to view any space though a lens of improvement. Indeed, we should always look to evolve to meet the needs of our communities.
It's simple enough to ask, "Is my library inclusive?" But it's a hard question to answer honestly.
Pionke recommends doing an accessibility walkthrough. "When I do those, I think about: What does this space look like for someone who's four feet tall? What does this space look like for someone who doesn't have any hands? What is this space like for someone who can't see it?"
This especially resonates with me as I think about a chief goal of my presidential year: to understand the library's role in addressing social and economic inequity. Is there some barrier to access that is preventing the most vulnerable communities from benefiting from the resources in our libraries?
Sonja Ervin at Multnomah County (Oreg.) Library urges us to consider if the people who greet our patrons—the librarians and library workers—reflect the demographics of the community. When patrons see people like themselves reflected in the library staff, she says, the apprehension about using the library can disappear: "Patrons feel like maybe this is a place for me, and they can connect with somebody who may have a similar experience."
Modern design and architecture make for beautiful photographs, but the work of libraries happens in all kinds of spaces—even virtual spaces. In Forsyth County, North Carolina, where I live, libraries logged more than 1.3 million online visitors in 2017–2018, compared with the 1.2 million visitors who entered a physical building.
Digital inclusion—giving people the tools to not only access technology but to use it—is an increasingly important part of our work and an area where librarians and library workers can demonstrate enduring value to their patrons.
No matter what small-minded detractors may say, libraries have a central place in our communities and our culture. As long as they remain those cornerstones, let's make sure our physical and virtual spaces send welcoming signals to everyone.