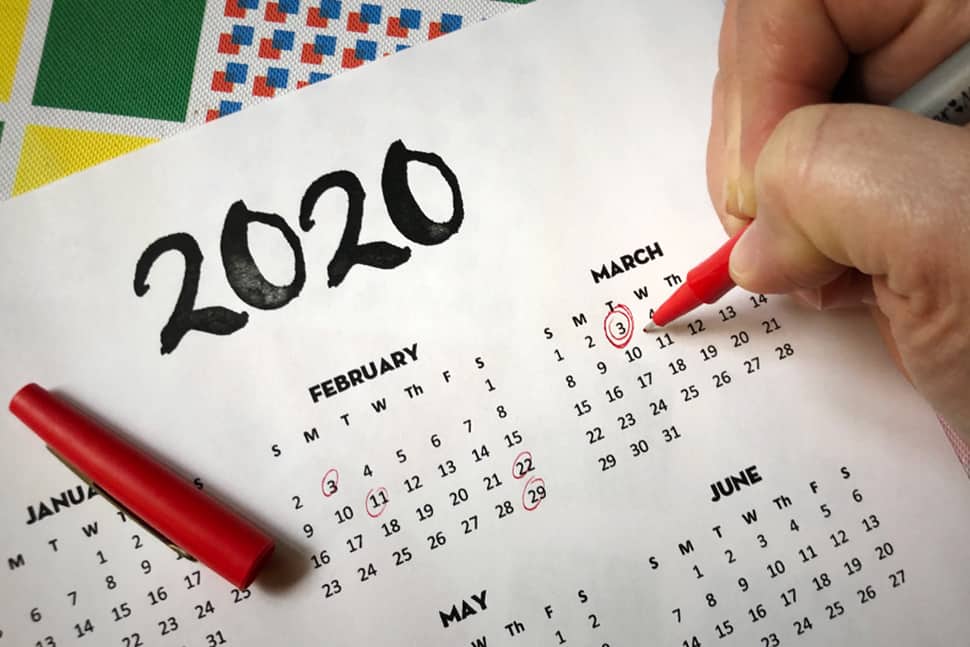 With the upcoming primary elections and caucuses, the general election in November, and the decennial census officially starting in April, 2020 is going to be a busy year for library outreach efforts. Use this timeline to keep track of upcoming milestones and deadlines for your community.
Voter registration: Many states have deadlines to register to vote or update a voter registration (for example, if a previously registered voter has moved, changed their name, or regained eligibility to vote). To vote in a state's primary or caucus, these deadlines are generally one month before. To vote in the 2020 general elections, these deadlines are generally in early October. Confirm with your secretary of state's office.
Absentee voting: Some states have a deadline to request an absentee or mail ballot. Confirm with your secretary of state's office.
Early and mail-in voting: Many states offer some form of early or mail-in voting, which begins in some places more than a month prior to Election Day. Confirm dates with your secretary of state's office.
Key Dates
Dates with an asterisk (*) are tentative.
February 3: Iowa caucuses
February 11: New Hampshire primaries*
February 22: Nevada Democratic caucuses
February 29: South Carolina Democratic primary
March 3 "Super Tuesday":
Alabama primaries
Alaska Republican conventions*
American Samoa Democratic caucus
Arkansas primaries
California primaries
Colorado primaries
Maine primaries*
Massachusetts primaries
Minnesota primaries
North Carolina primaries*
Oklahoma primaries
Tennessee primaries
Texas primaries*
Utah primaries*
Vermont primaries*
Virginia primaries*
Democrats Abroad primary
March 8: Puerto Rico Republican primary
March 10:
Hawaii Republican caucuses*
Idaho primaries*
Michigan primaries*
Mississippi primaries
Missouri primaries
North Dakota Democratic caucuses
Washington primaries
March 12: Virgin Island Republican caucus*
March 14:
District of Columbia Republican convention*
Guam Republican caucus*
Northern Marianas Democratic convention*
Wyoming Republican conventions*
March 17:
Arizona Democratic primary
Florida primaries*
Illinois primaries*
Northern Marianas Republican convention*
Ohio primaries
March 21: Kentucky Republican caucuses
March 24:
American Samoa Republican caucus*
Georgia primaries
March 29: Puerto Rico Democratic primary
April 3–5: North Dakota Republican state convention*
April 4:
Alaska Democratic primary
Hawaii Democratic primary
Louisiana primaries
Wyoming Democratic caucuses
April 7: Wisconsin primaries
April 28:
Connecticut primaries
Delaware primaries*
Maryland primaries
New York primaries
Pennsylvania primaries*
Rhode Island primaries*
May 2:
Guam Democratic caucus
Kansas Democratic primary
May 5: Indiana primaries*
May 12:
Nebraska primaries*
West Virginia primaries
May 19:
Kentucky Democratic primary
Oregon primaries
June 2
District of Columbia Democratic primary
Montana primaries*
New Jersey primaries*
New Mexico primaries*
South Dakota primaries*
June 6: Virgin Islands Democratic caucuses
July 13–16: Democratic National Convention, Milwaukee
August 24–27: Republican National Convention, Charlotte, North Carolina
September 24, National Voter Registration Day: An unofficial holiday that takes place the fourth Tuesday of September when many communities and organizations promote voter registration. ALA is partnering with National Voter Registration Day to encourage libraries to support voter registration efforts, in states where that is appropriate.
November 3: Election Day
For more information:
Updated January 15