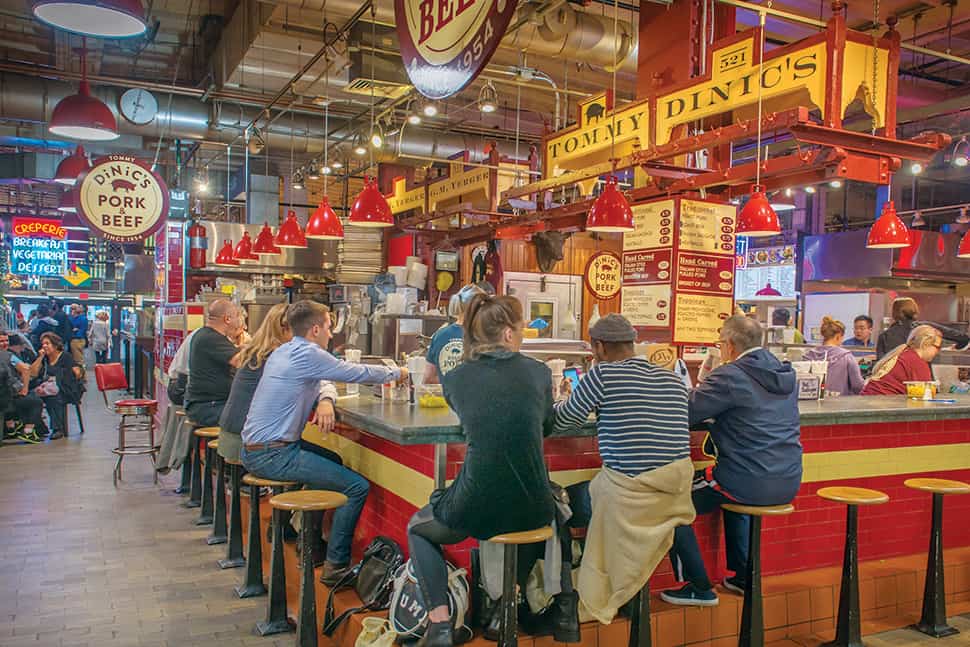 Growing up, my friends and family never thought much about the food in Philadelphia beyond heated arguments over who makes the best cheesesteak (sorry, but it's Pudge's Steaks and Hoagies, and it's way out in the suburbs). When I returned to Philly to raise my children—and especially once I started writing Frommer's Philadelphia Day by Day—I discovered that the stalwarts of South Philly trattorias and Rittenhouse steakhouses were now part of a booming culinary scene, complete with local celebrity chefs and showers of accolades.
Here are the best of the best, from faux-colonial taverns to historic food-hall cornucopias, whiskey bars to funky vegan eateries, and Pennsylvania Dutch smorgasbords to Zahav, named the top restaurant in the country in 2019 by the James Beard Foundation.
Conventioneers are doubly fortunate to have the three dozen food stands of 125-year-old Reading Terminal Market right across the street from the convention center—plus great dim sum on the streets of nearby Chinatown.
One note: Due to the stratospheric cost of local liquor licenses, a number of Philadelphia eateries are BYOB, don't take credit cards, or both. I'll let you know if you should stop by an ATM and a state store (where many Pennsylvanians get their beer, liquor, and wine) on the way to your reservation.
Near the convention center, Center City, and Chinatown
Dim Sum Garden
1020 Race St.
215-873-0258
dimsumgardenphilly.com
The undisputed king of Chinatown's dim sum parlors since 2013, with delicious dumplings and braised pork noodle dishes. Get the signature xiao long bao, steamed pork soup dumplings with the broth actually inside the dumpling (put it on a spoon and bite off the top before eating). Don't despair at the long line to get in; the fast and furious Shanghai-style service (no Cantonese pushcarts here; you order, and it is brought to you) helps get customers seated and satiated quickly. L, D daily $
El Vez
121 S. 13th St.
215-928-9800
elvezrestaurant.com
Made-to-order guac, marga-ritas that rock, and a lounge-y Mexi-Vegas atmosphere keep this colorful modern Mexican spot in Center City busy night after night. L, D daily $$
Good Dog
224 S. 15th St.
215-985-9600
gooddogbar.com
At Center City's go-to spot for pub grub, wooden booths, great microbrews, and an impressive jukebox are just background noise to the Roquefort cheese–stuffed burger. You'll find happy hour food and drink specials weekdays 3–6 p.m. L, D daily $$
Jamonera
105 S. 13th St.
215-922-6061
jamonerarestaurant.com
This trendy Spanish wine bar serves both classic and nueva tapas and their larger cousins, raciones—plus three different takes on paella. D daily $$–$$$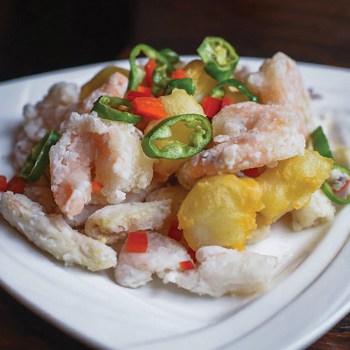 Lee How Fook
219 N. 11th St.
215-925-7266
newleehowfook.com
Garlicky good-for-you greens, hearty duck noodle soup, and salt-baked squid have kept this family Chinatown BYOB packed night after night for more than 30 years. L, D daily $–$$
Lolita
106 S. 13th St.
215-546-7100
lolitaphilly.com
Classic Mexican dishes get dressed up for a night on the town at this funky little Midtown Village eatery. Try a fish, pork belly, or roasted mushroom taco or the famous carne asada. A new liquor license means you don't have to bring your own tequila for the fresh-fruit margaritas. L (M–Sat), D daily $$
Rangoon
112 N. 9th St.
215-829-8939
rangoonphilly.com
If you've never had the pleasure of digging into tea leaf salad, coconut rice, or thousand-layer bread (a grilled flatbread), do it at this casual, Burmese restaurant in Chinatown. L, D daily $$
Saint Honore Pastries
935 Race St.
215-925-5298
bit.ly/AL-SaintHonore
Don't let the name fool you; this is not a spot for croissants but a Chinatown bakery churning out hot Hong Kong buns stamped with lucky red characters and stuffed with sweet sesame or red bean fillings. Other specialties of this walk-up shop include mango shakes, tiny cakes, and pastry-wrapped hot dogs. B, L, D daily $
Valanni
1229 Spruce St.
215-790-9494
valanni.com
Enjoy the modern lounge vibe, lobster mac and cheese, grilled octopus, shiitake polenta, mezze (small plate dishes), and paella meant for sharing at this modern Mediterranean-Latin Center City tapas joint. Half-price mezze and cocktails 4:30–7:30 p.m. Brunch (Sun), D daily $$
Vetri Cucina
1312 Spruce St.
215-732-3478
vetricucina.com
Chef Marc Vetri's elegant brownstone eatery consistently ranks among the best Italian restaurants in the US. It's chef's choice here—no à la carte, only a tasting menu (at a steep $165). But, boy, what a menu: Two dozen (mercifully) tapas-sized dishes, solicitously crafted to your preferences and served over several hours, along with a small but perfectly crafted wine list. L (F), D daily $$$$
Vietnam Restaurant
221 N. 11th St.
215-592-1163
eatatvietnam.com
Peanut-dusted rice vermicelli, crispy duck, lime-glazed chicken, and handsome surroundings make this gently exotic Chinatown spot popular. L, D daily $$
Old City and Independence Mall
Amada
217–219 Chestnut St.
215-398-6968
amadarestaurant.com
Amada offers contemporary tapas both chic and rustic in the historic heart of town. Don't miss the Spanish cheeses and meats or the spinach, manchego, and artichoke empanadas—oh, or the scrumptious sangria. Brunch (Sat, Sun), L (M–F), D daily $$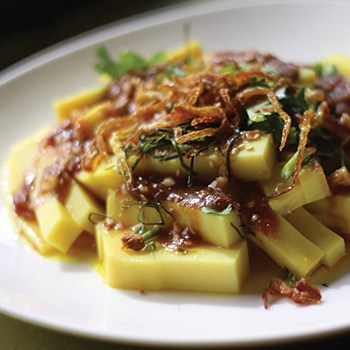 Buddakan
325 Chestnut St.
215-574-9440
buddakan.com
This eternally trendy Old City Asian fusion spot serves up lobster fried rice, edamame dumplings, five-spice duck breast, and kung pao monkfish at a communal table beneath a giant golden Buddha. L (M–F), D daily $$$–$$$$
Café Ole
147 N. 3rd St.
215-627-2140
facebook.com/phillycafeole
If you haven't yet realized how Old City earned its nickname—the "hipstoric" district—you will once you set foot in this laid-back café. Stand in line for fresh-mint iced tea, sandwiches, yummy hummus plates, and Mediterranean salads that won't break the bank. B, L, D daily $
City Tavern
138 S. 2nd St.
215-413-1443
citytavern.com
A faithful reconstruction of the original pub where the Founding Fathers hashed out details of the Declaration of Independence and Constitution over tankards of ale, City Tavern still serves many 18th-century dishes, from West Indies pepper pot soup and cornmeal-fried oysters to turkey potpie and Thomas Jefferson's home brew, all brought by servers in colonial garb. It's a bit touristy, yes, but it adds a tasty dimension to a day steeped in Revolutionary history at the historic sites and museums that surround it. L, D daily $$$
Continental
138 Market St.
215-923-6069
continentalmartinibar.com
This eclectic chrome-heavy Old City corner diner has something for everyone—from steak frites to crab pad thai to sugary martinis.
Vegetarians will love the "cheesesteak" made from thick-cut portobello mushrooms. Brunch (Sat, Sun), L, D daily $$
Farmicia
15 S. 3rd St.
215-627-6274
farmiciarestaurant.com
This bakery-owned restaurant has super fresh, sustainably grown American fare like roasted chicken, pork chops, and pan-crisped fish fillets. Vegetarian and vegan options are available. Brunch (Sat, Sun), L (Tue–F), D (Tue–Sun) $$–$$$
Fork
306 Market St.
215-625-9425
forkrestaurant.com
Fresh ingredients—king salmon, house-made sausage, burrata—shine at restaurateur Ellen Yin's award-winning, softly lit Old City neighborhood brasserie, a date-night favorite. Brunch (Sun), D daily $$$$
Franklin Fountain
116 Market St.
215-627-1899
franklinfountain.com
Homemade ice cream in flavors both familiar (vanilla bean, mint chip, peach) and quaint (teaberry gum) are served by the scoop in parfaits, banana splits, floats, milkshakes, and more at this old-fashioned-on-purpose Old City soda fountain. L, D daily $
High Street on Market
308 Market St.
215-625-0988
highstreetonmarket.com
Come for breakfast, lunch, or dinner to this all-day gourmet café, which boasts "the best grilled cheese ever" (made with cheddar on roasted potato bread). For a longer meal, try its more-formal sister restaurant, Fork, next door. B, L daily, D (Tue–Sun) $$
Jones
700 Chestnut St.
215-223-5663
jones-restaurant.com
Comfort food alert! Jones is just what the family ordered: mac and cheese, glazed carrots, meatloaf, and chicken nachos in a retro sunken dining room. Brunch (Sat, Sun), L, D daily $$
Morimoto
723 Chestnut St.
215-413-9070
morimotorestaurant.com
Witness Iron Chef Masaharu Morimoto's signature flash in an aptly futuristic showplace—his first branded restaurant. (He has since opened many locations.) Splurge on tableside-made tofu, luscious toro tartare, and a selection of sake. L (M–F), D daily $$–$$$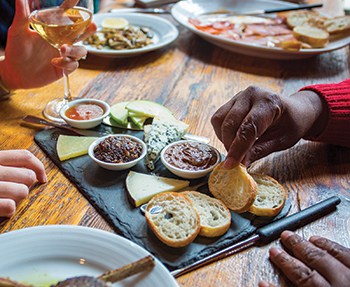 Zahav
237 St. James Place
215-625-8800
zahavrestaurant.com
In 2019, the James Beard Foundation christened Philly's favorite Israeli/Middle Eastern restaurant the best restaurant in the country—the first time a Philly dining room has snagged the top honors. (Chef Michael Solomonov had already won outstanding chef honors in 2017.) Even before all the accolades, fans were swearing by the rich hummus and grilled lamb, chicken, and eggplant. D daily $$
Rittenhouse Square
Alma de Cuba
1623 Walnut St.
215-988-1799
almadecubarestaurant.com
Nuevo Latin cuisine—lobster ceviche, smoked wahoo tacos, sugarcane tuna—served in Rockwell Group–designed decor makes for a glamorous night on the town. D daily $$–$$$
Devil's Alley
1907 Chestnut St.
215-751-0707
devilsalleybarandgrill.com
This is a casual, popular Rittenhouse spot for barbecue pulled-pork sliders, ribs, smoked Cobb salad, creative burgers, and cold beers. Brunch (Sat, Sun), L, D daily $$
HipCityVeg
127 S. 18th St.
215-278-7605
hipcityveg.com
The excellent Asian-inflected vegan fast-food café serves meatless burgers, wraps, soups, and salads—largely locally sourced. Try the sweet potato fries and a signature BFG (blended fruit and greens) smoothie. L, D daily $
Le Bus Bakery
129 S. 18th St.
215-569-8299
lebusbakery.com
Grab a cold drink, a sandwich (try the tuna or roast beef), a chocolate chip cookie to go, and a bench in the square, and you're all set. Just don't pronounce it "le boos." This Philly classic began life in 1978 as a bakery in an old school bus, so the name is literal—and pronounced American-style. B (M–Sat), L daily $
The Oyster House
1516 Sansom St.
215-567-7683
oysterhousephilly.com
Just about everything that swims comes in classic preparations like crab cakes, grilled halibut, and smoked fish chowder; the latter includes oysters opened by resident shuckers who've been at it for decades. L, D (M–Sat) $$–$$$
Tinto
114 S. 20th St.
215-665-9150
tintorestaurant.com
James Beard Award–winner Chef Jose Garces's cozy lounge offers delicious Basque-inspired tapas like lamb brochettes and serrano-wrapped trout. D daily $$–$$$
Vernick Food and Drink
2031 Walnut St.
267-639-6644
vernickphilly.com
Greg Vernick opened this nouveau American bistro—leaning surf, but with plenty of turf as well—in 2012. By 2017, the James Beard Foundation was calling him the best chef in the mid-Atlantic. The menu changes frequently, but be on the lookout for Atlantic halibut, savory pear custard, and baked boar lasagna. D (Tue–Sun) $$–$$$$
Village Whiskey
118 S. 20th St.
215-665-1088
villagewhiskey.com
One of Philly's longest whiskey lists is the claim to fame of this popular Rittenhouse gastropub from Jose Garces. Come for the spirits, stay for the Whiskey King burger and duck fat fries that'll knock you off that hard-won barstool. They serve until 1 a.m. on Fridays and Saturdays. Brunch (Sat, Sun), L (M–F), D daily $$
South Street and Society Hill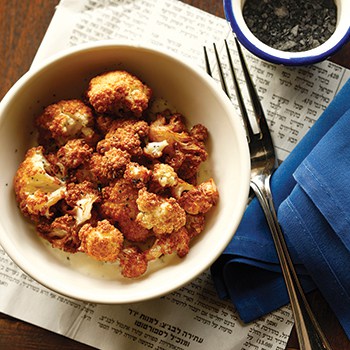 Beau Monde
624 S. 6th St.
215-592-0656
creperie-beaumonde.com
Known for its crepes—and the burlesque and cabaret stage upstairs—this pretty, bustling Bretagne-inspired brasserie also serves up lovely salads, French staples like ratatouille and escargot, and romantic ambience. Brunch (Sat, Sun), L, D (Tue–Sun) $$
Brauhaus Schmitz
718 South St.
267-909-8814
brauhausschmitz.com
Schnitzel, wieners, brats, spätzle, strudel, and 110 kinds of hearty Belgian and German brews make this convivial bierhalle the best wurst place in town. L, D daily $$$
Famous Fourth Street Delicatessen
700 S. 4th St.
215-922-3274
famous4thstreetdelicatessen.com
Philly's most celebrated Jewish deli since 1923 offers pastrami sandwiches thick as phone books, matzo balls as big as grapefruits, and cannoli cake to die for. Still hungry? B, L, D daily $$
Pizzeria Stella
420 S. 2nd St.
215-320-8000
pizzeriastella.net
This cozy spot offers thin-crust pizzas with clever toppings like black truffle, egg, pesto, and pine nuts, plus juice glasses of Prosecco and house-made gelato. L, D daily $$
Xochitl
408 S. 2nd St.
215-238-7280
xochitlphilly.com
Distinctive, refined, understated, and cool, the contemporary Mexican fare—shareable small-plate dishes, ceviche, tacos—and the sleek vibe are refreshingly sophisticated. D daily $$
South Philly and Bella Vista
Dmitri's
795 S. 3rd St.
215-625-0556
dmitrisrestaurant.com
Seated elbow-to-elbow at this Queen Village BYOB spot, locals dig into Greek delicacies like grilled squid, fried flounder, and rice pudding. No credit cards and no reservations, but worth the wait. D (W–Sun) $$
Marra's
1734 E. Passyunk Ave.
215-463-9249
marrasone.com
One taste of the sublimely simple brick-oven pizzas at this no-nonsense eatery—opened by Salvatore Marra in the 1920s—and you'll never eat at Pizza Hut again. The pastas and homemade escarole soup are good, too. L (Tue–Sat), D (Tue–Sun) $$
Ralph's
760 S. 9th St.
215-627-6011
ralphsrestaurant.com
Meatballs and red "gravy" (marinara), chicken Sorrento, and unpretentious service are staples at this fifth-generation family trattoria that's been serving Italian-American food since 1900. L, D daily $$$
Sabrina's Café
910 Christian St.
215-574-1599
sabrinascafe.com
The reason folks wait hours for a seat in this pink-and-blue-hued BYOB? Must be something in the humongous french toast. They also do good sandwiches and vegan fare. There's another branch in the under-served Fairmount/Art Museum area at 1804 Callowhill Street. Brunch, B, L daily $$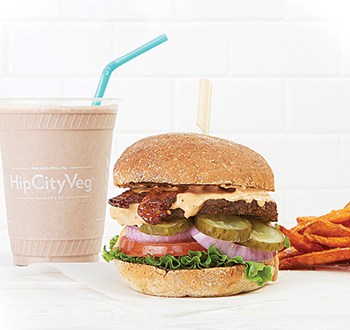 Victor Café
1303 Dickinson St.
215-468-3040
victorcafe.com
Giant veal chops and homemade pastas compete for fame with this 1933 trattoria's classically trained, opera-singing servers. The Victor is such a classic example of a South Philly Italian trattoria it served as the set for Adrian's, the retired champ's restaurant in 2006's Rocky Balboa. D daily $$$
Fairmount and the Parkway—from Logan Circle Library to the Art Museum
Buena Onda
1901 Callowhill St.
215-302-3530
Buenaondatacos.com
Chef Jose Garces's Buena Onda, Spanish for "good vibes," is inspired by Bajan taquerias. You'll find fish and meat tacos and quesadillas alongside margaritas and locally brewed beers and sodas. L, D daily $
Cosmic Cafe
1 Boathouse Row
215-978-0900
cosmicfoods.com
This Boathouse Row cafe behind the bike rental stand serves all-day breakfast, salads, sandwiches, wraps, and pastries with ingredients sourced from local farms. Thursdays features a pop-up beer and hard cider garden (6–10 p.m.). B, L (W–Sun) $$
Pete's Famous Pizza
2328 W. Fairmount Ave.
215-765-3040
petesfamouspizza.com
The museum-lined Parkway lacks decent dining options, but the art museum guards swear by this Fairmont classic, which has served delicious pizzas, cheesesteaks, hoagies, and burgers since 1980. We recommend the Monster Grinders. B, L, D daily $
Pizzeria Vetri
1939 Callowhill St.
215-600-2629
pizzeriavetri.com
The Museum Mile outpost of Marc Vetri's Philly pizza empire serves gourmet pies topped with everything from corn, zucchini, dill, and squash to traditional 'shrooms and sausage. Start with a rotolo, a savory take on the cinnamon roll with mortadella, ricotta, and pistachio pesto. L, D daily $–$$
---
Historic Food Halls
No visit to Philly is complete without a visit to one of its all-American, historic food halls, in which all kinds of cuisines crowd together to create a melting pot of smells and flavors.
The Bourse
111 S. Independence Mall E.
theboursephilly.com
Right at the crux of Independence Mall's L-shaped corridor of historic sites, the Bourse (built in 1895) was converted into a food hall in late 2018. Twenty-six vendors, restaurants, and stalls serve everything from Indian to Italian, Korean to Hawaiian, sandwiches to raw bar, breakfast to ice cream. B, L, D (M–Sat), B, L (Sun) $
Reading Terminal Market
12th and Arch streets
215-922-2317
readingterminalmarket.org
This 125-year-old farmers market and eatery emporium in the old train station just south of the convention center offers three dozen food stalls, restaurants, and bakeries serving Amish, Indian, soul food, kebabs, Cajun, cheesesteaks, and more. And don't forget Bassetts famous ice cream. Seating can get tight at lunchtime as Center City workers, tourists, and conventioneers pack the place. Some vendors accept credit cards. B, L, D (M–Sat) $–$$
---
So Many 'Steaks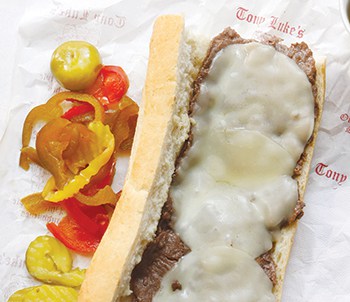 No food says "Philly" more than the cheesesteak—a mound of shaved meat piled high on a hot bun, topped with onions and melted cheese. There's no consensus on who makes the best 'steak, so you'll probably have to try them all.
Geno's
1219 S. 9th St.
215-389-0659
genosteaks.com
This player in this corner's famous cheesesteak shack rivalry (Pat's is right across the street) is bigger and brighter than its competitors. Few Philadelphians actually believe either Geno's or Pat's serves the best steak in town, but taste-testing both is a rite of passage. Open 24 hours. No credit cards. B, L, D daily $
Jim's South St.
400 South St.
215-928-1911
jimssouthstreet.com
If it's past 11 a.m., you can expect a line at this friendlier cousin to South Philly's famous Pat's and Geno's (which was started by the son of Jim's founder). Bonus: Unlike its competitors, Jim's has indoor seating and serves beer. No credit cards. L, D daily $
Pat's King of Steaks
1237 E. Passyunk Ave.
215-468-1546
patskingofsteaks.com
Pat's (arguably) invented the famous Philly cheesesteak in 1930, back when it was just a hot dog cart. Now a roadside outdoor eatery, it features service that's a little nicer than its glitzier rival across the street, Geno's—though don't worry, it's still famously South Philly brusque and impatient. Order one "Whiz wit" (with Cheez Whiz and onions). Open 24 hours. No credit cards. B, L, D daily $
Tony Luke's
39 E. Oregon Ave.
215-892-1010
tonylukes.com
This is neon-lit, no-nonsense, two-handed dining on cheesesteaks and classic Italian sandwiches. Try the roast pork with garlicky broccoli rabe and sharp provolone. B (M–Sat), L, D daily $